Conhecer
Dear customers and friends, When we launched WhipCar in April 2010, we embarked on a very exciting mission. We were the first to offer car owners the chance to make better use of their cars and offset the rising costs of motoring by renting to their neighbours.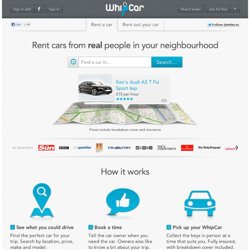 WhipCar.com - the Neighbour to Neighbour Car Club and Car Rental Service. | WhipCar
5,313 views These 10 tips are the heart of a great TEDTalk, and works for any presentation. ... These 10 tips are the heart of a great TEDTalk, and works for any presentation. Creative director: Alexandre Franzolim Art director: Fernando Zornoff // MonkeyBusiness is an brazilian agency that is specialized in presentations.
TED10 - 10 mandamentos para apresentações do TED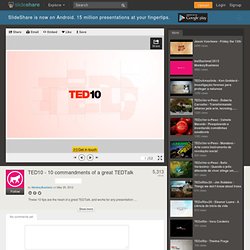 Mais StartUp - Home
Thrive
Crowdsourced project will map internet censorship around the world
Escape the City - Do Something Different
Zazcar - Carro na medida certa
putação em nuvem pode reduzir em 98% o custo da empresa, diz especialista - 03/05/2012 - do UOL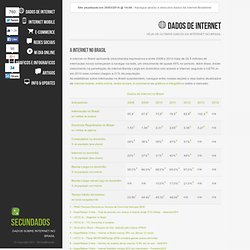 Secundados | Dados secundários, estatísticas e informações sobre a internet no Brasil
O número de pessoas acessando em domicílios próprios ou de terceiros aumentou, refletindo o aumento de penetração de computadores nos domicílios, além disso, houve uma queda expressiva de acesso em centros públicos, que pode ser resultado dessa migração de local de uso. Um outro local que se destacou em 2011 foi o "Acesso via celular" que cresceu mais 12 pp. Fonte: CETIC.br – TIC Domicílios e Usuários Em casa – Local de residência. No trabalho – Local de trabalho. Na escola – Local de estudo.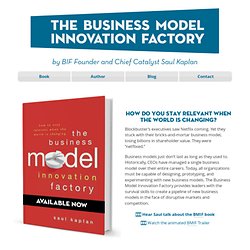 The Business Model Innovation Factory by Saul Kaplan
To be competitive and stay competitive in today's business environment, you have to be fast on your feet. Saul Kaplan knows how to take innovation from napkin sketch to market share, and in this book he teaches you exactly how to create your own "innovation factory" from scratch. But be careful - once you start working with these ideas, it might be hard to stop!" Saul Kaplan, the innovator's innovator, shows you how to transform the sense of what's possible in your field, whether you're running a company or leading a community. If you want to win big, you have to change the game. This inspiring and instructive book is a game plan for game-changers.
FilmStrips
"Os Espaços da Memória", por Eduardo José Afonso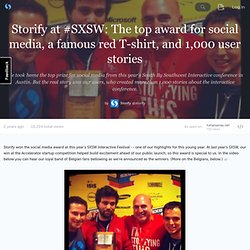 at #SXSW: The top award for social media, a famous red T-shirt, and 1,000 user stories · storify
Who is worth more — one amazing employee or one hundred adequate ones? You've heard about the war for talent. If your business is looking to take over the world (or just your industry), how do you first build your talent pool?
School of Education launches center to improve Brazilian education | Stanford University School of Education
CONTACT: Amy Yuen, Stanford University School of Education/External Relations, (650) 724-9440, amy.yuen@stanford.edu COMMENT: Paulo Blikstein, Assistant Professor of Education, Stanford University School of Education, (847) 571-4538, paulob@stanford.edu Denis Mizne, Executive Director, Lemann Foundation, 55-11-3897-9672, Denis.Mizne@fundacaolemann.org.br RELEVANT URL: http://lemanncenter.stanford.edu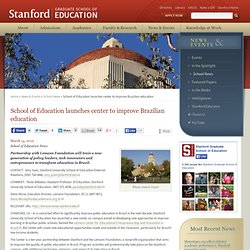 Crackle – Assista filmes gratuitamente online – Filmes de longa duração em streaming online
Home | Project Re: Brief by Google
Already downloaded the app? Log in Brought to you by Made by many Preserve the moments that matter. Telling stories with photos and sound clips.
Picle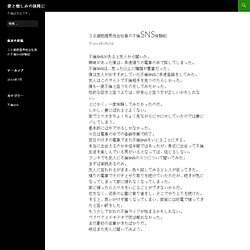 QR Code transforma mostra fotográfica em experiência única
136 likes 162 Tweets 7 Pin it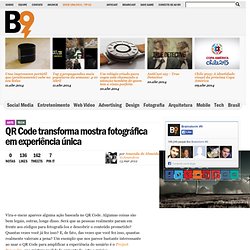 72 - No filme "Guerra nas Estrelas" o mago-imperador e Darth Vader contra Ben Kenobi e seu discípulo Luke Skywalker constituem os lados em confronto: o mal e o bem, o "lado negro da Força" e o seu lado "branco". Há milênios esse padrão mítico de confronto vem sendo inculcado. Tal como o mago-imperador, Ben Kenobi também é um mago. Usa poderes sobrenaturais para alterar uma situação dada segundo sua vontade. Assim como Vader, Skywalker também é um guerreiro.
5 - O BEM SEPARADO DO MAL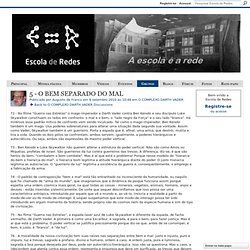 SXSW News
Google Apps News
Stephen Hawking's Universe by Jared Ficklin
We educate change makers - Knowmads
[INFOGRÁFICO] O que acontece nas mídias sociais em 1 minuto : Midiatix
A Social Jumpstart, empresa especializada em treinamentos de mídias sociais para pequenas empresas, acaba de divulgar um infográfico que mostra o que acontece nas redes sociais em 60 segundos. E os números são impressionantes: em 1 minuto, 2 milhões de vídeos são vistos no YouTube, 700 mil mensagens são recebidas no Facebook, 175 mil tuítes são compartilhados no Twitter e 2 mil check-ins são realizados no Foursquase. O infográfico também inclui o Pinterest, a nova promessa para 2012. Considerado um dos 50 melhores sites de 2011 pela revista "Time", o mural de fotos online recebe a visita de pelo menos 1.090 pessoas a cada 60 segundos. Veja a seguir.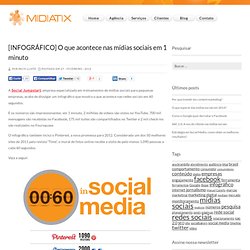 Pinterest / Home
Advertisement by LinkedIn Member
Inovação em Storytelling: do branded content à transmídia : 01 de Janeiro : 01 de Janeiro (sem data)
Marcelo Vieta: As some of you know, I have recently started a post-doctoral fellowship at the European Research Institute on Cooperative and Social Enterprises (affiliated with the the University of Trento), in Trento, Italy ( www.euricse.eu).
Stories.coop: the cooperative memory project
stories.coop
HTML5 Demo: Drag and drop
Whiplash.Net é um site sobre rock e metal em todos os seus sub-estilos (clássico, hard rock, heavy metal, punk, etc). A filosofia do site é investir na comunidade que existe em torno destes estilos; mais do que ser a maior fonte de informações sobre bandas e artistas, queremos que o site seja o maior ponto de encontro de usuários interessados neste assunto. Desde o início das atividades do site, em 1996, temos investido nesta interatividade. O Whiplash.Net foi o primeiro site de rock do Brasil a permitir que usuários postassem comentários sobre cada matéria publicada.
O que é o site Whiplash.Net? - Whiplash!
Câncer será extinto, diz Michio Kaku - Ciência
Escola sueca sem classes de aula – será o futuro da educação?
4 Lessons From The Social Innovation Hotbed Of Brazil
Global Alliance for Transformational Entertainment
Geladeira Pinguim | Flickr – Compartilhamento de fotos!
Vizinhança Vigilante
Programa vizinho solidario
Caravanserai
Games for Change | Games for Change is the leading global advocate for supporting and making games for social impact.
badgeville.com | The Behavior Platform
Preços no Tutuli
@gutafranco : unscripted learning • The Social Learning Revolution | Learning in the Social Workplace
Como Fazer Tudo | Dicas de como fazer as atividades que você ama
marketing meets culture
Nextdoor | Create a website for your neighborhood
The Rise of the Sharing Economy
ci23.actonsoftware.com/acton/rif/2176/s-0036-1202/-/l-0039:3086/l-0039/showPreparedMessage
Sua Metrópole - Vamos discutir São Paulo
VAMOS TRAZER
Rafael Lima |  Sobre
Risk Matrix - Business Graphics Library
Digital Media and Learning Competition
MEU BE-A-BÁ SOBRE REDES SOCIAIS
Designs For Working
Ecrãs - Teepin
vislumbres sobre visualidade
RETAIL RENAISSANCE
Luli Radfahrer
o livro negro do empreendedor
The Anatomy of a Perfect Landing Page - Formstack