New Uses for Old Technology
Smart New Uses for Old Technology: SSID to Broadcast a Message | StarrTrek - (Build 20100722150226) SSID_Messaging If you want to know what's going to happen next with a technology perhaps the smartest way to predict the future is to ask your kids – or someone else's… It's amazing what you might learn.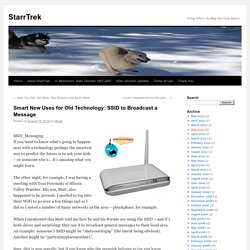 The other night, for example, I was having a meeting with Tom Foremski of Silicon Valley Watcher. His son, Matt, also happened to be present. I needed to log into their WiFi to go over a few things and as I did so I noted a number of funny networks in the area – phuckphace, for example.
---