Humor
Jim Beam Puppy
Blond Joke
Mac or PC" Rap Music Video - Mac vs PC
If Apple Made Water [PIC]
50+ Most Amazing and Funny Twitter Comics | chethstudios Design Magazine
Charlie Sheen's Korner Ep 2: Torpedoes of Truth (Official clip)
Bad omen: Blue Screen of Death in elevator on 40th floor. #bs...
Think you know tech lingo? You're probably wrong. From "social media expert" to "pwning a n00b," our superaccurate translation machine reveals the real meaning of all your favorite tech phrases. Today's tech lingo is full of foreign-sounding phrases.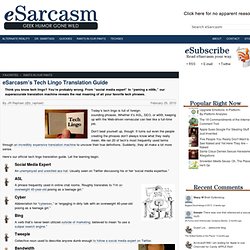 s Tech Lingo Translation Guide - (Build 20100401064631)
Screw screwing: These days, all it takes is a couple of ill-fated clicks to get creepy, crawly crabs in your you-know-what. No, we aren't kidding. Jeepers creepers, is there anything the Internet can't give you?
Look, Ma! I Got Crabs From the Internet - (Build 20100401064631)