Mon
Crests 7
Mon (紋?), also monshō (紋章?), mondokoro (紋所?), and kamon (家紋?), are Japanese emblems used to decorate and identify an individual or family. While mon is an encompassing term that may refer to any such device, kamon and mondokoro refer specifically to emblems used to identify a family.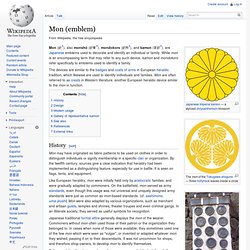 Mon (emblem)
Mozilla Firefox
家紋100種
Japan Creative Center - Find Your Something Cool about Japan
Hidaka Family Emblems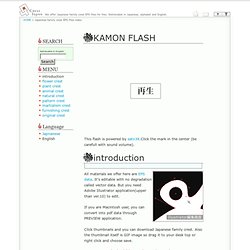 This flash is powered by sato38.Click the mark in the center (be carefull with sound volume). introduction All materials we offer here are EPS data. It's editable with no degradation called vector data. But you need Adobe Illustrator application(upper than ver.10) to edit. If you are Macintosh user, you can convert into pdf data through PREVIEW application.
Offering Japanese family crest EPS files for free. Retrievable in Japanese, alphabet and English.
Mon (emblem)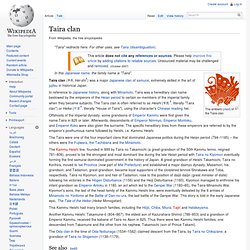 Taira clan (平氏, Hei-shi?) was a major Japanese clan of samurai, extremely skilled in the art of jujitsu in historical Japan. In reference to Japanese history, along with Minamoto, Taira was a hereditary clan name bestowed by the emperors of the Heian period to certain ex-members of the imperial family when they became subjects.
Taira clan
The picture above is a parade of the Top Ten among Japanese family crests, i.e. their basic designs have been most often used in cranking up other family crests since before the first thousand years. Besides the 18-petalled golden chrysanthemum, which is the Imperial Family's crest, the most widespread crest designs consist of the following (the clans that are mentioned first are those whose crests are shown as examples of each category in the main picture above): Some used dots to form flowers and such -- like the famous clans under Oda Nobunaga's overlordship: Maeda, Kuki, Tsutsui, Hosokawa. The Chiba clan also used dots as flower petals. The Rusu, Nasu, and Kusunoki clans incorporated a chrysanthemum in their crests, signifying the imperial DNA in their ancestors' veins. A few unimaginatively used kanji, such as the mighty Mori, the blunderer Ishida, and a number of well-known warrior clans like Honda, Ukita, Hara, Inoue, and Murakami.
Mon: Family Crests of Samurai Clans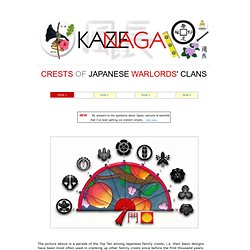 Kurzbeschreibung +++ All profits from sales will be donated to the victims of the East Japan Earthquake.
Design guide "MON" (Japanese Culture) eBook: Momoyo Nishimura, Myanna Lennon, Reiko Nishida: Amazon.de: Englische Bücher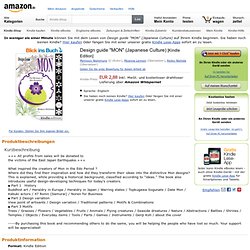 Samurai Heraldry (Elite): Amazon.de: Stephen Turnbull, Angus McBride: Englische Bücher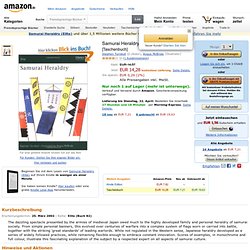 3.0 von 5 Sternen Good resource for wargamers and samurai history enthusiasts 17. Juni 2004 Von J. Holt - Veröffentlicht auf Amazon.com
Snow, Wave, Pine: Traditional Patterns in Japanese Design: Amazon.de: Motoji Niwa, Sadao Hibi, Jay W. Thomas: Englische Bücher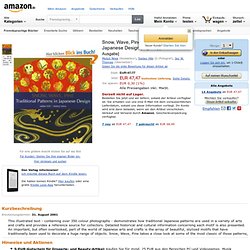 4.0 von 5 Sternen Lovely collection of inspiring designs for any craftsperson 8. Oktober 2010 We're big fans of Arts & Crafts style, especially the bits that incorporate "Japanesque" features (such as Greene & Greene architecture).
Elements Of Japanese Design: Handbook Of Family Crests, Heraldry & Symbolism: Handbook of Family Crests, Heraldry and Symbolism: Amazon.de: John Dower: Englische Bücher
Traditional Japanese Family Crests for Artists and Craftspeople Dover Pictorial Archives: Amazon.de: Isao Honda: Englische Bücher