EUROPE 2020 FLAGSHIPS
Europe has identified new engines to boost growth and jobs. These areas are addressed by 7 flagship initiatives.

Within each initiative, both the EU and national authorities have to coordinate their efforts so they are mutually reinforcing. Feb 16
Get flash to fully experience Pearltrees
How will the EU boost inclusive growth? Through 2 flagship initiatives : 1. Agenda for new skills and jobs for individuals – helping people acquire new skills , adapt to a changing labour market and make successful career shifts collectively – modernising labour markets to raise employment levels, reduce unemployment, raise labour productivity and ensuring the sustainability of our social models 2.
Additional tools This initiative is how the Commission will help the EU reach its employment target for 2020: 75% of the working-age population (20-64 years) in work . Launched in 2010, it is part of the EU's overall strategy – Europe 2020 – promoting smart, sustainable and inclusive growth in the next 10 years and beyond. The Agenda also contributes to achieve the EU's targets to get the early school-leaving rate below 10% and more young people in higher education or equivalent vocational education (at least 40%), as well as to have at least 20 million fewer people in or at risk of poverty and social exclusion by 2020.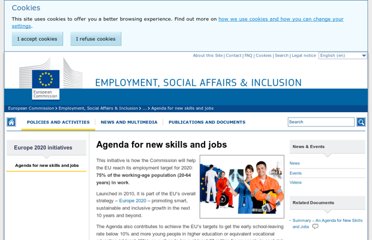 Additional tools With more than 80 million people in the EU at risk of poverty – including 20 million children and 8% of the working population – the European Platform against poverty and social exclusion sets out actions to reach the EU target of reducing poverty and social exclusion by at least 20 million by 2020. Launched in 2010, the platform is part of the Europe 2020 strategy for smart, sustainable and inclusive growth. Methods Although combating poverty and social exclusion is mainly the responsibility of national governments, the EU can play a coordinating role by: identifying best practices and promoting mutual learning
How will the EU boost smart growth? Through 3 flagship initiatives : 1. Digital agenda for Europe Creating a single digital market based on fast/ultrafast internet and interoperable applications : by 2013: broadband access for all by 2020: access for all to much higher internet speeds (30 Mbps or above) by 2020: 50% or more of European households with internet connections above 100 Mbps. 2. Innovation Union refocusing R&D and innovation policy on major challenges for our society like climate change, energy and resource efficiency, health and demographic change strengthening every link in the innovation chain , from 'blue sky' research to commercialisation 3. Youth on the move helping students and trainees study abroad equipping young people better for the job market enhancing the performance/international attractiveness of Europe's universities improving all levels of education and training ( academic excellence, equal opportunities )
Move to achieve – degree, new job, training, your own business. Every year the European Union supports more than 400,000 young people to work , train and study abroad. This website lists a complete range of EU tools to help your dreams become reality. More about Youth on the Move The European Union offers grants for students, teaching professionals and staff to study or work abroad. Click here to find out more!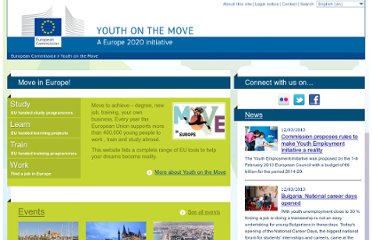 10-11 April 2013 The 1st International conference on Internet Science, Brussels The 1st international conference on Internet Science will be organized from April 10 to 11, 2013 in Brussels, under the aegis of the European Commission, by the EINS project, the FP7 European Network of Excellence in Internet Science ( http://internetscienceconference.eu ). Hosted by the Royal Flemish Academy of Belgium for Science and the Arts ( http://www.kvab.be/?lang=en ), this highly multidisciplinary conference combines Computer Science, Sociology, Art, Mathematics, Physics, Complex systems analysis, Psychology, Economics, Law, Political Science, Epistemology and other relevant disciplines. It will be the unique venue fostering dialogue among scholars and practitioners belonging to these disciplines.
European Innovation Partnerships - EIP
How will the EU boost sustainable growth? Through 2 flagship initiatives : 1. Resource-efficient Europe To support the shift towards a resource-efficient, low-carbon economy, our economic growth must be decoupled from resource and energy use by: reducing CO2 emissions promoting greater energy security.
The flagship initiative for a resource-efficient Europe under the Europe 2020 strategy supports the shift towards a resource-efficient, low-carbon economy to achieve sustainable growth. Natural resources underpin our economy and our quality of life. Continuing our current patterns of resource use is not an option. Increasing resource efficiency is key to securing growth and jobs for Europe.
A resource-efficient Europe – Flagship initiative of the Europe 2020 Strategy

The flagship initiative for a resource-efficient Europe under the Europe 2020 strategy supports the shift towards a resource-efficient, low-carbon economy to achieve sustainable growth.

Natural resources underpin our economy and our quality of life. Continuing our current patterns of resource use is not an option. Increasing resource efficiency is key to securing growth and jobs for Europe. It will bring major economic opportunities, improve productivity, drive down costs and boost competitiveness.

The flagship initiative for a resource-efficient Europe provides a long-term framework for actions in many policy areas, supporting policy agendas for climate change, energy, transport, industry, raw materials, agriculture, fisheries, biodiversity and regional development. This is to increase certainty for investment and innovation and to ensure that all relevant policies factor in resource efficiency in a bala by oscarwoldrich Feb 28
Industry must be placed centre stage if Europe is to remain a global economic leader. This is the core message of the Communication on "An integrated industrial policy for the globalisation era" adopted by the European Commission on 28th October 2010 on the initiative of Vice-President Antonio Tajani. The Communication, a flagship initiative of the Europe 2020 strategy