Before EU 2020
FP7
ETP. ERA-NET. The ERA-NET Scheme The objective of the ERA-NET scheme is to develop and strengthen the coordination of national and regional research programmes through two specific actions: 'ERA-NET actions' - providing a framework for actors implementing public research programmes to coordinate their activities e.g. by developing joint activities or by mutually supporting joint calls for trans-national proposals.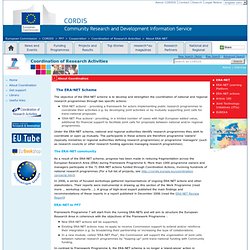 'ERA-NET Plus actions'- providing, in a limited number of cases with high European added value, additional EU financial support to facilitate joint calls for proposals between national and/or regional programmes. Under the ERA-NET scheme, national and regional authorities identify research programmes they wish to coordinate or open up mutually. Article 169/185 Initiatives. The Concept Article 185 TFEU (ex Article 169 TEC) states that: "In implementing the multiannual framework programme, the Union may make provision, in agreement with the Member States concerned, for participation in research and development programmes undertaken by several Member States, including participation in the structures created for the execution of those programmes.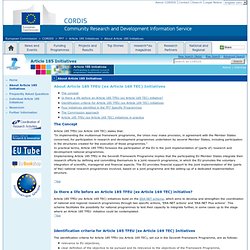 " In practical terms, Article 185 TFEU foresees the participation of the EU in the joint implementation of (parts of) research and development national programmes. Implementing Article 185 TFEU in the Seventh Framework Programme implies that the participating EU Member States integrate their research efforts by defining and committing themselves to a joint research programme, in which the EU promotes the voluntary integration of scientific, managerial and financial aspects. EUROSTARS Individual Article 185 Initiatives. Article 185 TFEU (ex Article 169 TEC) Initiatives in the Seventh Framework Programme: Article 185 TFEU (ex Article 169 TEC) in the Sixth Framework Programme: European and Developing Countries Clinical trials Partnership (EDCTP) Article 185 TFEU (ex Article 169 TEC) in the Seventh Framework Programme.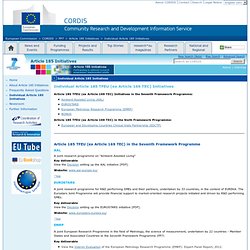 European Metrology Research Programme. BONUS EEIG - Front page.
---