ARQ
Artlog: interior & architecture 36. Wadi-Rum-Desert-Lodge-2.jpg (728×485) See-through church, Limburg/Belgium by Gijs Van Vaerenbergh. Project Details: Location: Limburg, Belgium Type: Cultural - Public Architects: Gijs Van Vaerenbergh - www.gijsvanvaerenbergh.com Photos: Kristof Vrancken / Z33 – Mine Daelemans photo by Kristof Vrancken / Z33 The church is a part of the Z-OUT project of Z33, house for contemporary art based in Hasselt, Belgium.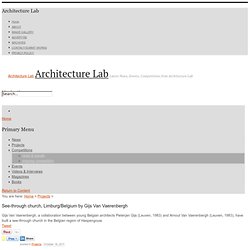 Z-OUT is an ambitious longterm art in public space project that will be realised on different locations in the Flemish region of Limburg over the next five years. photo by Kristof Vrancken The church is 10 meters high and is made of 100 layers and 2000 columns of steel. Home Dream Home - Part 4. Lace & Tea :: Architectural Beauty: John Maniscalco Architecture, San Francisco. Lace & Tea :: Architectural Beauty: Chenequa Residence, Wisconsin. Posted on September 6th, 2012 This curvaceous Wisconsin home was custom built by architect Robert Harvey Oshatz.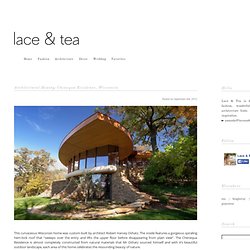 The inside features a gorgeous spiraling hem-lock roof that "sweeps over the entry and lifts the upper floor before disappearing from plain view". The Chenequa Residence is almost completely constructed from natural materials that Mr Oshatz sourced himself and with it's beautiful outdoor landscape, each area of this home celebrates the resounding beauty of nature.
Tiny houses – small dwellings of every shape and size. © copyrights designboom, all rights reserved. all material published remains the exclusive copyright of designboom. no contents, including text, photographs, videos, etc. may be reproduced in whole or in part without the written consent of designboom. in addition, no material or contents may be reproduced on the world wide web by techniques of mirroring, framing, posting, etc. without the written consent of designboom.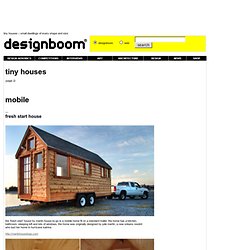 Containers of Hope, a $40,000 Home by Benjamin Garcia Saxe. By Eric • Jun 16, 2011 • Selected Work Benjamin Garcia Saxe has recently completed the Containers of Hope project with a budget of $40,000.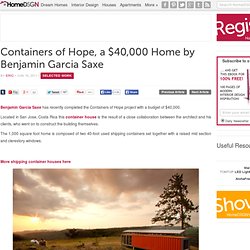 Located in San Jose, Costa Rica this container house is the result of a close collaboration between the architect and his clients, who went on to construct the building themselves. The 1,000 square foot home is composed of two 40-foot used shipping containers set together with a raised mid section and clerestory windows. More shipping container houses here. Earthscrapers: Is Going Down Instead Of Up A Greener Way To Build? Evolo/via Every year, TreeHugger and all the architectural websites troll through the Evolo competition entries, looking for the most imaginative work from young architects with time on their hands.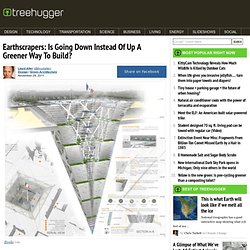 Sometimes you just have to shake your head and wonder at the creativity and drawing skills. In 2010, I did not pay a lot of attention to Bunker Arquitectura's proposal for Earthscraper, an upside down pyramid in downtown Mexico City. Bunker Arquitectura/via It was not a new idea, and it was not the best iteration of it that I had seen. CNC carpentry: the 'selfsupportingframework' Two students working on load-bearing systems in the architecture department at Kassel University, Mischa Proll and Andreas Günther, have taken advantage of the wide range of design techniques available and breathed new life into a one-hundred-year-old construction concept.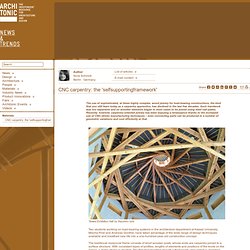 The traditional reziprocal frame consists of short wooden joists, whose ends are carpentry-joined to a surface structure. With consistant types of profiles, lengths of elements and positions of the knots on the axises, a dome shape is created. The first documenting of such a framework, also called a "mandala roof", dates back to the 12th century, according to the students' research, when a Buddhist monk by the name of Chogen created designs for temples, whose influence can still be seen today in the architecture of domes in China and Japan.
The variation of individual parameters, for instance changing the join between two elements, leads to a change in all the other subsequent joins. Reinventing San Francisco's Oriental Warehouse Loft | Dream Home : Syncline House by Arch 11. This exceptionally designed modern architectural residence sits alongside a mountainous Midwestern terrain.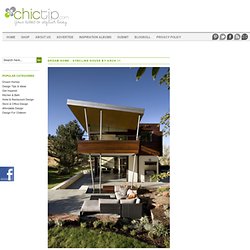 The designing firm, Arch11 was founded in 1993 by James Trewitt and E.J. Meade, and is based in Boulder and Denver Colorado. Looks like good Triangulo House by Ecostudio Architects. Tangga House by Guz Architects. By Eric • Mar 23, 2011 • Selected Work The Tangga House is another Singapore's dream home designed by Guz Architects.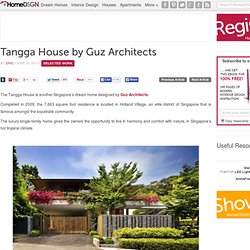 Completed in 2009, the 7,663 square foot residence is located in Holland Village, an elite district of Singapore that is famous amongst the expatriate community. The luxury single-family home gives the owners the opportunity to live in harmony and comfort with nature, in Singapore's hot tropical climate. Tangga House by Guz Architects: "The house is a contemporary interpretation of a traditional courtyard house, laid out around a central green courtyard with a double height stair and entry area forming the focal point of the project. Architecture. Imagine the renovation dilemmas.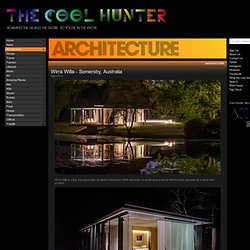 A huge penthouse of a converted 1930s office building in TriBeCa, New York, is to be turned into a functioning home for a family with three teenagers. In fact, we can not quite imagine the issues that faced Steven Harris Architects when the family showed up, literally, at the doorstep of the celebrated architect and asked if he'd like to work on their home. The Luxury Casa Kimball Private Retreat in the Caribbean. The Luxury Casa Kimball Private Retreat in the Caribbean The Casa Kimball luxury villa has been designed to the highest of standards by Architect firm Rangr Studio.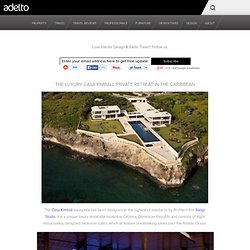 It is a unique luxury rental villa located in Cabrera, Dominican Republic and consists of eight immaculately designed bedroom suites, which all feature breathtaking views over the Atlantic Ocean. About Richard Barker Love Interior Design & Exotic Travel? Would You Live in a Shipping Container? Adam Kalkin isn't the only architect to make homes out of shipping containers. A handful of architects, including Jennifer Siegal and Lot-Ek, began using them ten years ago as a gritty reaction against the tidy white surfaces of modernism. But nobody has employed shipping containers more inventively than Kalkin, a New Jersey architect and artist who has used them to design luxurious homes, museum additions, and refugee housing.
In architectural circles, Kalkin is regarded as something of an oddball. Awesome Above-Ground Outdoor Pool (10 pics) Modern Concrete House (15 photos) When you first think about the words concrete house, you might imagine a cold, sterile environment, perhaps something similar to a prison. If that's the case, this one story house designed by architecture studio A-cero will likely change your mind. Located on the outskirts of Madrid, Concrete House II features a façade that boasts a spectacular view of the whole house. Kindergarten Centered Around a Legendary Tree.
Most Interesting Libraries of the World. Maldives Floating Islands: Star-Shaped Mini-Cities - Decoded Stuff. SEE THIS HOUSE: BARN RAISING STYLE!
---