Recepies
Recipes & Cookbooks – Food, Cooking Recipes from BettyCrocker.Com (Hakeem Missa added this : 6/27/12)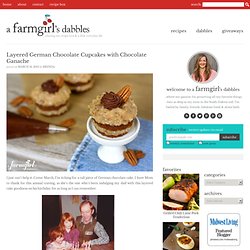 Layered German Chocolate Cupcakes with Chocolate Ganache
for the chocolate ganache: Prepare the chocolate ganache first, so it has time to set and thicken. Place the chocolate in a medium bowl. In a small pan over medium-high heat, bring the cream to a boil. Remove cream from heat and pour cream over the chocolate pieces.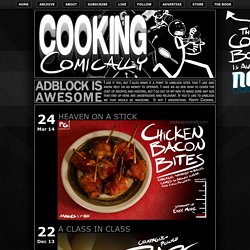 Stay hungry, my friends.
Nov 13 It's Electric. So, Boing Boing asked me to do a recipe for them. The only caveat is that it involve caffeine. Done and Done.
2 AM Chili | Comics | Nert.Me
Lemon Custard Tart With Fresh Berries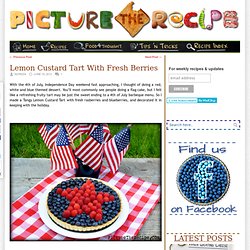 With the 4th of July, Independence Day weekend fast approaching, I thought of doing a red, white and blue themed dessert. You'll most commonly see people doing a flag cake, but I felt like a refreshing fruity tart may be just the sweet ending to a 4th of July barbeque menu. So I made a Tangy Lemon Custard Tart with fresh rasberries and blueberries, and decorated it in keeping with the holiday. The fresh raspberries and blueberries are not merely decorative as they give the tart a sweet contrasting flavor and texture, to its otherwise creamy tangy lemon filling. This tart is fairly simple to make, can be made ahead of time and is a perfect sophisticated dessert for hot summer's day.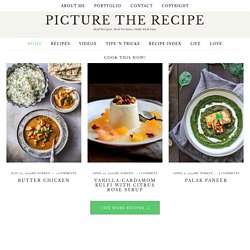 Infographic created by Lemon.ly ... Created by: HackCollege.com ... Food Fact: The myth that alcohol does all cook out stems from the fact that ... Food Fact: The largest item on a menu in the world is whole camel which ... Food Fact: Marshmallows date back to as early as 2000 BC and were considered a ... Food Fact: A good way to clear a stuffed up nose is to eat spicy foods. ...
PictureTheRecipe
Hot Spinach Dip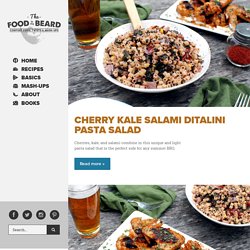 The Food in my Beard
If you told me 5 years ago that my coffee table would not only host my own cookbook, but also a cookbook written by a friend of mine, it wouldn't even be something that my brain could grasp and I would probably just laugh it off. But here we are, and that sentence is a reality. Nick from Macheesmo was a once rival, turned friend and also powerful ally in the world of food blogging, and his book Love your Leftovers, comes out in a few days!
Tres Leches (Milk Cake) Recipe
How to make number four, Crunchy Frog. These are not lightly killed and lovingly coated in glucose, but they do contain whole (gummy) frogs. We recommend Haribo Gummi Frogs. Off-brand frogs may have more prominent eye bulges, but don't have quite the right mild apple flavor. (If you go with Haribo, note that Amazon offers gift wrap for the 5 lb bag.)
But if we took the bones out… | Evil Mad Scientist Laboratories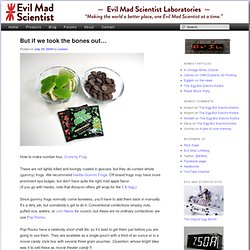 StillTasty: Your Ultimate Shelf Life Guide - Save Money, Eat Better, Help The Environment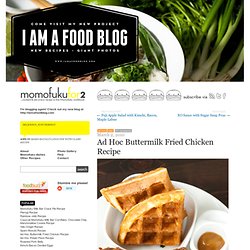 March 2, 2010 nothing beats fried chicken and waffles! My love for fried chicken, much like my love for noodles, is not very discerning. I can definitely tell the difference between good and bad noodles and chicken, but my love is so all-encompassing that I can forgive faults easily. With so many kinds of fried chicken in the world, how would I be able to tell good from bad if I didn't try them all?
Ad Hoc Buttermilk Fried Chicken Recipe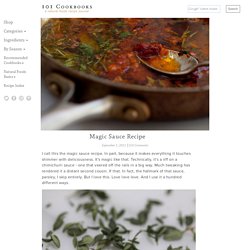 Magic Sauce Recipe
I call this magic sauce. In part, because it makes everything it touches shimmer with deliciousness. It's magic like that. Technically, it's a riff on a chimichurri sauce - one that veered off the rails in a big way. Much tweaking has rendered it a distant second cousin.
Oreo and Peanut Butter Brownie Cakes
So, after being gone all last week, this has been catch up on the house week. Mostly laundry actually. Man, who knew that a weeks worth of laundry from 5 people could be so daunting.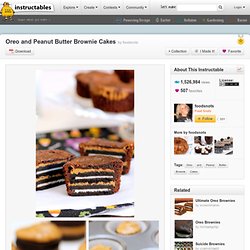 Italian Food Forever
Lunch Sandwich Round-Up
The 5 best places to eat schnitzel in Tel Aviv Israel News - Haaretz Israeli News source.
Nutter Butter Peanut Butter Pie
Nutter Butter- Peanut Butter Pie If you hadn't heard already, our food blogging friend Jennie lost her husband Mikey last week. It was a sudden and unexpected loss. The kind of loss that is unfair in every way.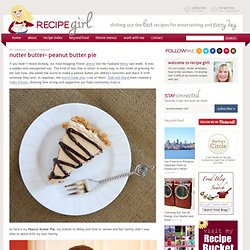 Out of all the social media platforms we currently have – Facebook, Twitter, Pinterest, etc., I'll be honest and say keeping up with the majority of them kinda stresses me out, but not Instagram. IG has always been my favorite; I find myself so inspired by what I find in the people I follow and of course, I love to sharing my own work and tidbits of life beyond the kitchen. Some would say I'm addicted, and they'd be 100% correct. When I decided to do this post, I figured it'd be only fair to go under what I actually like the most.
A Cozy Kitchen
Raspberry Almond Blondies
Lemon-Blueberry Yogurt Loaf Zingy Lemon-Blueberry Yogurt Loaf made with freshly squeezed lemon juice, lemon zest, yogurt and plump blueberries is lightly brushed with a lemon syrup then drizzled with a lemon glaze. Bursting with lemony flavor and fresh blueberries, this melt in your mouth will leave you begging for more.
Lemon-Blueberry Yogurt Loaf
Well these naughty little treats are well….naughty but oh so necessary. There are a bit like my Brownie Covered Oreo's from last Christmas but enhanced with layers of peanut butter and a double decker stack of Oreos in each little brownie cake. They are simply prepared in cupcake liners. Hope you enjoy this ultra sweet little cake
Oreo and Peanut Butter Brownie Cakes
I haven't had real, good old-fashioned smores that are made over a campfire in far too long. Like about twenty years, give or take, but who's counting. The last time I roasted marshmallows over a campfire was when I was a Girl Scout. I have memories of being too impatient to wait for the marshmallows to toast evenly and instead, I would intentionally dip my wooden stick, with splinter-filled marshmallows speared on it, directly into the flames. The marshmallows would ignite, char, and then I'd blow out the flaming charcoal black blobs of hot molten sugar, previously known as marshmallows. Then I'd promptly smoosh the charred marshmallows in between stale graham crackers, courtesy of the Minnesota summer humidity.
Peanut Butter Cocoa Krispies Smores Bars
How to Make Bagels: A User's Manual at Epicurious
The Comfort of Eggs in a Basket
Top 10 Awesome Dips | Food Hub
Potato Rings with Homemade Buttermilk Ranch
Yaki Onigiri Recipe
Web's Best: Whiskey Drinks
Apple Pies
Food Pyramid Submissions
Cinnamon Roll Waffles | ThatsSoYummy.com
Jamaican Banana Fritters | ThatsSoYummy.com
Homemade Baked Mozzarella Sticks
Deep Dish Fruit Pizza
The Ultimate Sandwich Recipe: Feast your eyes on this!
no-bake energy bites
Creamy Macaroni and Cheese Dishes that Put the Blue Box to Shame
Grilled Cheese Academy
50 of the World's Best Breakfasts from Around the World
6 Simple & Traditional Summer Salads Recipe
Most Popular Top Ten Recipes in 2010: Family Fresh Cooking Recipe Blog
Healthy Recipes Made Beautiful with Delicious Whole Foods Ingredients
Cookies and Cream Peanut Butter…Midnight Snack
Brown Butter Double Fudge Chocolate Chip Cookie Dough Cookies
Apple Coffee Cake with Crumble Topping and Brown Sugar Glaze Recipe : Emeril Lagasse
Food - Recipes : Blueberry and lemon traybake
Homemade Soft Pretzels Recipe : Alton Brown
Watermelon Lime Sorbet Slices
100 Ways to Cook…
Braided Spaghetti Bread » The official blog of America's favorite frozen dough
Cinnamon Muffins Recipe - Food.com - 21597
Easy Apple Cinnamon Muffins Recipe
Cinnamon Muffins Recipe - Food.com - 25969
Popsicles!
Mini Eggnog Doughnut Muffins | Doughnut Muffin Recipe
Warm Toasted Marshmallow S'more Bars | Flickr: Intercambio de fotos
Healthy and Vegetarian
Recipe: Monkey Bread with Bourbon Crème Anglaise | Apartment Therapy The Kitchn
Cruft: Lasagna Cupcakes
Mini Chocolate Chip Reese's Peanut Butter Cup Cookies—12 Weeks of Christmas Cookies
Mint Chocolate Chip Cookies Recipe | Flickr: Intercambio de fotos
Baking & Dessert Recipes & Videos - Joyofbaking.com *Tested Recipes*
Death By Oreo Cupcakes
Cheesecake Stuffed Strawberries
Pepperoni Pizza Monkey Bread Recipe
LaSaGnA TiMpAnO
Twix Cheesecakes – Gingerbread Bagels - StumbleUpon
Millionaire's Shortbread
Chocolate Chip Cheesecake Dip « Slice & Dice
Snowball Cookies | Favorite Holiday Cookies
The best new recipes from Smitten Kitchen | punchfork.com
foodgawker | feed your eyes
Two Tiny Kitchens
Lunch Lady Bars |
Better-Than-Crack-Brownies
Red Velvet Cheesecake Brownies
Chocolate Chip Cookie Dough Truffles
Blue-Eyed Bakers - Blue Eyed Bakers
Recipes from Kevin & Amanda
Pecan-caramel bars
Crazy Domestic: Melted Snowman Cookies
A brownie by any other name…
Happy Hour News, Videos, Reviews and Gossip - Gizmodo
TasteSpotting | a community driven visual potluck
The Infamous Jacques Torres Chocolate Chip Cookies
Three Safe-to-Eat Cookie Doughs: Chocolate Chip, Sugar, and Cake Batter!
How to Make Caramel Apple Shots
10 Decadent Holiday Pie Recipes
Oreo Cookies and Cream No-Bake Cheesecake
Picky Palate
Graham Cracker S'mores Cookies
Chocolate Cupcakes with Flaming Strawberries
How To Make Perfect Brownies