Drinks
The Classic 3-2-1 Margarita Recipe
July 27, 2012 3:23 p.m. ET WHEN YOU THINK of creamy, refreshing, dessert-like drinks, one immediately jumps to mind: the Piña Colada. There is, however, another option, and it's one that isn't known for being found at swim-up bars across the world.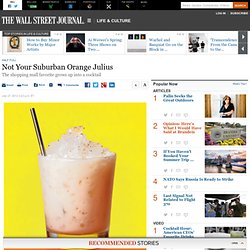 Not Your Suburban Orange Julius
Updated March 16, 2012 3:32 p.m. ET It started, as many things do, over shots. After a late-night drinking session with friends and a bottle of Jameson, Marc Forgione, chef of the eponymous New York restaurant, said that the Irish whiskey reminded him of peaches. Soon after, peach-infused Jameson landed on the drinks list.
Monkeying With Whiskey | Half Full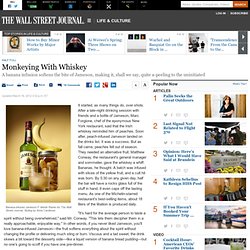 How To Be prepared for the holidays and any time your are required to serve up drinks. Throw successful parties year-round with these guidelines I found in the December 2004 issue of GQ. How Much and of What? Shopping List GINWhat a real martini is made with.
How to Stock Your Bar for a Party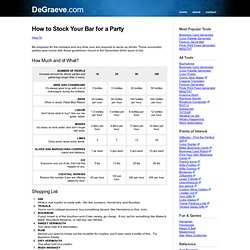 Summer's Best Drinks : Recipes and Cooking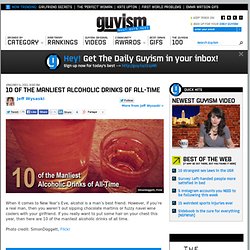 The 10 most macho drinks you may have never heard of
When it comes to New Year's Eve, alcohol is a man's best friend. However, if you're a real man, then you weren't out sipping chocolate martinis or fuzzy navel wine coolers with your girlfriend. If you really want to put some hair on your chest this year, then here are 10 of the manliest alcoholic drinks of all time. Photo credit: SimonDoggett, Flickr 10 Boilermaker There's no doubt that beer and whiskey are two of the manliest straight-up drinks out there.
The 10 manliest cocktails (and how to make them)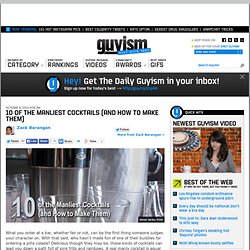 What you order at a bar, whether fair or not, can be the first thing someone judges your character on. With that said, who hasn't made fun of one of their buddies for ordering a piña colada? Delicious though they may be, those kinds of cocktails can lead you down a path full of pink frills and rainbows.
After an exciting summer with friends & family [ & food...+ maybe some alcohol : ) ], I felt like I needed a quick detox to jumpstart my metabolism. When doing a cleanse, it is essential to select one that fits your body's schedule & needs. I picked this Juicer's Solana Beach cleanse to rid my system of toxins [ it was nice to drop eight pounds too- [ note: four, of which were attributed to water weight-loss ] because it fit perfectly with my work schedule. It was effortless & tasted decent. The cleanse consists of three days with different juices every hour, lots of water, & lean protein [ first, I choose ground turkey, then chicken, & lastly oysters ] with veggies at night. I would recommend this one in particular because it's easy to make from home.
Juicer's Three Day Cleanse | The Skinny Confidential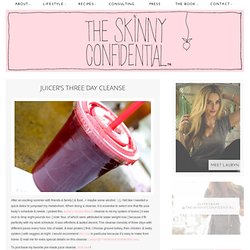 Sweet and sour drinks
This past Friday night was meant for celebrating. The weather was sit-out-on-the-deck-in-the-cool-evening-breeze perfection. Friends gathered from all around the city with chips and salsa and salads and popcorn and laughter and stories to share. The fire pit was aflame.
fresh orange smoothie ("orange julius") - gimme some oven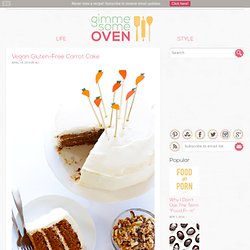 We dubbed this drink The Terminator for 2 specific reasons; today is National Rum Day, so we wanted to create a drink that embodied the last relaxing bit of summer we have left. Ingredients that would be as refreshing alone as they would be together. After doing some research, we stumbled upon a mixologist who would make these for him and his colleagues after a long night tending behind the bar. According to BACARDI mixologist, David Cordoba, "This Rum 'n' Coke Float is the classic barman's reward.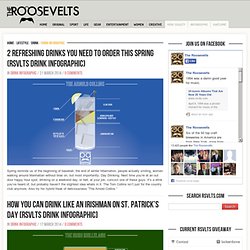 Drink Infographic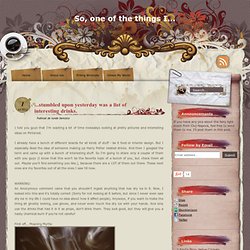 I told you guys that I'm wasting a lot of time nowadays looking at pretty pictures and interesting ideas on Pinterest.I already have a bunch of different boards for all kinds of stuff - be it food or interior design. But I especially liked the idea of someone making up Harry Potter related drinks. And then I googled the term and came up with a bunch of interesting stuff. So I'm going to share only a couple of them with you guys (I know that this won't be the favorite topic of a bunch of you, but check them all out.
...stumbled upon yesterday was a list of interesting drinks. | So, one of the things I...
Modern Drunkard Magazine
1. If you owe someone money, always pay them back in a bar. Preferably during happy hour. 2. Always toast before doing a shot. 3. Whoever buys the shot gets the first chance to offer a toast. 4. Change your toast at least once a month. 5.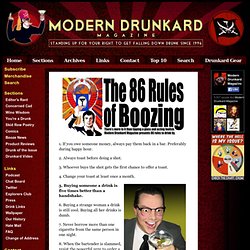 Some of the tastiest cocktails (think the martini, the Manhattan, the margarita) are also the simplest. At a time when it's not unusual to walk into a cocktail bar and see drinks with seven or eight ingredients on the menu, it can be refreshing to look back to the simpler drinks of a bygone era. Here are four cocktails, all variations on the humble gin sour, that thrilled pre-Prohibition drinkers with their simple elegance. First up: the gin sour. Three ingredients: lemon, sugar, and gin, in perfect balance.
Forgotten Gin Cocktails: The Gin Sour, The Fitzgerald, The Aviation & The Casino
The Drinks Every Man Should Know
Invented in one of the many disco/bars in Cuzco, a beautifull city in Peru famous for having been tha capital of the Inca empire and very popular among tourists, as from there you can get to the lost city of Machu Picchu. 1. Fill a 12-oz highball glass half way up with orange juice.
Machu Picchu recipe
June 30, 2011 | Sweet Recipes | Comments Growing up, these Italian sodas were my favorite!! My mom and I would always stop by a little coffee shack on our road trips to Oregon.
italian sodas
15 New Drinks to Thrill Your Taste Buds
The Drinks Every Man Should Know
10 Jello Shots Worth the Hangover
Peach Schnapps
HOWTO mix a grody-looking Alien Brain Hemorrhage cocktail
Alcoholic Soaked Gummy Bears | Recipe | Cut Out
Daily Fork - The 8 Cheapest Drinks for Getting Totally Hammered
Teleportation Shots (Portal Shots) First Shot...
Cocktail Guide
Top 10 Popular Shot & Shooter Recipes | The Intoxicologist
Tequila-Soaked Watermelon Wedges
Jolly Rancher Vodka Tutorial
SMN_NEW_DandelionWineMAY10.gif (1288×754)
Modern Drunkard Magazine
Extratasty - Get your booze on! - Drink of the day is "G-Twist Martini" by LorenzoQ | 12/06/11
DRINKSMIXER.COM: 22400+ mixed drink recipes, cocktails and drinks
S'moretini Shooters
7UP Mixers
Skittles Vodka Tutorial
50 Drinking Games Guaranteed to Get You Hammered
10 Jello Shots Worth the Hangover