Sources
A Technical Examination of SOPA and PIPA - -
Quick Digital Makeup Tips To Make Yourself Look Ten Years Younger
It may not be a fountain of youth, but Photoshop is the secret of beauty experts everywhere. Here's some tips on how to reduce wrinkles and make the people in your pictures look younger in virtually no time at all. Whatever you might think about using photo editors to create an unrealistic standard of beauty, the fact remains is that it's done every day by professional image editors. And today we're going to show you some tricks that even the pros use to keep models looking young. So open up Photoshop or GIMP and get ready to take some years off.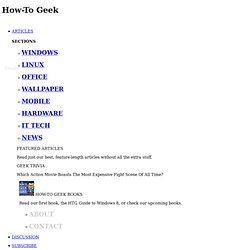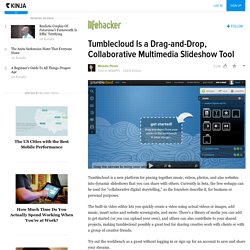 Tumblecloud Is a Drag-and-Drop, Collaborative Multimedia Slideshow Tool
Tumblecloud is a new platform for piecing together music, videos, photos, and also websites into dynamic slideshows that you can share with others. Currently in beta, the free webapp can be used for "collaborative digital storytelling," as the founders describe it, for business or personal purposes. The built-in video editor lets you quickly create a video using actual videos or images, add music, insert notes and website screengrabs, and more.
Foodpairing Is an Interactive Mind Map for Creating Great Drinks and Dishes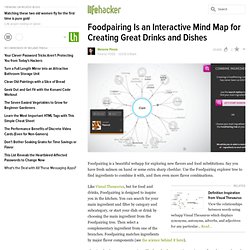 Foodpairing is a beautiful webapp for exploring new flavors and food substitutions. Say you have fresh salmon on hand or some extra sharp cheddar. Use the Foodpairing explorer tree to find ingredients to combine it with, and then even more flavor combinations. Like Visual Thesaurus , but for food and drinks, Foodpairing is designed to inspire you in the kitchen. You can search for your main ingredient and filter by category and subcategory, or start your dish or drink by choosing the main ingredient from the Foodpairing tree.
Make Popcorn in Your Wok
Running multiple operating systems side-by-side gives you the chance to test applications, run platform-specific software, and tons more without ever rebooting. It's also extremely cool.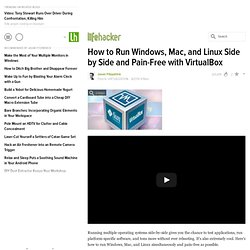 You can customize nearly every last inch of your Linux installation to fit your liking, and it starts with choosing the right desktop environment. Whether you're a Linux beginner or you're just looking for a new interface, here's an overview of how desktop environments work and how to pick the right one for you. Windows and Mac OS X come with pretty specific graphical interfaces (you know, the windows, the skin, the system toolbars, etc.) that aren't really built for customization. With Linux, you can fully customize not only how your desktop looks, but even its functionality, and the settings available in its preferences.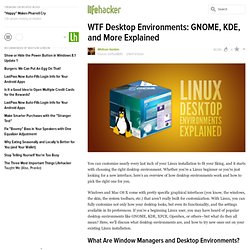 WTF Desktop Environments: GNOME, KDE, and More Explained
Free Getting Started with Ubuntu Manual Helps Out Linux Rookies
Stupid Geek Tricks: Hide Data in a Secret Text File Compartment
In today's edition of Stupid Geek Tricks (where we show off little-known tricks to impress your non-geek friends), we'll learn how to hide data in a text file that can't be seen by anybody else unless they know the name of the secret compartment. Note: This article was originally written a couple of years ago, but we've updated and polished it for Windows 7 and we're sharing it with all the new readers again.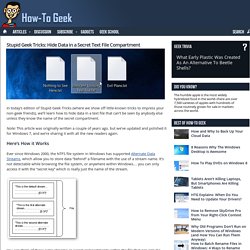 The Cleverest Geeky Windows Tricks Everyone Should Know Anyone can sit down at a Windows PC and get along fine, but with the right tips and tricks, you can get around much faster.
Windows 7 adds loads of great shortcuts for switching between apps, moving windows around your screen, moving them to another monitor altogether, and much more.