Sources
A Technical Examination of SOPA and PIPA - -
Quick Digital Makeup Tips To Make Yourself Look Ten Years Younger
It may not be a fountain of youth, but Photoshop is the secret of beauty experts everywhere. Here's some tips on how to reduce wrinkles and make the people in your pictures look younger in virtually no time at all. Whatever you might think about using photo editors to create an unrealistic standard of beauty, the fact remains is that it's done every day by professional image editors. And today we're going to show you some tricks that even the pros use to keep models looking young. So open up Photoshop or GIMP and get ready to take some years off.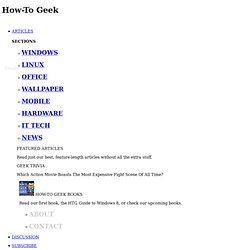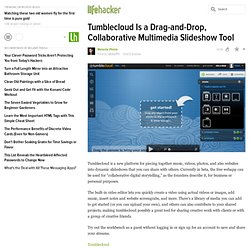 Tumblecloud Is a Drag-and-Drop, Collaborative Multimedia Slideshow Tool
Tumblecloud is a new platform for piecing together music, videos, photos, and also websites into dynamic slideshows that you can share with others. Currently in beta, the free webapp can be used for "collaborative digital storytelling," as the founders describe it, for business or personal purposes. The built-in video editor lets you quickly create a video using actual videos or images, add music, insert notes and website screengrabs, and more. There's a library of media you can add to get started (or you can upload your own), and others can also contribute to your shared projects, making tumblecloud possibly a great tool for sharing creative work with clients or with a group of creative friends. Try out the workbench as a guest without logging in or sign up for an account to save and share your streams.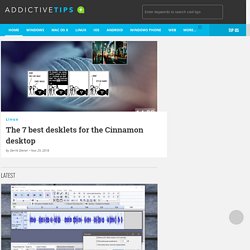 Since Mavericks came out last year, we have gone over features previously unknown to us regular users. We shared secrets of Terminal Commands, hiding and unhiding icons on the desktop, hiding the Dashboard and Notification Center; in the interest of bringing you more things you can do with Mac OS X that you didn't think were possible, here are 4 more. Read More Before we begin, a disclaimer.
Not all are created equal. I had one that would spray the kernels out before they popped, so when they went off, they'd blow popcorn all over the counter-top. Another actually did burn kernels.
Make Popcorn in Your Wok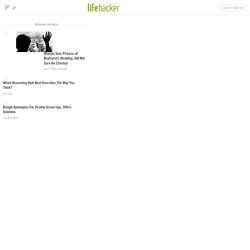 @soldstatic: If you are serious about VMware and run guests all the time, you might do better by installing the free ESXi version on the bare hardware and run all of your systems as guests. The main downside is that you don't get any local console access to the guests - you always have to use the windows client app for that. @soldstatic: The issue with VMware Server is the lack of updates/patches for a few years. VMware has claimed they are still working on VMware Server and there are definitely specific uses for it over any of these other VMware products. Just in case some other people aren't familiar or get confused with all the VMware stuff ....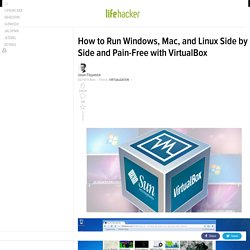 Actually, these probably should be addressed. Thanks for pointing out that I wasn't exactly clear. There's a fine line between simplifying something so people can understand it and actually saying something that isn't quite right. I'll fix it.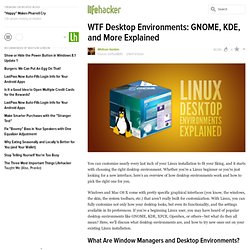 WTF Desktop Environments: GNOME, KDE, and More Explained
Free Getting Started with Ubuntu Manual Helps Out Linux Rookies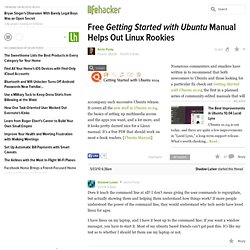 @Shadow-Lurker: 90% of all computer users dont need that. All they need is the basics to do what they did under windows. Remember most users are not high end power users like you.
Stupid Geek Tricks: Hide Data in a Secret Text File Compartment
In today's edition of Stupid Geek Tricks (where we show off little-known tricks to impress your non-geek friends), we'll learn how to hide data in a text file that can't be seen by anybody else unless they know the name of the secret compartment. Note: This article was originally written a couple of years ago, but we've updated and polished it for Windows 7 and we're sharing it with all the new readers again. Here's How it Works Ever since Windows 2000, the NTFS file system in Windows has supported Alternate Data Streams, which allow you to store data "behind" a filename with the use of a stream name. It's not detectable while browsing the file system, or anywhere within Windows… you can only access it with the "secret key" which is really just the name of the stream. You can think of these extra streams as secret compartments within the file, that can only be accessed if you know the "secret code", which in this case is just the name of the stream.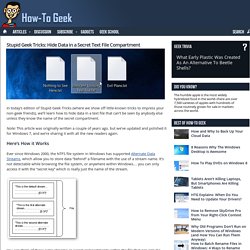 My favorite: Win+arrow combinations that allow minimizing/maximizing / docking / changing monitors. Alt+Up to parent directory since Backspace no longer accomplishes this. Win+P to change monitors is good as now I can give general suggestions to people trying to hook a laptop to a projector instead of the vendor specific Fn+F1-F12