funny news
Get flash to fully experience Pearltrees
My friend asked me if I wanted a frozen banana, I said "No, but I want a regular banana later, so, Yeah." Mitch Hedberg The depressing thing about tennis is that no matter how good I get, I'll never be as good as a wall.
by Susana Polo | 11:53 am, May 9th, 2011 I could make some joke here about how Ikea directions always make me feel like I'm expected to build something that's bigger on the inside, but I actually have never had that much trouble following Ikea directions THERE I SAID IT. Seriously, if you've ever put together some Lego sets, you already have all the experience you need. No, the problem I always seem to have is with the furniture where you have to pick up extra parts that aren't expressly mentioned all over the boxes of the parts you already have, and I find that I've left a vital element of a bed, like the bits that hold up the mattress , at the warehouse. And then I sleep on the couch. (via College Humor .)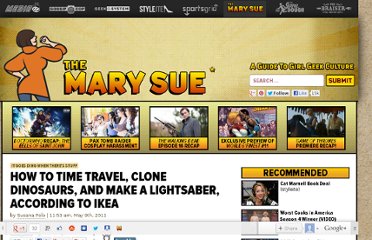 Photo: Courtesy of European Sperm Bank The Custom-Made 'Sperm Bullitt': Making a Special Delivery... Copenhagen is a paradise for cyclists and a city that the rest of the world could learn a lot from .
We like to think there's something poetic and beautiful about the English language, as it was slowly pieced together over the centuries by Shakespeare, Chaucer, Wordsworth and James Joyce. Look closer, however, and you'll see that English is actually just a mishmash of grunts and shrieks assembled haphazardly from the crude dialects of hobos, gypsies and rapists. For example: "Tip" Used to Mean Paying a Man to Not Beat You Today's Usage: "I better tip that waitress so I don't feel bad about that thing with the vomit."
There's no basement on The Enterprise. There aren't any bathrooms either. This shirt was inspired by this comic which was inspired by a tweet from Wil Wheaton and subsequently draw'd by Joel Watson . DTG Printed about 8″ wide on Men's Gildan 2000 in Charcoal and Ladies Ladies Tultex 0213 in Charcoal . NOTE: Ladies shirts run about a size or two small. Learn more about DTG printing HERE .