Science
Free Engineering Video Lecture courses. InnerHi. Work.3544730.1.fc-550x550-lemon.v3.jpg (JPEG Image, 350x350 pixels) The Tenth Dimension - Science - Science Funny Pictures, Funny Videos, Cool Videos. Arduino RFID Door Lock. ***Updated 8/9/2010*** I wanted to make an easy and secure way to enter my garage.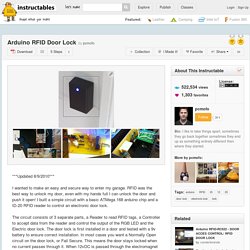 RFID was the best way to unlock my door, even with my hands full I can unlock the door and push it open! I built a simple circuit with a basic ATMega 168 arduino chip and a ID-20 RFID reader to control an electronic door lock. The circuit consists of 3 separate parts, a Reader to read RFID tags, a Controller to accept data from the reader and control the output of the RGB LED and the Electric door lock.
Radiation Dosage Chart. ScienceWorld.
---