Modules & Themes
Last updated April 3, 2014. Created by Heine on August 2, 2012.Edited by Manjit.Singh, nitishchopra, moonstruck, silverwing. Log in to edit this page. This handbook is about changing the look and feel of a Drupal site.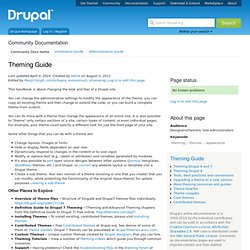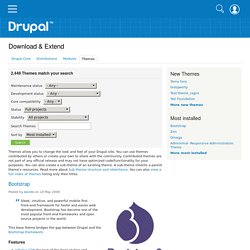 Responsive HTML5 Base Theme Adaptivetheme is a powerful theme framework designed from the ground up to power modern, cross browser/cross device websites using responsive design techniques. Adaptivetheme allows you to set up specific layouts for different device groups - such as desktop, tablet and smartphone - all with zero coding. Its all easy point-and-click configuration. If you are using Panels try the Browscap CTools module to control the visibility of panel panes in mobile devices or Browscap Block to do the same thing with normal blocks.
Working with Views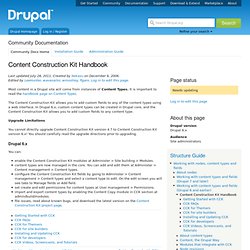 Last updated July 28, 2011. Created by bekasu on December 6, 2006.Edited by LeeHunter, wavesailor, wmostrey, figaro. Log in to edit this page.
Content Construction Kit Handbook
Last updated February 27, 2014. Created by jbrauer on November 20, 2004.Edited by dddave, podarok, clemens.tolboom, nevets. Log in to edit this page.
Module developer's guide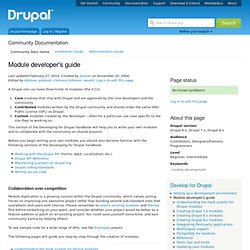 Hello, and welcome to DrupalModules.com, a community-powered rating and review service dedicated to helping you find the best Drupal modules for your project! Need help finding the right Drupal module? Try Module Finder, a powerful new tool that searches as you type! Filter modules by category, version, title, or keywords, and watch the results update in real time. Want to see what other Drupal users think?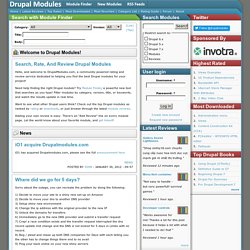 Extend and customize Drupal functionality with contributed modules. If a module doesn't quite do what you want it to do, if you find a bug or have a suggestion, then join forces and help the module maintainer. Or, share your own by starting a new module. Views You need Views if