BPM - Outils
[06/01/2014] Smile change d'actionnaire majoritaire et se renforce Keensight Capital, l'un des acteurs de référence du Growth Equity1 en Europe, devient actionnaire majoritaire de la société Smile, premier intégrateur en France et en Europe de solutions open source, aux côtés de son management et de l'investisseur historique Edmond de Rothschild Investment Partners (avec le Fonds Cabestan Capital). [28/11/2013] Evénement Performance e-commerce 2014 Acteurs reconnus du marketing digital et du e-commerce, CyberCité, Dolist et Smile, organisent l'événement "Performance e-commerce 2014", le 28 novembre 2013 à Paris. Toutes les actualités
Blog BPM-Workflows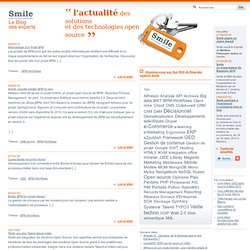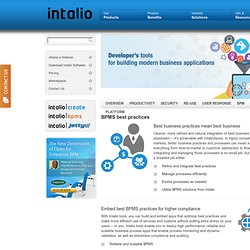 Business Process Management (BPM) - Intalio The Private Cloud Co
Best business practices mean best business Cleaner, more refined and natural integration of best business practices isn't a pipedream -- it's achievable with Intalio|bpms. In highly competitive business markets, better business practices and processes can mean a big difference in everything from time-to-market to customer satisfaction to financial auditing. Integrating and managing those processes is no small job, but it doesn't have to be a dreaded job either. Refine and integrate best practicesManage processes efficientlyEvolve processes as neededUtilize BPMS solutions from Intalio
Orchestra: Open Source BPEL / BPM Solution - Orchestra : The Ope
Event-driven process chain
Example of a more complex EPC diagram (in German).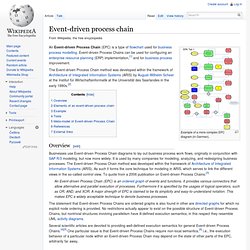 Sjir Nijssen (born 1938) is a Dutch computer scientist, who was full-time professor at the University of Queensland. Nijssen is considered the founder of verbalization in computer science, and one of the founders of business modeling and information analysis based on natural language.[1] Biography[edit] Sjir Nijssen finished his study at the Eindhoven University of Technology in 1965, and started working at Philips at the department of Commercial Efficiency Research.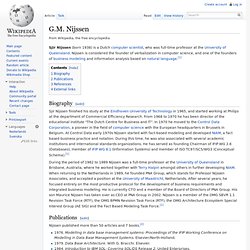 G.M. Nijssen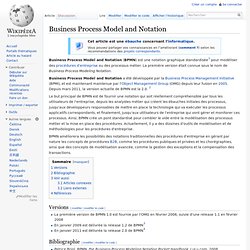 Un article de Wikipédia, l'encyclopédie libre. Business Process Model and Notation (BPMN) est une notation graphique standardisée[1] pour modéliser des procédures d'entreprise ou des processus métier. La première version était connue sous le nom de Business Process Modeling Notation.
Business Process Modeling Notation
Business process modeling language
Un article de Wikipédia, l'encyclopédie libre. XPDL (XML Process Definition Language ou langage (dérivé du) XML de définition de processus). C'est un standard de la Workflow Management Coalition qui permet de définir un processus métier ou processus d'affaires à l'aide du langage XML, processus métier qui sera ensuite utilisé par un moteur de workflow. La définition d'un processus comporte les principaux éléments (balises) suivant(e)s : les marques de début et de fin du ou des processusles activitésleurs inter-relations (les transitions)les attributs qualifiant certains comportements de l'activitéles participants / rôles / groupesles interactions / relations entre les acteurs et les activités...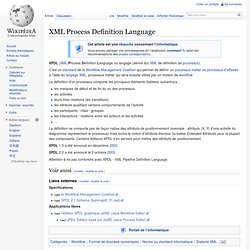 XML Process Definition Language
Office Support Systems Analysis and Design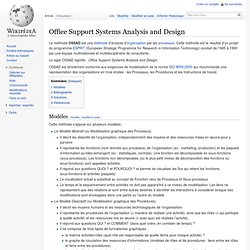 Un article de Wikipédia, l'encyclopédie libre. La méthode OSSAD est une méthode d'analyse d'organisation par les processus. Cette méthode est le résultat d'un projet du programme ESPRIT (European Strategic Programme for Research in Information Technology) conduit de 1985 à 1990 par une équipe multinationale et multidisciplinaire de consultants.
BOC Group: Home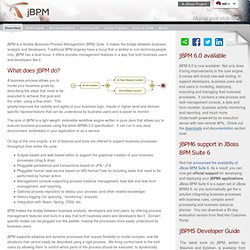 jBPM is a flexible Business Process Management (BPM) Suite. It makes the bridge between business analysts and developers.
Professional Open Source Workflow, Groupware and Document Manage