App Sites 2 FULL
Imangi Studios
Apps | Tapps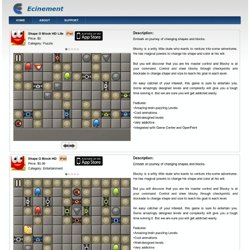 Ecinement
Embark on journey of changing shapes and blocks. Blocky is a witty little dude who wants to venture into some adventures. He has magical powers to change his shape and color at his will. But you will discover that you are his master control and Blocky is at your command.
Boolba Labs
Big Fish Games
Mybo
Kieffer Bros. - Blockwick, Monster Soup, Aqueduct, Orba, Abca
Game Studio
Welcome to Zariba - your partner in games
Game Center Now
Yogamen.net
Genre: Arcade, Puzzle Hack, hackle, cut, break, explode, SMASH everything in sight – in Smash Mania total destruction will be your aim! Each level in Smash Mania demands reaction quickness and gives you a lot of fun! Incredible physics, tricky levels, bright graphics, unique gameplay – Smash Mania will become best buy for iOS this season!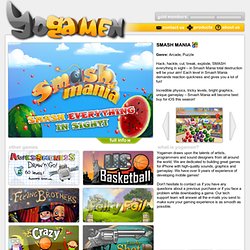 Light, motion and puzzle for your iPhone, iPod and iPad
Perfect Dimension - We Make Apps
Capcom Mobile
Street Fighter® IV Play the console mega-hit on your iPhone! Featuring a robust tournament mode, multiplayer over Bluetooth and ten characters and counting! CAPCOM Arcade Your favorite Capcom arcade games are back and better than ever in near perfect translations of the originals. Phoenix Wright: Ace Attorney Not everyone is innocent until proven guilty! Dead Rising Survive in a mall overrun with an army of the undead!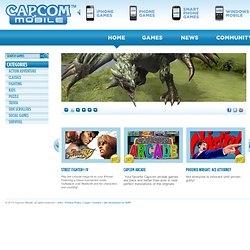 Tank Battles - Explosive Fun! Thor: The Dark World - The official game of the Marvel movie Total Conquest Asphalt 8: Airborne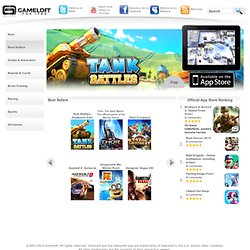 Welcome To GAMEVIL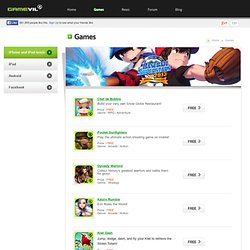 Chef de Bubble Build your very own Snow Globe Restaurant! Price : FREE Genre : RPG / Adventure Pocket Gunfighters Play the ultimate action shooting game on mobile! Price : FREE Genre : Arcade / Action Dynasty Warlord Collect history's greatest warriors and battle them for glory!
Capcom began in Japan in 1979 as a manufacturer and distributor of electronic game machines. In 1983 Capcom Co., Ltd was founded and soon built a reputation for introducing cutting-edge technology and software to the video game market. Now an industry leader in the video game industry for 25 years, Capcom's legacy of historic franchises in home and arcade gaming are testaments to an unparalleled commitment to excellence. Building on its origins as a game machine manufacturer, Capcom is now involved in all areas of the video game industry and has offices in Tokyo, Osaka, California, England, Germany and Hong Kong.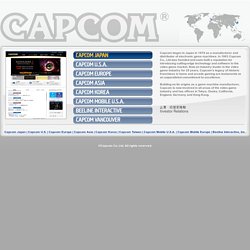 Com2uS - Top iPhone Games, iPod Touch Games, iPad Games, Android Games
Untitled Document
iphone | Digital Chocolate
Backflip Studios
iQBloxing | bees4honey blog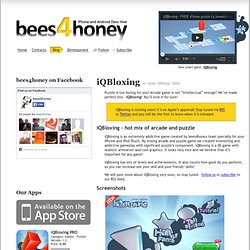 iQBloxing 3D · action · iQBloxing · Puzzle Puzzle is too boring for you? Arcade game is not "intellectual" enough? We've made perfect mix – iQBloxing! You'll love it for sure!
iPhone Games & iPod Touch Games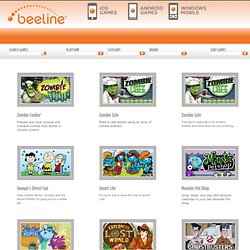 Kiwi & Me Meet Kiwi, a magical creature who's a little bit bird, a little bit plant, and a whole lotta' cute! Snoopy's Candy Town Build the Ultimate Candy Factory in Snoopy's Candy Town! Snoopy's Street Fair Help Charlie Brown, Snoopy and the whole PEANUTS gang put on a street fair. Monster Pet Shop Grow, breed, and play with fantastic creatures in your own Monster Pet Shop. Smurfs' Grabber Give the Smurfs a helping hand in this arcade-style claw game!
Beeline
beeline-i
index