German life
saarVV Kundenhotline 06898 500-4000 Der Saarländische Verkehrsverbund (saarVV) bietet seinen Fahrgästen eine einheitliche Kundenhotline an. » weiter Fahrkartenpreise 2014 Hier finden Sie alle Informationen zu denTarifangeboten des saarVV. » weiter Das EventTicket der Saarbahn GmbH 2014 Fahren Sie mit einem attraktiven Sparpreis in die Saarbrücker Innenstadt! » weiter Fahrplanänderungen der Linien 132 und 164 Zum 15.
Bus » Start
Universität des Saarlandes:  Home
English version: information about German courses - AStA der Universität des Saarlandes
BAMF - Integrationsportal - Integration courses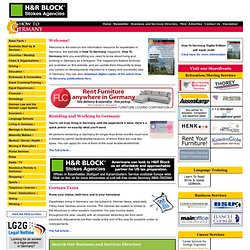 How To Germany - Home
Welcome to the best on-line information resource for expatriates in Germany: the website of How To Germany magazine. How To Germany tells you everything you need to know about living and working in Germany as a foreigner. The magazine's feature archives are available on this website, and we update them frequently to keep you current on developments important to a happy and successful stay in Germany. You can also download digital copies of the latest How To Germany publications here. You're not truly living in Germany until the paperwork's done.