Comic
Mohagen - 046 - No Other Way
NNFB | Latest
Sometimes while I'm drawing, I leave a chat room up that has a 'grab the mic and talk' feature. It's like listening to a podcast between a couple dozen people. Over the last week or two, one of the regulars of that chat room (who goes by DarlingNadia) has been stressing over the fact that her and her seven year old daughter are facing eviction. She's unemployed (EDIT: though she is looking and has an interview lined up) and needs to raise $1261 by Jan. 22. She's been getting more and more stressed as each day passes and every time I listen to her cry over her overwhelming stress, I keep thinking "I could fix this". She's not a Goblins reader, I don't really know this woman, but… I could fix this.
Goblins - Life through Their Eyes - Monday, May 3, 2010
UPDATE, AGAIN: Alright, it's been weeks. But, in my defense, tendonitis does take really long to heal, and if you don't let it do so it can get chronic from what I hear, so I do have an excuse. I make this update because I've been working on something else in this time off: it's not related to Keychain directly, but it is related to Exalted, so if you play the game you might be interested.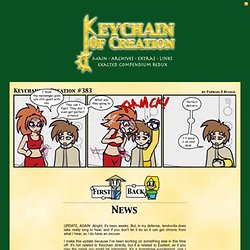 Keychain of Creation - Updates Monday and Friday
S-I-N - Comics - 512
Comic Movie Geeks
Manga Fox: Read Free Manga Online!
My Panel
Comic Movie Geeks