Comic
Mohagen - 046 - No Other Way
NNFB | Latest
This Is Not The Blog. February 26th, 2014 Very soon there will be a blog post from Tarol Hunt (Thunt), explaining what's happened and what's going on with the Goblins updates. This is not that blog. -Danielle Drawing Live Right Now
Goblins - Life through Their Eyes - Monday, May 3, 2010
UPDATE, AGAIN: Alright, it's been weeks. But, in my defense, tendonitis does take really long to heal, and if you don't let it do so it can get chronic from what I hear, so I do have an excuse. I make this update because I've been working on something else in this time off: it's not related to Keychain directly, but it is related to Exalted, so if you play the game you might be interested.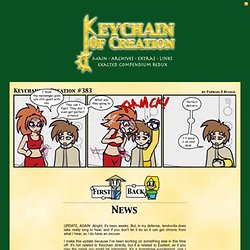 Keychain of Creation - Updates Monday and Friday
S-I-N - Comics - 512
Comic Movie Geeks
Manga Fox: Read Free Manga Online!
My Panel
Comic Movie Geeks