Audio Production
RA Reviews: Tech
RA Reviews: Teenage Engineering - OP-1 (Tech)
Do you remember the Casio VL-Tone series of mini-keyboards from the '80s? Still considered by many to be an achievement in engineering, what it lacked in functionality it made up for in portability, design and fun. A couple of years back, a peculiar group of Swedes who called themselves "Teenage Engineering" started showing up at the big music gear trade shows with a prototype of a new synth called the "OP-1" that appeared to be a modern rework of the VL-Tone. The physical design was deeply rooted in the original, but it had a distinctly 21st century industrial feel, as if Jony Ives himself had gone to work for Casio. Despite the slick exterior, it was hard to take the TE boys very seriously at the time, because for a while the demos didn't make any sound. But as more and more people started seeing this new synth—and the big gadget blogs start catching on—a nearly unprecedented level of anticipation started building.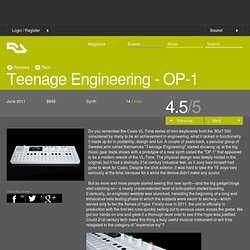 Event Electronics - Opal active Studiomonitor : Monitors and amps
YouTube via Puremagnetik | July 28, 2010 "Max Fuel, the First is a bundle of ten highly refined Max For Live devices. All were created with the musician in mind and work well in Live for either production or performance. The devices fall into three categories. Max For Live opens new doors in Ableton for interesting, unique content to step through. Max Fuel, the First is Puremagnetik's first foray into this new world.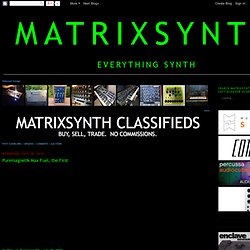 Puremagnetik Max Fuel, the First
Max Fuel, the First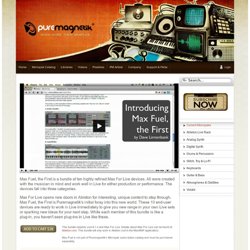 Ableton Live to Life and tap into the world's most advanced Live Pack catalog. Immerse yourself in a universe of vintage synths, famous drum machines, 8-bit chips, sound design tools and more. Sign up now and download over 1GB of Packs for free.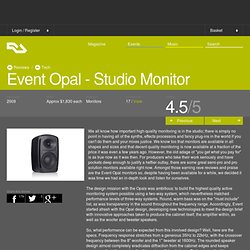 RA Reviews: Event Opal - Studio Monitor (Tech)
We all know how important high-quality monitoring is in the studio; there is simply no point in having all of the synths, effects processors and fancy plug-ins in the world if you can't do them and your mixes justice. We know too that monitors are available in all shapes and sizes and that decent quality monitoring is now available at a fraction of the price it was even a few years ago. However, the old adage of "you get what you pay for" is as true now as it was then. For producers who take their work seriously and have pockets deep enough to justify a heftier outlay, there are some great semi-pro and pro solution monitors available right now. Amongst those earning rave reviews and praise are the Event Opal monitors so, despite having been available for a while, we decided it was time we had an in-depth look and listen for ourselves.
Electro Sounds | Trance, Progressive, House, Techno, PsyTrance, Chillout, Lounge, Ambient
Lokalizacja:Mniejszy hotel położony przy plaży (przejście przez promenadę) w miejscowości Turgutreis (150 m od centrum), 17 km od centrum Bodrum i 40 km od lotniska.Do dyspozycji gości:Recepcja z lobby, restauracja główna, sala TV, sklepik. Raz w tygodniu program animacyjny. Leżaki i parasole przy basenie i na plaży bezpłatnie.Pokoje:Wszystkie (51) wygodnie urządzone, dwuosobowe pokoje z możliwością jednej dostawki, łazienkę z suszarką, telefon, balkon, klimatyzacja. Sejf w recepcji za opłatą (15 EUR/tydz.).Wyżywienie:W cenie: Hotel posiada formułę All Inclusive, śniadanie, obiad, podwieczorek, kolacja w formie bufetu.
DDM4000
Cognitone Music Prototyping
USB2.0 Audio links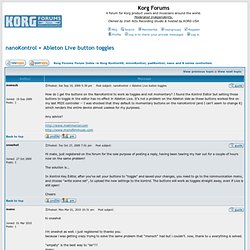 Hi mate, just registered on the forum for the sole purpose of posting a reply, having been tearing my hair out for a couple of hours now on the same problem! The solution is... In Kontrol Key Editor, after you've set your buttons to "toggle" and saved your changes, you need to go to the communication menu, and choose "write scene set", to upload the new settings to the kontrol.
Korg Forums :: View topic - nanoKontrol + Ableton Live button toggles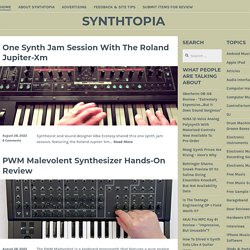 Waldorf has released a new soundset, Attack, that turns the Blofeld into a drum machine sound module. Here's what they have to say about it: Continue reading Developer Jan Cumpelik is running an IndieGoGo campaign to put the Lunchbeat 1-bit groovebox into production. Continue reading This video, via John L Rice, is an informal comparison of the sound of six different large-format (5U) modular synthesizer filters: Continue reading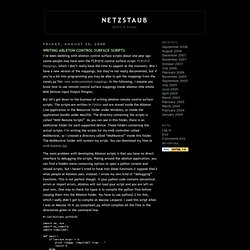 I've been dabbling with ableton control surface scripts about one year ago (some people may have seen the FCB1010 control surface script: FCB1010 Mappings, which I don't really have the time to support at the moment). Btw I have a new version of the mappings, but they're not really documented, but if you're a bit into programming you may be able to get the mappings from the consts.py file: new undocumented mappings. In the following, I assume you know how to use remote control surface mappings inside ableton (the whole Midi Devices Input Output thingie). But let's get down to the business of writing ableton remote control surface scripts. The scripts are written in Python and are stored inside the Ableton Live application in the Resources folder under Windows, or inside the application bundle under MacOSX. The directory containing the scripts is called "MIDI Remote Scripts".
netzstaub » Writing Ableton Control Surface Scripts
Welcome to Opus Locus
Welcome to the minimal Opus Locus website. You may be looking for the following: LC Xmu — Logic/Mackie Control emulation for generic MIDI controllers.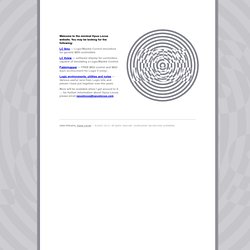 nanoKontrol for Reaper (XP & OS X) - Cockos Confederated Forums
korg nanokontrol forum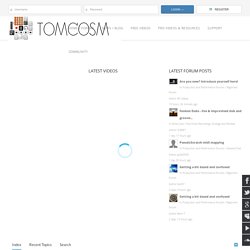 So you've made the decision to purchase Ableton Live and start producing, but you want to know whether to splash out for the full version, or purchase the cheaper but limited Live Intro. This guide is for people who have very little or no knowledge of production, and need a bit of a hand with the comparison chart. I will go through each of the points listed on the official Ableton site and comment on what the limitations actually mean.