General
Trends der Zukunft
Hallo Zukunft-Blog Swisscom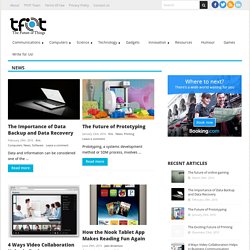 Age-related Macular Degeneration (AGM) is one of the leading causes of vision loss. Due to a ... Many websites have privacy policies listed for each site user to see. In fact, some places ... Last week, San Francisco based startup-Planet Labs Inc.
Zukünftige Technologien consulting
Aktuelle Erkenntnisse der Wissenschaft im innovations-report Der innovations-report dient als interdisziplinäres Forum, um Forschungsergebnisse bekannt zu machen und wissenschaftliche Zusammenarbeit zu stärken. Das Forum für Wissenschaft, Industrie und Wirtschaft macht aus wissenschaftlicher Forschung resultierende Innovationen bekannt und bewirkt auf diese Weise eine Wissensvernetzung. Die moderne Forschung profitiert vom regen Austausch unterschiedlicher Fachgebiete: Innovationen werden durch interdisziplinäre Kommunikation inspiriert und vorangetrieben. Die weltweit mehr als 8.200 Content-Partner des Forums geben in über 166.000 Publikationen aktuelle Forschungsergebnisse aus allen Bereichen der Wissenschaft bekannt.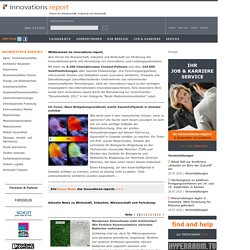 17. März 2014 — Medienmachern und Konsumenten eröffnen sich in den kommenden Jahren außergewöhnliche Perspektiven. Durch den Einsatz von Smartphones, Tablets oder Notebooks und der Synchronisation dieser Second Screens mit dem Fernseher lassen sich neue Formate kreieren. Geschehen, Information und Partizipation werden zu einer medialen Melange. Doch bis es soweit ist, müssen Forscher, Entwickler und Industrie noch viel Feinarbeit leisten.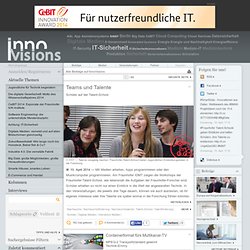 InnoVisions
Greetings, loyal readers of me reading other people's mail! I had a weird occurrence the other day — I finally got a letter that I couldn't deliver. I have no idea how this is the first time that this has come up, it being the post-apocalypse and all, but there it was. The letter had a return address on it, so I knew immediately what I had to do — burn it. New postal rule: No backsies.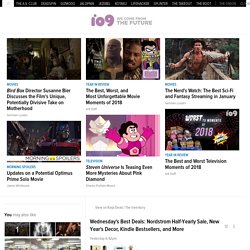 Welcome to the future! Below, you will find a speculative timeline of future history. Part fact and part fiction, the timeline is based on detailed research that includes analysis of current trends, long-term environmental changes, advances in technology such as Moore's Law, future medical breakthroughs, the evolving geopolitical landscape and more.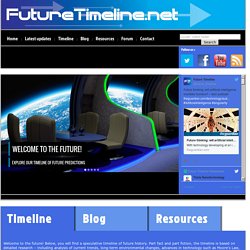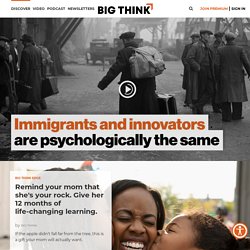 Today's Big Idea What's the secret to good health? It's no longer a secret, and it's actually fairly simple, even as good health is something that is very hard to achieve in our …society today. According to Dr. H. Robert Silverstein, the idea is to "make the individual self-reliant so that don't need medical care."
Deutschland Online: Home
Land der Erfinder – Das Schweizer Magazin für Innovationen -
Die ETH Zürich ist bei vier neuen Nationalen Forschungsschwerpunkten (NFS) Leiterin oder Co-Leiterin. Insgesamt hat der Bundesrat acht Forschungsschwerpunkte an Schweizer Universitäten lanciert. Digitale Architektur, biomedizinische Grundlagen, molekulare Ingenieurwissenschaft und mathematische Physik: Mit diesen Forschungsthemen hat sich die ETH Zürich bei der neusten Serie von Nationalen Forschungsschwerpunkten mit Erfolg durchgesetzt und ist an den Schwerpunkten in leitender oder co-leitender Funktion beteiligt. Insgesamt haben die Schweizer Landesregierung und der Schweizerische Nationalfonds acht neue Forschungsschwerpunkte lanciert, für die der Bund jährlich rund 30 Millionen Schweizer Franken zur Verfügung stellen will. Dies hat Bundesrat Johann Schneider-Ammann, der Vorsteher des Eidgenössischen Departements für Wirtschaft, Bildung und Forschung (WBF), heute an einer Medienkonferenz bekannt gegeben.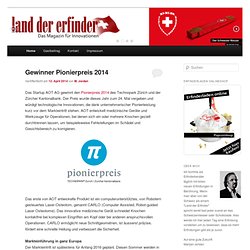 The time between the wars – the Great War and WW2 was one of great loss and uncertainty, but also one of invention, creativity and new ideas. The horrors of WWI shattered enlightenment belief that progress would continue and reason would prevail. New ideas and patterns of life developed in the 1920′s and in the way that people looked at the world [1].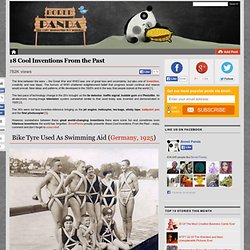 Buzzriders | Zukunft erleben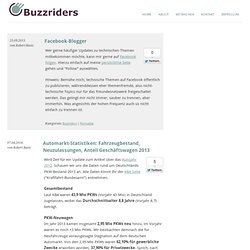 Die Autoindustrie ist zweifelsohne eine Branche, die weder Ramschprodukte für eine Marge von 2,99 Euro anbietet noch handelt es sich um eine milliardenschwere Gemütlichkeitsbranche. Wer Entwicklungen in dieser Goldnatterngrube verschläft, wird im Wettbewerb gnadenlos überholt oder gefressen. Wenn du mir nicht das Passende anbietest, gehe ich eben zu einem anderen.