Augmented Reality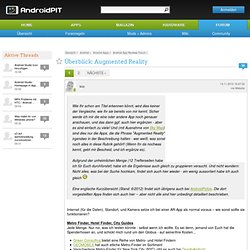 Nunja, da dachte ich also kurz einen Blick auf Google Goggles zu werfen - aber die Sache hatte einen Haken: Das Wörtchen "kurz".
Überblick: Augmented Reality - Android Forum
Layar - Erweiterte Realität für Android-Handys - Smartphone
Die App Layar öffnet Ihnen den Weg in die Augmented Reality.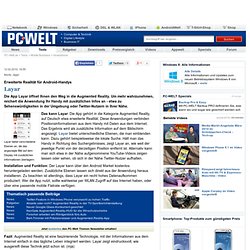 Augmented reality is a term for a live direct or an indirect view of a physical, real-world environment whose elements are augmented by computer-generated sensory input, such as sound or graphics. It is related to a more general concept called mediated reality, in which a view of reality is modified by a computer. As a result, the technology functions by enhancing one's current perception of reality.
45 Brilliant Augmented Reality iPhone Apps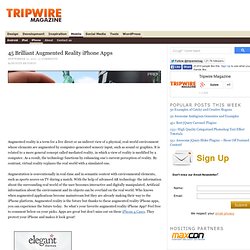 Schon seit dem letzten Jahr ist bekannt, das Google an einer Augmented Reality Brille arbeitet. Nun hat ein Informant von 9to5google wohl einen Prototypen der AR-Brille von Google zu Gesicht bekommen.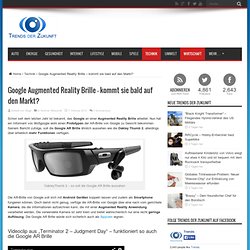 Google Augmented Reality Brille – kommt sie bald auf den Markt?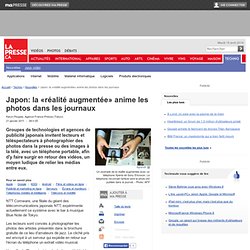 QR-Code-Bilder animieren
Un exemple de la réalité augmentée avec un téléphone Xperia de Sony Ericsson.
New uses of Aurasma!
23juin Augmented Reality Cinema est une application en réalité augmentée qui permet de voir des scènes de films mythiques tournées à l'endroid où vous vous situez.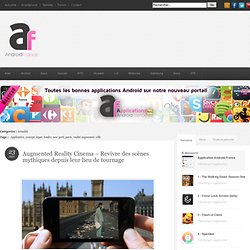 Augmented Reality Cinema - Revivre des scènes mythiques depuis leur lieu de tournage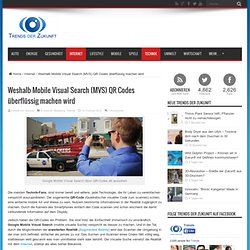 Google Mobile Visual Search lässt QR-Codes alt aussehen
Weshalb Mobile Visual Search (MVS) QR Codes überflüssig machen wird
What is kooaba Déjà Vu? Déjà Vu is an application which turns your iPhone into your visual memory. Use it to take pictures of things you want to remember.
Deja Vu - your visual memory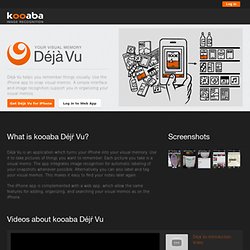 Disney characters at Times Square
Augmented Reality Learning Media, The Earth's Structure Prototype
Medical training Augmented reality