Social Network
Facebook Like Button(s) Forbes: "Facebook released a broad new set of social features Thursday that makes it easier for people to share a wide range of information about themselves.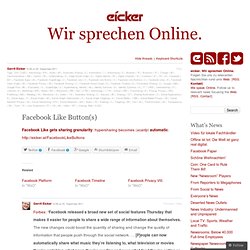 The new changes could boost the quantity of sharing and change the quality of information that people push through the social network. … [P]eople can now automatically share what music they're listening to, what television or movies they're watching, what news they're reading and even what food they're eating or what exercise they're doing. It's 'frictionless' to share in Mark Zuckerberg's words. … The upshot of this is that Facebook is going way beyond enabling people to simply share their interests, to enabling people to share virtually anything they're doing both online and offline. … The connection between sharing and actual purchases is one that Facebook is careful about, particularly after Beacon. Unsharing. Facebook: "Early Results: The Open Graph and Music – Since f8, people have shared their listening activity more than 1.5 billion times with their friends using the music apps that have integrated the Open Graph.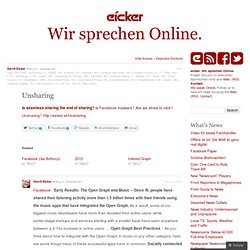 As a result, some of our biggest music developers have more than doubled their active users, while earlier-stage startups and services starting with a smaller base have seen anywhere between a 2-10x increase in active users. … Open Graph Best Practices – As you think about how to integrate with the Open Graph in music or any other category, here are some things many of these successful apps have in common: Socially connected users.
With a base of users who are able to share your content with their friends from day one, you're set up to double down on the social experience. – Experiences are social by design. Facebook tracking is under scrutiny. In recent weeks, Facebook has been wrangling with the Federal Trade Commission over whether the social media website is violating users' privacy by making public too much of their personal information.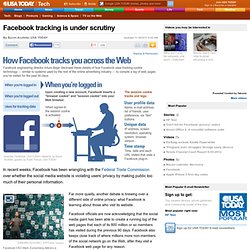 Far more quietly, another debate is brewing over a different side of online privacy: what Facebook is learning about those who visit its website. Facebook officials are now acknowledging that the social media giant has been able to create a running log of the web pages that each of its 800 million or so members has visited during the previous 90 days. Facebook also keeps close track of where millions more non-members of the social network go on the Web, after they visit a Facebook web page for any reason. STORY: Facebook targeted with porn, violent images To do this, the company relies on tracking cookie technologies similar to the controversial systems used by Google, Adobe, Microsoft, Yahoo and others in the online advertising industry, says Arturo Bejar, Facebook's engineering director.
No Social Graph.
---