Youtube
URBAN ANGEL - NATALIE WALKER. Xavier Rudd - Messages. Johnny Flynn - Brown Trout Blues // A Take Away Show. Don Nino - A Thousand Lights. Lisa Hannigan - Knots (Live and acoustic in Toronto) Lisa Hannigan - I Don't Know (Live and Acoustic on Polish TV) Lisa Hannigan - Paper House Acoustic. Lisa Hannigan - Flowers. Passenger - Lisa Hannigan. "En La Mar" - Cécile Corbel - Songbook vol.2.
Mariee Sioux - Gift for the End - Almost Musique. Gift for the End, Mariee Sioux's new album, draws its benevolent psychedelia on the native folk roots: a canyon crisscrossed by paths leading Joni Mitchell's, Neil Young's and Bonnie Prince Billy's souls into a deep world music, mystical and ancestral, either from America or from elsewhere.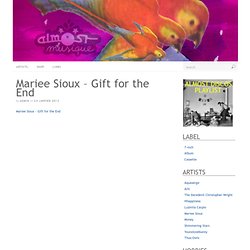 Since the release of her debut album Faces in the Rocks, the young californian girl from Nevada City toured a lot – sometimes with her homie Alela Diane or Hope Sandoval (Mazzy Star) -, in the US and in Europe, she also participated in tribute albums to The Cure (Perfect as Cat, released on Manimal Vinyl Records) and to Graham Nash (Be Yourself on Grass Roots Records/Coop) and recorded several tracks in duo with Will Oldham (Bonnie Prince Billy) to be released this year.
Gift for the End was recorded between April 2010 and August 2011 in Placerville's Moonsoon Studios and in the Nevada City's Sun Dial studios.
Marketa Irglova
Ane Brun. Jose Gonzales. The Morning Benders. LANA DEL REY-BLUE JEANS. Soap&Skin - Thanatos (official video) Lissie - When I'm Alone. Lissie - When I'm Alone [CATCHING A TIGER / NEW ALBUM 2010] Taken By Trees - Lost and Found. Tallest Man on Earth NPR Music Tiny Desk Concert. Glen Hansard. Ellie Goulding. Mariee Sioux. Duffy - Rockferry. Brooke Fraser - Something In The Water. Lanterns on the Lake - Not Going Back to the Harbour (The Amazing Sessions) Edward Sharpe & The Magnetic Zeros - Home [2009]
The Corrs - Little Wing (Unplugged) "Mexican Summer" by Marissa Nadler. No Blues - Farewell Shalabiye. IZIA - So much trouble. Kajra re Tradução Completa! Caminho das Índias (Legenda) ANOUSHKA SHANKAR / KARSH KALE / NORAH JONES Easy. Aishwarya Rai best songs and dance Part 2. Kajra Re with Aishwarya Rai. Hamesha Tumko Chaha song - Devdas. Lena Chamamyan Lamma bada لينا شماميان - لما بدا يتثنى.
Hovannes K.- Majnoun. Xavier rudd - energy song. Duffy - Syrup & Honey. Cajun Dance Party- The Hill, The View & The Lights. "Odile" - Nadeah. Iron and Wine & Calexico, 16, maybe less. Ayo - I'm Gonna Dance (clip officiel) Chaîne de kinagrannis. Upload Official Website Subscription preferences Loading...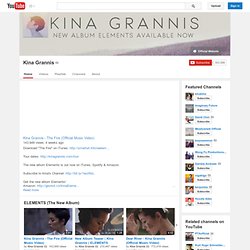 ---