Personal Learning Network
Those disgruntled with our current "technopoly," as Neil Postman famously called it, often argue for returning to a simpler time. This is, of course, impossible, as even their visions of simpler times include technology. For example, in The Nature of Technology (Free Press, 2009), Brian Arthur envisions a world where all of our modern technologies disappear, yet we'd still be left with some. He writes, "We would still have watermills, and foundries, and oxcarts; and course linens, and hooded cloaks, and sophisticated techniques for building cathedrals.
Roy Christopher | Music, Media, Technology, Culture, Hip-hop.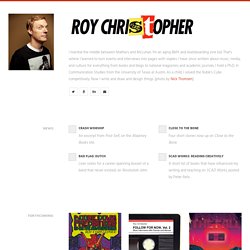 Adin Miller
I've been working with a team to meet with and mentor community leaders and staff associated with Israel's first community foundation. The community foundation, Takdim, is based in Ramat HaSharon (a city comparable to Palo Alto) and officially launched in May 2011. The story behind this effort is fascinating and signals the potential shift in philanthropic culture in Israel (the Center for the Study of Philanthropy at the Hebrew University calculates charitable giving at 0.74% of GDP in comparison to the 2.1% in the United States).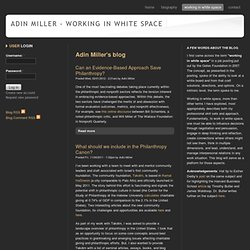 How Do I Get My Nonprofit's CEO To Use Twitter or other Social Media? Organizational Culture, Professional Networking Last month, I participated in a keynote panel at the AFP Annual Conference in San Antonio, TX on the theme, "Social Media for Social Change" with Carolyn Miles, CEO of Save the Children, Ben Rattray, Founder of Change.Org, and Ritu Sharma and Darian Rodriguez Heyman, co-founders of Social Media for Nonprofits Conference. … Read More The Mobilisation Journal: A Way To Spread Learning About Social Change Movements Innovative Use of Technology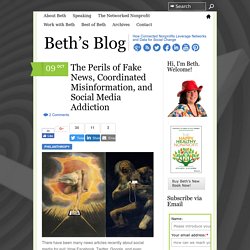 Howard Rheingold