Personal Learning Network
Roy Christopher | Music, Media, Technology, Culture, Hip-hop. Adin Miller. I've been working with a team to meet with and mentor community leaders and staff associated with Israel's first community foundation.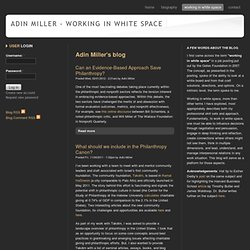 The community foundation, Takdim, is based in Ramat HaSharon (a city comparable to Palo Alto) and officially launched in May 2011. The story behind this effort is fascinating and signals the potential shift in philanthropic culture in Israel (the Center for the Study of Philanthropy at the Hebrew University calculates charitable giving at 0.74% of GDP in comparison to the 2.1% in the United States). Beth Kanter. Howard Rheingold.
---