Community Manager
Bonjour! Si vous visitez Emarketinglicious pour la 1ère fois, abonnez-vous à notre flux RSS pour recevoir nos dernières actualités. Facebook vient de publier les résultats d'une étude concernant les meilleures pratiques des journalistes et des médias pour créer de l'engagement sur leurs Pages Facebook. Si certains détails de ce rapport sont bien spécifiques aux journalistes (par exemple le type de sujets), d'autres demeurent également valables quelque soit la qualification de la Page (utilisation d'une vignette etc …). Sans plus tarder, je vous propose donc un résumé des passages qui m'ont paru les plus intéressants. Si vous souhaitez lire l'étude en entier, rendez-vous alors sur Facebook .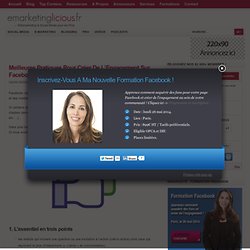 Social Media Web Sites (www.chiefingredient.com)
Dashboard
Using Google+? Add Mashable to your circles. You'll get the latest about new Google+ features and tips and tricks for using the platform as well as top social media and technology news. Do you still consider yourself a noob when it comes to Google's social platform? If so, we've got some handy hints to help you out.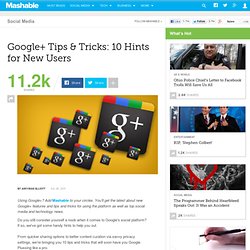 Community Manager Overview