FuzzMon
How Advanced Malware Bypasses Process Monitoring
Project description Pym's is a pure python disassembly library. It is merely a port of udis86 to python. At the moment it is a one shot project.
pymsasid - A pure python disassembling library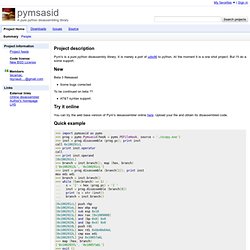 I love Linux, as a developer, I find the tools available suit my style of work perfectly. Sometimes the tool that I want isn't available. That's OK though, because whenever I can, I try to contribute.
Linux's ptrace API sucks! | Evan Teran's Blog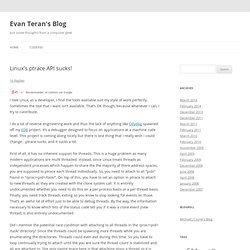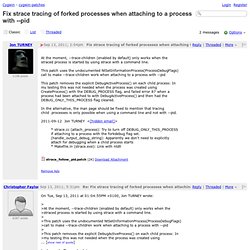 On Tue, Sep 13, 2011 at 01:04:55PM +0100, Jon TURNEY wrote:
cygwin-patches - Fix strace tracing of forked processes when attaching to a process with --pid
Source code for this article may be found here. Sometimes, a need may rise to start a thread in a separate process and the need is not necessarily malicious. For example, one may want to replace library functions or to place some code between the executable and a library function.
Linux Threads Through a Magnifier: Remote Threads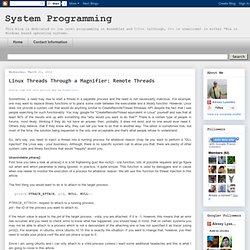 introducing_sulley
The sulley fuzzing framework! (A basic example walkthrough)
Control Flow Analysis
Python testing frameworks : Make your life easy with a Python testing framework
The days of the Wild West are coming to their end in the world of Python testing. It was not many years ago that nearly every project built with Python seemed to have its own idioms and practices for writing and running tests. But now, the frontier is finally beginning to close.
Preferred Python unit-testing framework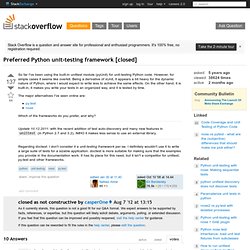 So far I've been using the built-in unittest module (pyUnit) for unit-testing Python code. However, for simple cases it seems like overkill. Being a derivative of xUnit, it appears a bit heavy for the dynamic nature of Python, where I would expect to write less to achieve the same effects. On the other hand, it is built-in, it makes you write your tests in an organized way, and it is tested by time. The major alternatives I've seen online are: Which of the frameworks do you prefer, and why?
Installation and quick start — nose 1.2.1 documentation
nose extends unittest to make testing easier. On most UNIX-like systems, you'll probably need to run these commands as root or using sudo. Install nose using setuptools/distribute: Or pip:
a mature full-featured Python testing tool provides easy no-boilerplate testing scales from simple unit to complex functional testing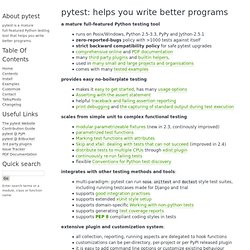 helps you write better programs
PyUnit - the standard unit testing framework for Python
Free project hosting by Author: Steve Purcell, Pythangelist, Available for Python & Ruby On Rails consulting/training Latest release: 1.4.1, 10th August 2001(download)(notes) Documentation: [English] [Japanese] [Chinese] [Serbo-Croatian] (includes some example test code)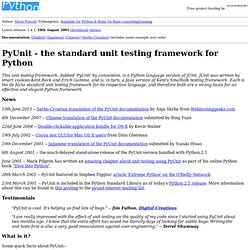 criu is an utility to checkpoint/restore a process tree. [edit] Tools installation Get the latest release: criu-1.1-rc1.tar.bz2 Released: 31 Dec 2013 Changes: git commit v1.1-rc1
CR tools - CRIU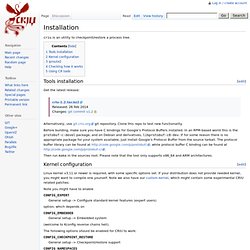 another bottle at sea: building with Scons & MSVC8 using PCH with PDB and /Zi
Some note concerning my current attempts to evaluate Scons 1.2 for my needs to replace my 'pure' Visual Studio solutions builds. After trying to automatically convert my solutions to Scons scripts, which did not work at all, I decided to start from scratch. I easily got the bare build and link done on one of my modules. And I tried to gradually introduce 'features' in my build : namely Precompiled header (PCH) support, and Debug information generation.
Shaun Miller Microsoft Corporation July 2000 Summary: This article discusses the process of generating debug symbols in order to locate problems in your application. (7 printed pages)
Generating and Deploying Debug Symbols with Microsoft Visual C++ 6.0
DrMingw (EXCHNDL.DLL)
Dr. Mingw is a Just-in-Time (JIT) debugger. When the application throws an unhandled exception, Dr. Mingw attaches itself to the application and collects information about the exception, using the available debugging information.
I'm open sourcing a portion of my system for browser fuzzing called Grinder. Comprised of two main components, many Grinder Nodes are setup to perform the fuzzing of various browsers while a single Grinder Server will collate the results and provides a simple web interface for managing a large number of crashes. A few screenshots should give you the gist of things...
GRINDER
screenshot_crash.png (PNG Image, 737 × 556 pixels)
Welcome to ZeroC, the Home of Ice
protobuf - Protocol Buffers - Google's data interchange format - Google Project Hosting.url
BERT and BERT-RPC 1.0 Specification
msgpack-pure 0.1.3
msgpack/msgpack - GitHub
Hooking the native API and controlling process creation on a system-wide basis
Detecting Windows NT/2K process execution