Projects to do
Tutorial « Gauche Alchemy. Greetings and salutations!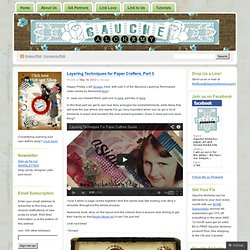 Scraps, here, with a fantastic technique two-fer from Alchemist Jo! Jo: One of my favorite backgrounds is a blended paper background. I learned the basic technique from Mary Green when I took her online classes–"Your Vintage Gluebook" and "Collage Coterie"–and have further developed it to suit my style. Seven thirty three - - - a creative blog.
Christmas ornaments
Tutorials. Col's Creations. Blogs. Easter Basket Door Decor. Easter's on the way, along with Spring and gorgeous weather.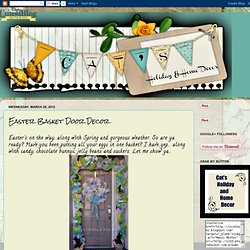 So are ya ready? Have you been putting all your eggs in one basket? I have..yep... along with candy, chocolate bunnys, jelly beans and suckers. Prettify Your Life. Trendy Tree - Blog. December 2011. Have you all seen those cute crayon shadow boxes on Pinterest or somewhere else?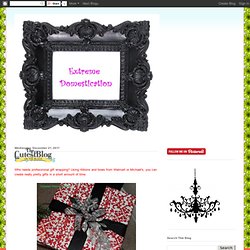 What an awesome gift for a teacher! I've been busy making them, along with a rhinestone version for my daughter's dance teacher. Baby. "A baby will make love stronger, days shorter, nights longer, bankroll smaller, home happier, clothes shabbier, the past forgotten, and the future worth living for.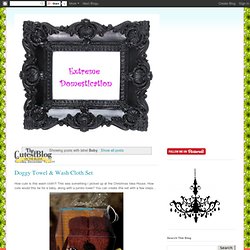 " -Anonymous I love baby showers for first-time moms. Everything is opened with wonder, smiles, and a great appreciation. I like to make diaper cakes since they are practical, useful, and decorative. Back to School Boutique Backpack. I've been shopping for a backpack for my daughter for school (yes she is only going to pre-school but she needs a cute backpack, right?).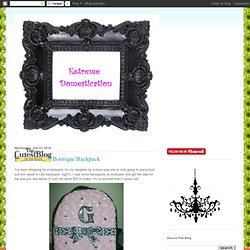 I saw some backpacks at boutiques and got the idea for the one you see below. It cost me about $25 to make. I'm so excited how it turned out! Here is a picture of some of the supplies you will need- a flat front backpack (a pocket one will be harder), furry fabric, batting, E600 glue, embellishments such as rhinestones (I got a "G" for my daughter's initial), needle and thread, clothes pins, and ribbon or whatever else you want to put on the front. Don't laugh at my backpack choice, it was the only one I could find that was flat-front! Tutorial - Make Your Own Flowers - part 1. Here is a tutorial on how to make some flowers - there is another tutorial on how to make some different flowers just after this post.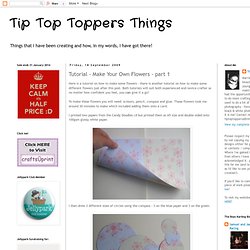 Both tutorials will suit both experienced and novice crafter so no matter how confident you feel, you can give it a go! To make these flowers you will need: scissors, pencil, compass and glue. These flowers took me around 30 minutes to make which included adding them onto a card. Spellbinders Paper Arts - How-To - How-To Videos. Dealers • Login • Shopping Cart (0) How-To Videos Want to learn to use different materials to cut in Spellbinders® Grand Calibur® Machine?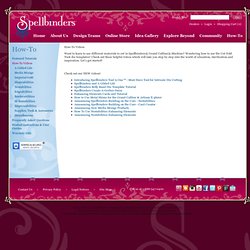 Wondering how to use the Cut Fold Tuck die templates? Check out these helpful videos which will take you step by step into the world of education, clarification and inspiration. Let's get started! Craft DIY Projects, Patterns, How-tos, Fashion, Recipes @ Craftzine.com - Felting, Sewing, Knitting, Crocheting, Home & More. Favorite Craft Supply Shops - Creature Comforts - daily inspiration, style, diy projects + freebies. Looking for some craft supplies for your next project?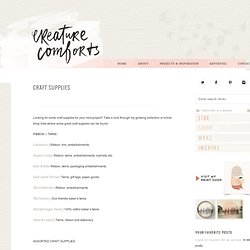 Take a look through my growing collection of online shop links where some great craft supplies can be found: Caramelos | Ribbon, trim, embellishments. Handmade romance. Papernstitch handmade blog. More Design Please - MoreDesignPlease. Scripture bag. Printable Gospel ABC Book. Do you remember this post where I shared my Sunday ABC's Book?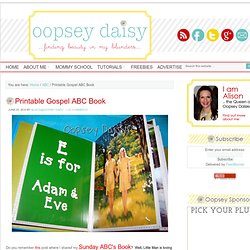 Well, Little Man is loving it!! And so am I! Snappy Toddler Top & Free Downloadable Pattern. I often make things that don't turn out as planned and never make it to the pages of PB, then gulp a glass of champagne, send Jacinda numerous whiny emails, and stew over the wasted time and my own lameness.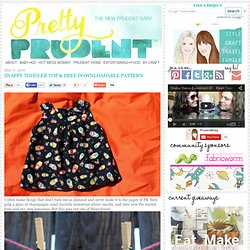 But this was not one of those times! This shirt left me feeling energized and thrilled with the results, so I'm really excited to share the pattern with you! And drink more champagne! It's a snap collar top, but you can make yours a dress. How-To Make A Cupcake Shaped Gift Box via TipJunkie.com. Dollar Doily Hair Clip. I picked up a pack of lace doilies from the dollar store (99 cent store) and made this gardenia-inspire hair clip for Boo.
These doilies came in a pack of three: I took each doily and folded it in half: Then created a fan shape by scrunching up the bottom: Then I sewed the bottom part of the "fan" shape to a small piece of felt: Post office bag tutorial. August 6th, 2008 Now that I have an etsy shop I find myself at the post office more than ever. Along with all the packages I have to carry I have a stroller to push and a toddler's hand to hold.
The packages are always weird sizes and never seem to fit in a paper bag, so I came up this handy dandy post office bag. It's just a long piece of fabric with some handles and pockets, but it works like a charm. Tutorial and Paper Craft: A Little Book of Vintage Paper Crafts or Dolls. Hey you. I've got an all new tutorial and project download for you. That's right--for you. Because even after all this time I still like you and I want to feel like I am being a good friend to you and helping you to do a little hand-made whatnot for the holidays. I mean, I care and I don't want you to end up having to spend hours at the mall buying STUFF that is just like all the other STUFF everyone else is buying.
We all know handmade is best, so all of our gift giving should feature a little handmade something or other. Make a Vintage Paper Craft Book.pdf. Paper Craft Cover.pdf. Paper Craft Document 1.pdf. Paper Doll Cover.pdf. Paper Doll Book Document 1.pdf. Paper Doll Book Document2.pdf. Tutorial: How to Build Your Own Little Coloring Books. As promised, I am back with a little tutorial and downloadable instructions to make these little coloring books. You can download my instructions here:DOWNLOAD LITTLE COLORING BOOK TUTORIAL Yeah, so I got all crazy and made a little super hero coloring book (for Beeper--who was in and out of my workshop all afternoon waiting for its completion), a little alphabet coloring book, a little animal coloring book, and a little book of various vintage paper dolls.
But the possibilities are so ENDLESS with this little book--cut-out papercrafts, connect the dots, color by numbers...anything you can find to paste into the pages, really...so, yeah, happy little coloring book building. Hope you and the kiddies dig it as much as we do... Sew Together with Children - Part 2. Tutorial - the love letter mini clutch. Tutorial - A very first backpack. Tutorial - the hippity hop Easter clutch. Reusable gift tag gift bags... a mini tutorial. 'Just' beyond the basics dress - a tutorial. Altered Flip Flops Tutorial. Tutorial~Tunic Dress for a Little Girl~ Tutorial ~Swaddle Blanket with Self Binding Method~ Tutorial: She Carries Flowers. Tutorial~ She Carries Flowers (key holder) Tutorial ~ She Wears Flowers. Tutorial ~ Tutu ~ The Little Red Hen. Tutorial: Ribbon Pinecone Ornament. How To Transfer Embroidery Patterns.
Tutorials and Project Downloads. Clay mold. Casting Resin Craft | Sticky Glue. Crafts - Free Craft Patterns - Craft Ideas For Every Occasion! Five Petal Star Flower. Delight Rubber Stamping. Rubber Stamp Art. Creative Paperclay Projects. Wood Letter Decor. Welcome Baby Pails. Sugar Plum Fairy. Stamped Hearty Clay Magnet. Shirk Art Bracelet. Ribbon Box Holder. Pocket Posie Planner. Mom & Me Duckies. Easter Bunny Figure.
---