Web Hosting
Shared Hosting, Reseller Hosting and Virtual Web Hosting - Hawk Host. Linode - Xen VPS Hosting. Web Hosting Talk - The largest, most influential web hosting community on the Internet. Web Hosting Fan - The Guide to Web Hosting, CMS and Blogging. Table comparing reliable web-hosts (WIP) For anyone who wants to add new hosts to the spreadsheet... 1.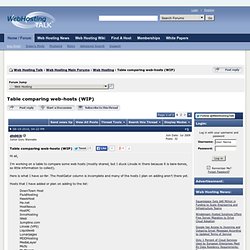 Delete all columns other than the ones your going to modify (if you modify existing host information, highlight the modifications with a yellow cell background), and then add the information for the new host (please hyperlink as I've done in the top Host row to the website for the host plans, and also hyperlink in the appropriate fields to the TOS/SLA/AUP). 2. Information on pricing, disk space, bandwidth, Guaranteed RAM, Burstable RAM, Swap Space, and all other fields is provided only for the cheapest and most expensive plan in a series (i.e., HawkHost shared host series of plans).
Including information on intermediate plans would be unwieldy, and would have to be done by having one column for each plan a host offers, so it isn't practical.
---