Web Development
Blog Smarter. Lazy Blogging with Postalicious | OMNINOGGIN. You guys have probably noticed [and hopefully found useful] my "Weekend Links" series that I post at the end of every week.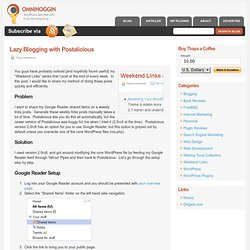 In this post, I would like to share my method of doing these posts quickly and efficiently. Problem I want to share my Google Reader shared items on a weekly links posts. Generate these weekly links posts manually takes a lot of time. Postalicious lets you do this all automatically, but the newer version of Postalicious was buggy for me when I tried it (2.5rc4 at the time).
Reference
Marketing. Design. Web Hosting. Wordpress. Tools/Software. Yoast - Tweaking Websites. 21 Free Video Players For Your Website and Blogs | Tools. For one reason or another, a lot of designers use Video Players on their website.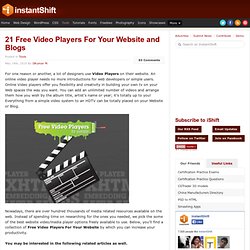 An online video player needs no more introductions for web developers or simple users. Online Video players offer you flexibility and creativity in building your own tv on your Web spaces the way you want. You can add an unlimited number of videos and arrange them how you wish by the album title, artist's name or year; it's totally up to you! Everything from a simple video system to an HDTV can be totally placed on your Website or Blog.
---