Corporate abuses
Home | Oceana North America
NRDC's Save BioGems: The Place to Save Wildlife and Wildlands
Stop Waste Management by Government and Consumer Boycott
I tempi in cui in Italia c'era molta diffidenza nell'effettuare acquisti online sono ormai passati, l'e-commerce negli ultimi anni è cresciuto bene, di pari passo con l'aumento dell'utilizzo delle carte di credito e di quelle prepagate, così come di sistemi come il noto Paypal o Neteller. A giovare di questo cambiamento culturale non è stato solo il commercio di beni, ma anche le transazioni per l'acquisto di servizi, per lo svago, ecc… Tra i settori che attualmente registrano una maggiore crescita ci sono proprio i giochi online, in particolare quelli da casinò, regolarizzati a partire dal 2011. Oggi basta scegliere casinò online, poker room, siti di scommesse, o altre piattaforme di gioco, dotate di licenza concessa dall'A.A.M.S. (Amministrazione Autonoma dei Monopoli di Stato), per poter subito giocare, comodamente da casa, in modo assolutamente sicuro, e nel pieno rispetto della legge.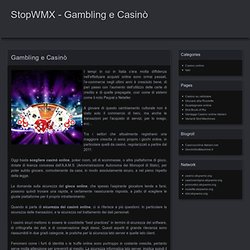 Bluewater Network | Friends of the Earth
 Index
Homepage
26 August 2008: Campaign challenges BTC's financers over conflict The BTC pipeline is intimately connected with the conflict between Georgia and Russia and the target of a PKK attack in Turkey. Financers of the project have contributed to destabilisation of the region and failed in their due diligence, according to letters sent by NGOs. Letter to Export Credit Guarantee Dept Letter to National Audit Office 12 July 2006: Oil addicts find new veins as BTC pipeline finally opens As state dignitaries, oil men and bankers gather in Turkey for the much delayed launch of BP's Baku-Tbilisi-Ceyhan pipeline, international campaigners are charging BP with failing affected communities and the local environment.Press Release
Baku Ceyhan Campaign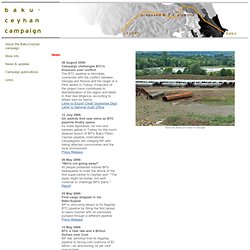 Home | Friends of the Earth
Environmental Defense Fund - Finding the Ways That Work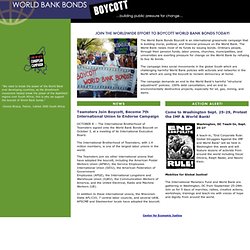 World Bank Bonds Boycott
Teamsters Join Boycott, Become 7th International Union to Endorse Campaign OCTOBER 8 -- The International Brotherhood of Teamsters signed onto the World Bank Bonds Boycott on October 3, at a meeting of its International Executive Board. The International Brotherhood of Teamsters, with 1.4 million members, is one of the largest labor unions in the world. The Teamsters join six other international unions that have adopted the boycott, including the American Postal Workers Union (APWU), the Service Employees International Union (SEIU), the American Federation of Government Employees (AFGE), the International Longshore and Warehouse Union (ILWU), the Communication Workers of America, and the United Electrical, Radio and Machine Workers (UE). In addition to these international unions, the Wisconsin State AFL-CIO, 7 central labor councils, and several UAW, AFSCME and Steelworker locals have adopted the boycott. Come to Washington Sept. 25-29, Protest the IMF & World Bank!
Green Twitter Bird Hatches Greenpeace activists unveiled a new logo for Twitter outside the company's San Francisco headquarters: a person-sized, green version of Twitter's famous icon. Read more 9 victories for a greener Internet! We're happy to report that many technology companies are using their trademark innovation to power their corners of the internet in increasingly green ways.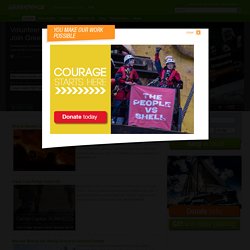 Greenpeace USA
Current Mole Related Items: Thanks for making our 2001 Raffle a huge success! Winners were announced on October 8, 2009 Oil, the World Trade Organization & Globalization Drillbits & Tailings November 30, 2009
Moles - Your Skin Mole Removal Experts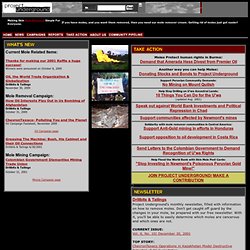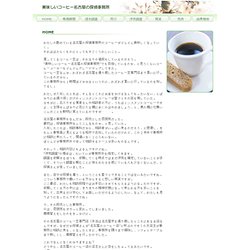 わたしの勤めている名古屋の探偵事務所のコーヒーがどんどん美味しくなっていく。 それははたらくものにとってもすごくうれしいこと。 買ってくるコーヒー豆は、それなりの値段もしているのだろう。 "美味しいコーヒー名古屋の探偵事務所"でも目指しているのか、と思うくらいコーヒーメーカーもどんどんグレードアップしてきた。 コーヒー豆なんか、わざわざ名古屋を通り越したコーヒー豆専門店まで買いに行っているのだから。
Native Forest Network
GrassRoots Recycling Network Home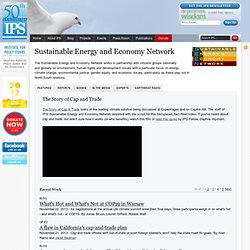 Institute for Policy Studies: Sustainable Energy and Economy Net
"Decisions taken at the Green Climate Fund board are central to how the needs of climate vulnerable communities will be met, so it is essential that their deliberations are open and transparent," Janet Redman, co-director of the Sustainable Energy and Economy Network at the Institute for Policy Studies, a Washington think tank, said Tuesday. "At this point it seems the board wants to limit public participation, access and voice. That would be a huge step backward."
Accounting for work job
Pacific Environment : Index
EarthRights International | The power of law and the power of pe
Responsible Shopper: Guide to Promoting a Responsible Economy wi
Green America's Responsible Shopper... provides you with the real story about abuses by well-known companies, gives you actions to promote corporate responsibility, and helps you green your life and world. NEW! Ever wonder what happens to your beverage container on an airplane?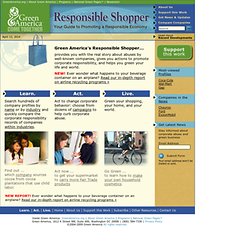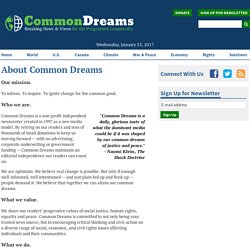 About Us | CommonDreams.org
Our mission. To inform. To inspire. To ignite change for the common good.