Tim Tebow
No let up in senseless attacks of Tim Tebow. After years of swirling around Tim Tebow, the vultures now have something else to pick on.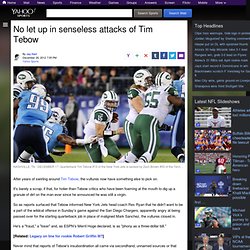 It's barely a scrap, if that, for holier-than-Tebow critics who have been foaming at the mouth to dig up a granule of dirt on the man ever since he announced he was still a virgin. So as reports surfaced that Tebow informed New York Jets head coach Rex Ryan that he didn't want to be a part of the wildcat offense in Sunday's game against the San Diego Chargers, apparently angry at being passed over for the starting quarterback job in place of maligned Mark Sanchez, the vultures closed in. He's a "fraud," a "loser" and, as ESPN's Merril Hoge declared, is as "phony as a three-dollar bill. " Denver Broncos' John Elway says Tim Tebow starting QB going into camp. Why Tim Tebow Will Never Win a Super Bowl - NFL. Tim Tebow seems like a pretty good guy.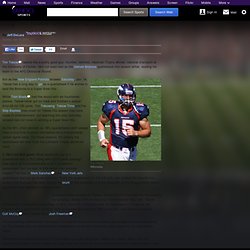 Humble, talented, Heisman Trophy winner, national champion at the University of Florida. He's not been bad as the Denver Broncos quarterback this season either, leading his team to the AFC Divisional Round. Tim TebowWikimedia. Broncos to go all in with Tebow. 08:03 AM ET 01.16 | In Tebow the Broncos trust ... maybe.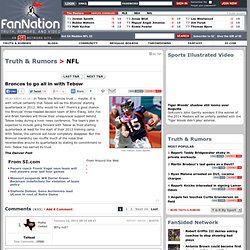 It is with virtual certainty that Tebow will be the Broncos' starting quarterback in 2012. Why would he not? There's a good chance the Broncos' three-headed decision team of John Elway, John Fox and Brian Xanders will throw their unequivocal support behind Tebow today during a noon news conference. The team's plan is expected to include going forward with Tebow as their starting quarterback at least for the start of their 2012 training camp. With Tebow, the carnival will never completely disappear. Tim Tebow of Denver Broncos humble about topping ESPN Sports Poll. Believing in Tim Tebow. 'Stone Cold' Steve Austin -- Tim Tebow Can HAVE My 3:16 If ... Tebow Can HAVE My 3:16 If ...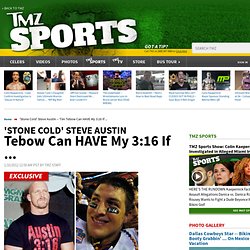 Before there was Tebow 3:16 in the NFL ... there was Austin 3:16 in the WWE ... and now the wrestling legend says he's willing to surrender his iconic numbers to the NFL star, pending one GIANT condition. TMZ spoke with "Stone Cold" Steve Austin -- who tells us he watched Tebow's Mile High Miracle this weekend and was blown away when he learned Tim threw for exactly 316 yards in the playoff victory.
FYI -- the numbers have a special meaning with Stone Cold, who created the famous faux bible verse back in the '90s to humiliate his enemies -- "Austin 3:16 says I just whooped your ass!!! " Tim Tebow's Autobiography 'Through My Eyes' Is 2011's Best Selling Sports Book. Tebow crafting Hollywood script with each passing week. If a writer aims to sell a script to a Hollywood studio, the screenplay must include an interesting twist on page 12.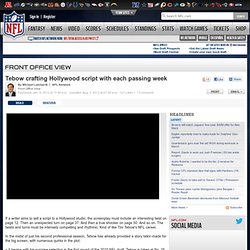 Then an unexpected turn on page 37. And then a true shocker on page 50. And so on. The twists and turns must be intensely compelling and rhythmic. Kind of like Tim Tebow's NFL career. Broncos Vs. Steelers: Denver And Tim Tebow Set Several NFL Records In Win - SB Nation Denver. Tim Tebow had a breakout performance throwing the football on Sunday, completing 10-of-21 throws for 316 yards and a pair of touchdowns.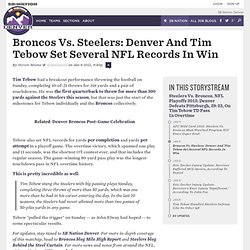 He was the first quarterback to throw for more than 300 yards against the Steelers this season, but that was just the start of the milestones for Tebow individually and the Broncos collectively. Related: Denver Broncos Post-Game Celebration Tebow also set NFL records for yards per completion and yards per attempt in a playoff game. The overtime victory, which spanned one play and 11 seconds, was the shortest OT contest ever, and that includes the regular season. The game-winning 80-yard pass play was the longest touchdown pass in NFL overtime history. Wild Card Tebowmania - ESPN Video. GWallaceWTOP: According to @twitter @Tim...
Broncos given no choice but to embrace Tebow - NFL. DENVER – He planted his right foot on his own 15-yard line and went into the looping, deliberate wind-up that, like so much of what Tim Tebow does, seems to defy the conventions of quarterbacking at the highest level.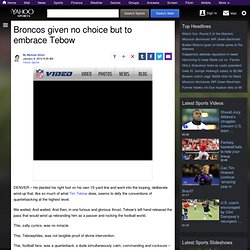 We waited. And waited. And then, in one furious and glorious thrust, Tebow's left hand released the pass that would wind up rebranding him as a passer and rocking the football world. This, salty cynics, was no miracle. This, Tebowphiles, was not tangible proof of divine intervention. Entire CBS Postgame Show Tebows After Broncos Defeat Steelers in Overtime.
Tebow Time: The three 3:16 references, boffo TV ratings and Lady Gaga love | Shutdown Corner. The NFL bans eye-black messagers.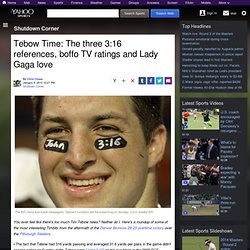 Tebow's numbers did the preaching on Sunday. (Lynn Sladky/AP) You ever feel like there's too much Tim Tebow news? Tim Tebow fans, your silence is deafening. By Rick Morrissey rmorrissey@suntimes.com January 5, 2012 10:42PM Your intrepid columnist has ceased being bombarded by e-mails from Tim Tebow fans now that the Broncos have lost three in a row.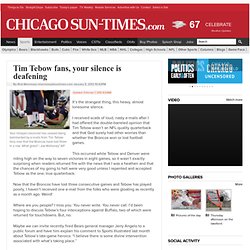 What gives? | Joe Mahoney~AP. Ranking the four NFL wild-card games | Shutdown Corner. (Jim Luzzi/Getty) Both you and I know you're going to be on the couch for 12 hours over the weekend watching NFL playoff games.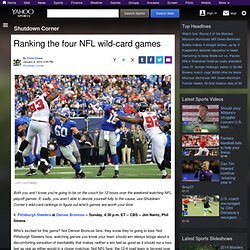 If, sadly, you aren't able to devote yourself fully to the cause, use Shutdown Corner's wild-card rankings to figure out which games are worth your time. John Elway: '(Tim) Tebow's not going anywhere' - NFL. After reportedly trying to replace Tim Tebow as the Broncos' QB of the future, John Elway is publicly supporting the second-year signal-caller. ENGLEWOOD, Colo. (AP) -- A year ago, John Elway agreed to another comeback with his beloved Denver Broncos shortly after the ouster of Josh McDaniels, whom many felt had doomed the franchise to mediocrity for years to come. Tebow's day not ruined by high-profile loss to Patriots. DENVER -- For the first time in seven days, each of which I spent in Denver because of Tim Tebow's polarizing impact on the NFL, the Broncos' quarterback and I finally had the chance to exchange more than the daily salutations I'd come to expect from the overbearing nature of Tebowmania.
We walked toward the exit -- among the last to leave the locker room after a 41-23 loss to the Patriots on Sunday -- as I began to ask the first of what I hoped would be a series of questions. "How is the strength of your faith impacted after a loss? " I started. Tebow making a believer out of Broncos offensive coordinator and quarterbacks coach - Jim Trotter. Tim Tebow vs. Tom Brady Source: SI Peter King gives an early preview to the matchup between the 10-3 New England Patriots and the 8-5 Denver Broncos. ENGLEWOOD, Colo. -- To understand just how far Tim Tebow has come this season, winning his last six starts and seven of eight overall, it helps to go back to the beginning, to that Oct. 23, sun-soaked day in Sun Life Stadium in Davie, Fla., when he made his first start of 2011. Tebow was fantastic down the stretch, overcoming a 15-0 deficit by throwing two touchdowns and running in a two-point conversion in the final 2:44 of regulation before Denver won 18-15 in overtime.
Debunking the myths of Tim Tebow - NFL. ENGLEWOOD, Colo. – On a winter day in 2010, Tim Tebow sat alone in a hotel meeting room with Ken Herock, a former NFL general manager who tutors players on how to approach important team meetings at the NFL scouting combine. The topic was a perception among NFL teams that Tebow was successful in college only because of the University of Florida's offensive system, a notion upheld by the failure of Alex Smith to thrive in the NFL after having played for Tebow's coach, Urban Meyer, when Meyer was at Utah. "A lot of people are comparing you to Alex Smith because you run the same offense … " Herock started when Tebow suddenly cut him off. "Now hold on there, Mr. Herock," Tebow said. Broncos vs Bears 12/11/2011.
---