Productivity Tools
New Cars, Used Cars - Find Cars for Sale and Reviews at AutoTrader.com. Crowd funding. TinEye Reverse Image Search. Where's My Droid.
Finance
Wicked Problems. MindMaps. WebTech. StumbleUpon. Dogpile. Communications & Networking. Visual & Presentations. Reference. Build Your Own Sturdy, Good-Looking Standing Desk for Less Than $25. Homemade Dryer Sheet Replacement. You must buy 100% wool yarn (no synthetics) that has a minimum wool content of 85%, with any additional fibers being natural.
As an example, my wool was 85% wool / 15% mohair and it worked really well. Also be on the look out for roving which is a looser, more 'open fiber' yarn that felts better than standard wool yarn. The #PreziTop100 Online Resources Every Presenter Should See. We have scoured the web looking for the most inspirational and useful resources for anyone looking to improve their presentation skills; the #PreziTop100 is the result of all this hard work.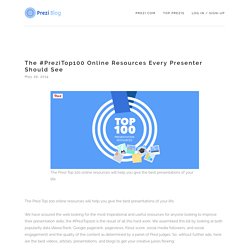 We assembled this list by looking at both popularity data (Alexa Rank, Google pagerank, pageviews, Klout score, social media followers, and social engagement) and the quality of the content as determined by a panel of Prezi judges. So, without further ado, here are the best videos, articles, presentations, and blogs to get your creative juices flowing: Keep an eye out for our Staff Favorites in each category—look for the bolded links. Learn from the best of the best; here are the top presentation blogs, along with selected articles.
---