Mindtraining
Excercise and Meditation. THE REVOLUTIONARY PLEASURE OF THINKING FOR YOURSELF. Develop Perfect Memory With the Memory Palace Technique. The Memory Palace is one of the most powerful memory techniques I know.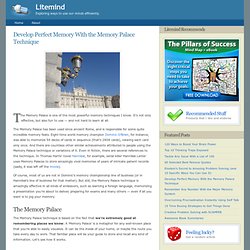 It's not only effective, but also fun to use — and not hard to learn at all. The Memory Palace has been used since ancient Rome, and is responsible for some quite incredible memory feats. Eight-time world memory champion Dominic O'Brien, for instance, was able to memorize 54 decks of cards in sequence (that's 2808 cards), viewing each card only once. And there are countless other similar achievements attributed to people using the Memory Palace technique or variations of it. Improve Your Memory by Speaking Your Mind's Language. By learning the language your mind uses, you'll be able to tap into your mind's full potential and develop a remarkable memory.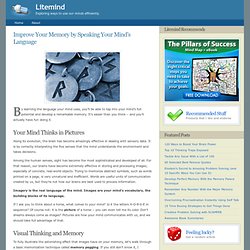 It's easier than you think – and you'll actually have fun doing it. Your Mind Thinks in Pictures. How to erase memory. (PhysOrg.com) -- Researchers working with mice have discovered that by removing a protein from the region of the brain responsible for recalling fear, they can permanently delete traumatic memories.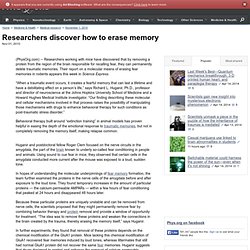 Their report on a molecular means of erasing fear memories in rodents appears this week in Science Express. "When a traumatic event occurs, it creates a fearful memory that can last a lifetime and have a debilitating effect on a person's life," says Richard L. Huganir, Ph.D., professor and director of neuroscience at the Johns Hopkins University School of Medicine and a Howard Hughes Medical Institute investigator. The benefits of meditation. Studies have shown that meditating regularly can help relieve symptoms in people who suffer from chronic pain, but the neural mechanisms underlying the relief were unclear.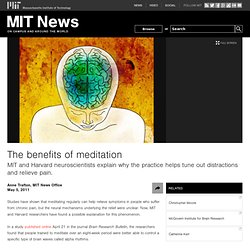 Now, MIT and Harvard researchers have found a possible explanation for this phenomenon. In a study published online April 21 in the journal Brain Research Bulletin, the researchers found that people trained to meditate over an eight-week period were better able to control a specific type of brain waves called alpha rhythms. "These activity patterns are thought to minimize distractions, to diminish the likelihood stimuli will grab your attention," says Christopher Moore, an MIT neuroscientist and senior author of the paper.
---