ArtistsWebSites
::: MANSET :::
CHRISTOPHE
GUNS N ROSES
Magma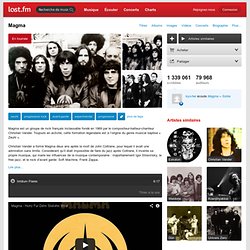 Magma est un groupe de rock français inclassable fondé en 1969 par le compositeur-batteur-chanteur Christian Vander. Toujours en activité, cette formation légendaire est à l'origine du genre musical baptisé « Zeuhl ».
MENDELSON
JJ.CALE
EMILIE SIMON
Red Hot Chili Peppers
SKIP THE USE
J.LOUIS MURAT
LITTLE BOB STORY
Sur l'initiative de Jean-Noël Levavasseur après le livre "London Calling" sur "The Clash", voici en avant première la couverture du livre de 24 nouvelles inspirées de chaque albums de Little Bob : "Stories of Little Bob, Histoires pour Roberto" (aux Nouvelles Éditions Krakoën). Sortie prévue le jour du concert de Nantes le 06/04/13. LITTLE BOB , PHIL MAY & DICK TAYLOR des PRETTY THINGS le mardi 19 mars au Gibus, pour leur 50 ans de scène.