COLOMBIA-SSH
1. Monitoreo de medios - Plataforma de Coordinación - Inundaciones Colombia 2011 -2012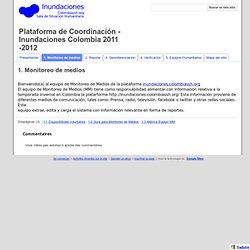 Bienvenido(a) al equipo de Monitoreo de Medios de la plataforma inundaciones.colombiassh.org El equipo de Monitoreo de Medios (MM) tiene como responsabilidad alimentar con información relativa a la temporada invernal en Colombia la platarforma http://inundaciones.colombiassh.org/ Esta información proviene de diferentes medios de comunicación, tales como: Prensa, radio, televisión, facebook o twitter y otras redes sociales.
MEDIOS GRUPO 4 - Wiki_Gaviota
Preguntas sobre [ColSSH] - Wiki_Gaviota
ColombiaCrisisMapinformationflux.png (PNG Image, 1487x908 pixels) - Scaled (61%)
Colombia SSH - Inundaciones
Centro de Informacion para el Reporte de Emergencias
Announcing the Ushahidi Manual
Observatorio Sismológico y Geofísico del Suroccidente - REDSW ::: Universidad del Valle ::: Cali - Colombia
UNV Online Volunteering Service | What difference can I make?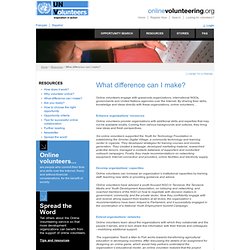 Online volunteers engage with grassroots organizations, international NGOs, governments and United Nations agencies over the Internet. By sharing their skills, knowledge and ideas directly with these organizations, online volunteers… Enhance organizations' resources
In the aftermath of some of the recent disasters we witnessed an increasing number of new actors entering the field of international humanitarian response operations. The development of ICTs opened to a variety of individuals and groups unprecedented space for engagement, regardless their physical location and affiliation to traditional responders. It was predominantly the Haiti earthquake response that pointed out the potential (and limitations) of this volunteer online engagement. Despite the fact that the actual impact, added value and benefit of these emerging initiatives is still being determined and evaluated in order to clearly identify the lessons learned and future steps, some baselines are already obvious and undeniable. During emergency situations, the very first and the most effective responders are the affected communities themselves. However, for variety of reasons they very often remain unconnected to the traditional emergency response management systems.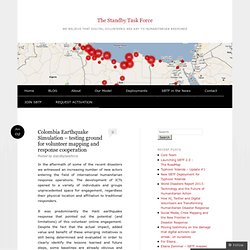 Colombia Earthquake Simulation – testing ground for volunteer mapping and response cooperation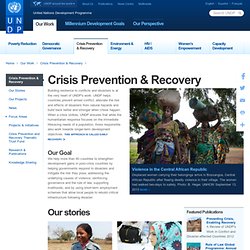 BCPR - Crisis Prevention and Recovery - Disaster Reduction Unit
Building resilience to conflicts and disasters is at the very heart of UNDP's work. UNDP helps countries prevent armed conflict, alleviate the risk and effects of disasters from natural hazards and build back better and stronger when crises happen. When a crisis strikes, UNDP ensures that while the humanitarian response focuses on the immediate lifesaving needs of a population, those responsible also work towards longer-term development objectives.
Humanitarian Reform in Action
Para compartir documentos, inscribirse en la lista de correos del grupo, favor comunicarse con el administrador de la pagina albergue.col2010@gmail.com El propósito de este portal es facilitar la coordinación de la ayuda en materia de alojamiento ante la emergencia invernal en Colombia, 2010. Favor utilizar este portal para contactar a los actores involucrados en la respuesta, compartir información acerca de areas programas y areas prioritarias, minutas de reunión del grupo sectorial alojamiento y ayuda no alimentaria, y otros documentos relevantes.
Alojamiento Temporal y ayuda no alimentaria