Recipes
Balsamic BBQ Glazed Chicken. A homemade balsamic bbq sauce is used to glaze chicken as it's grilling.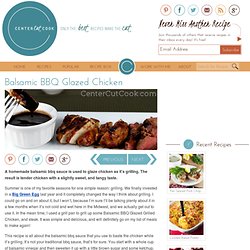 The result is tender chicken with a slightly sweet, and tangy taste. Summer is one of my favorite seasons for one simple reason: grilling. We finally invested in a Big Green Egg last year and it completely changed the way I think about grilling. Oreo and Peanut Butter Brownie Cakes - Viewing Comments 1-40. So, after being gone all last week, this has been catch up on the house week.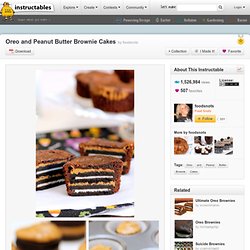 Mostly laundry actually. Man, who knew that a weeks worth of laundry from 5 people could be so daunting. Yikes!! No-Bake Chocolate Peanut Butter "Cake" This is a funny little recipe.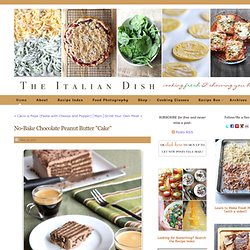 It only has four ingredients and requires no baking. I used to make this cake when my boys were little and it always amazed me. I was looking through my recipes the other day for something and came upon this and had fond memories of it. I can't even remember where I got this recipe from anymore, but it's a winner. Banana Split Surprise Cake. This is a sponsored review from BlogHer and Kraft.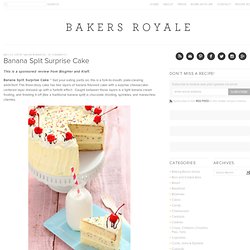 Banana Split Surprise Cake ~ Get your eating pants on; this is a fork-to-mouth, plate-clearing addiction! This three-story cake has two layers of banana flavored cake with a surprise cheesecake-centered layer dressed up with a funfetti effect. Caught between those layers is a light banana cream frosting, and finishing it off (like a traditional banana split) is chocolate drizzling, sprinkles, and maraschino cherries. Banana Split Surprise Cake. Battenburg Cake. Classic, pretty, and delicious specialty from England.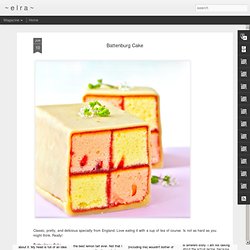 Love eating it with a cup of tea of course. Is not as hard as you might think. Really! St. Patrick's Day Rainbow Slice and Bake Cookie. St.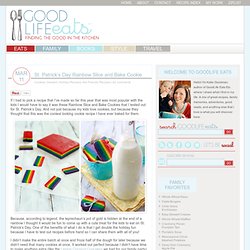 Patrick's Day Rainbow Slice and Bake Cookie Cookies, Dessert, Holiday Recipes, Kid Friendly Recipes | 82 comments If I had to pick a recipe that I've made so far this year that was most popular with the kids I would have to say it was these Rainbow Slice and Bake Cookies that I tested out for St. No-Bake Chewy Cookies and Cream Bars. Oh how I love a treat that can be whipped up in about 15 minutes.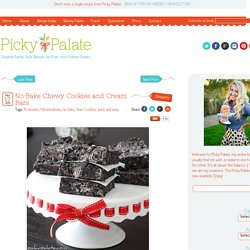 My boys and their buddies couldn't get enough of these Chewy Oreo Bars we had as an after school snack this week. Sometimes my spontaneous recipe creations turn out to be the most fun, lol! Yes you use an entire package of Oreo Cookies, but what you get in return is a marshmallow-y Oreo treat that is worth every bite. Homesick Mac and Cheese | Dorsey Kitchen. Pink Lemonade Layer Cake Recipe : Paula Deen. Macaroni & Cheese. There's nothing that can be said.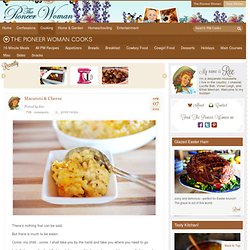 But there is much to be eaten. Come, my child…come. How to make skittles vodka. Leprechaun Trap Cake. This may look like a perfectly innocent cake meant to lure a leprechaun to the top but it has a few secrets.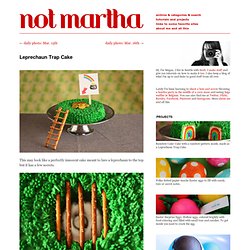 Secret #1: Beneath the pile of gold coins are fragile bars, when the leprechaun approaches to grab the coins he'll fall into the pit and be trapped. Secret #2: There is a rainbow hiding inside the cake. The leprechaun will discover this as he eats his way to freedom. Have you heard of Leprechaun traps? Peanut Butta Cups Recipe. Scottydu, I see your dilemma, Ghirardelli only displays cacao content from 60% and up on their packaging.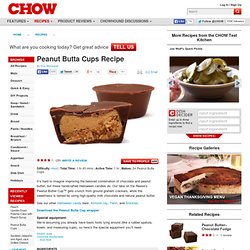 Sounds like you had bittersweet. As far as small town availability, if you have a Whole Foods nearby, you can get the El Rey that we loved so much. If not, I know you don't want to hear this, but you can order it online, or find a retailer near you on the site, Or scout out a specialty shop with high quality chocolate, and ask the owners/counter help. Knowing specifically what your cocoa content is, is important as well as tempering correctly. Magazine/Cookbook Monday: Slow-Baked Mac and Cheese. Happy Monday! And my second official Magazine/Cookbook day!
Awhoohoo! This week I wanted something easy because I was focusing on cupcake making.... more on that later ☺... Cake Batter Chocolate Bark. I don't think I've ever been so excited to share a recipe with you. Or to lick a bowl. The secret ingredient here? You may think I'm crazy… but it's a spoonful of actual cake mix. All you must do is whisk it well into the melted white chocolate. Veal Artichoke Ragout. I'm currently in a mad, passionate love affair with artichokes. This happens to me sometimes. I go for these long stretches without having anything to do with an artichoke, and then I see one across a crowded room and something comes over me. Hello, handsome.
Now before you get the wrong idea, I didn't exactly use that dashing specimen in the picture. Blue Cheese Crusted Filet Mignon with Port Wine Sauce Recipe. Angel Chicken Pasta Recipe. Beef Bourguignon II Recipe. Abby's Chicken Rollatini Recipe.
---