Anime
Sorrow-kun's List of 50 Great Anime of the Decade 2000-2009 » Behind The Nihon Review. Our staff's review of the decade continues, and today I'll be taking on the massive task of trying to list the best fifty anime that came out this decade, as I saw them.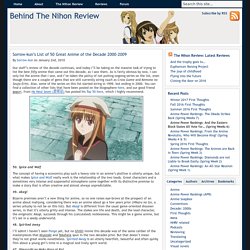 As is fairly obvious by now, I can only list the anime that I saw, and I've taken the policy of not putting ongoing series on the list, even though there are a couple of gems that are still currently airing (such as Cross Game and Kemono no Souja Erin). Also, some of the series on this list started airing in 1999, but ending in 2000. You can find a collection of other lists that have been posted on the blogosphere here, and our good friend gaguri, from Ha Neul Seom (하늘섬) has posted his Top 50 here, which I highly recommend. Ghost in the Shell - Stand Alone Complex. The Anime Corner Store - Your Online Anime Superstore! 3-2-1..Let's Jam! Emily's Cowboy Bebop Page. 10 Strange Anime You Would Never Have Thought of. Ten Anime Films You Should See Before You Die. One of the most surprising, and gratifying, things that has happened since I started my blog, Tim Maughan Books, a year or so ago is the positive feedback I've had for the anime reviews—especially from people I know are far from being massive fanboys like myself.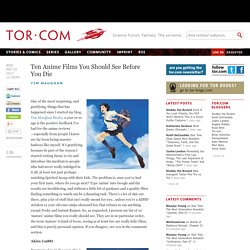 It's gratifying because its part of the reason I started writing them; to try and introduce the medium to people who had never really indulged in it all, at least not past perhaps watching Spirited Away with their kids. The problem is, once you've had your first taste, where do you go next? Anime Moive - Watch Anime Movie Sub or Dub Free Online.
---