Panghimagas
Wagashi - Wagashi Maniac
TAG» chestnuts, chocolate, creme de marrons, easy wagashi, japanese sweets, kinako, kuri, maronen, vegan, wagashi Autumn Wagashi with Chestnuts Few easy and quick chestnut wagashi recipes! TAG» food photography, japanese sweets, Käsekuchen, kudzu, kuzu, raw cheesecake, raw desserts, summer, vegan, wagashi Summerbreak is over!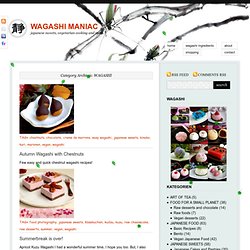 Today's Treat
For the first time, I added shiokoji to bread dough. It did a way better job than I expected. Come to think of it, it's no wonder, koji bacteria itself is a sort of yeast. I guess koji can reduce the distinctive flavor of instant dry yeast and help bread dough rise. Anyway I have to try this again for sure. In the meantime, we've been on a gravlax kick lately.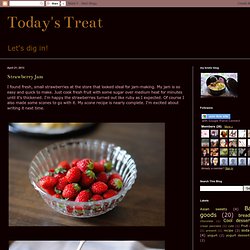 *the simplest aphrodisiac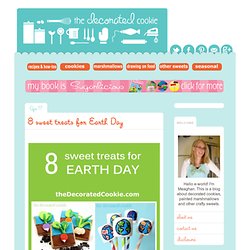 In case you're wondering, yes, I did have Jimi Hendrix's "Foxy Lady" in my head the whole time I was making these. And now you do, too, so you're welcome. Know any foxes? I think they might like to know you think they are foxes. So for Valentine's Day, you better spell it out in marshmallows.
My little bakery :)
SweetAmbs
bee in our bonnet
It's almost Thanksgiving! So let's do a Christmas treat! Doesn't Thanksgiving always get the shaft! I won't skip over the holiday without telling you readers that I'm thankful you stop by this old blog. Even when life with kids, jobs and responsibilities get in the way, you are patient! And even send me nice emails!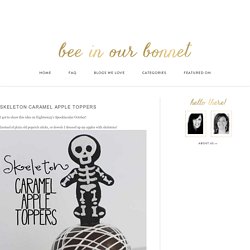 Contact Us Privacy Policy Joyofbaking On Twitter Stephanie Jaworski+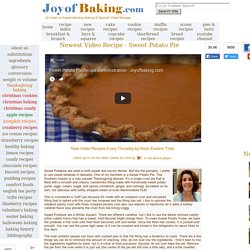 Mini Strawberry, Lemon and Shortbread Trifle | Madigan Made One thing I love about buffets is the mini desserts. It means that instead of wasting your dessert on onething that might not taste good (or starts to taste bad after a while) you get to have multiple desserts with a little taste of everything! Who doesn't love that?!
recipespage | Scissors + Thread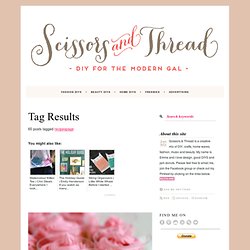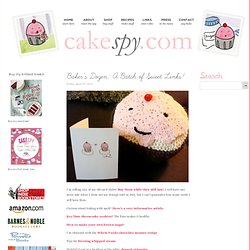 April showers bring May flowers. But let's not get all doom and gloom and April-is-the-cruelest month, OK? Because where there are rain showers, there is bound to be a rainbow or two. Or ten!
franjmc's Photostream
Cake Gallery | Pastry | Patisserie
★ Member Content ★ Not a member, yet? Join Here…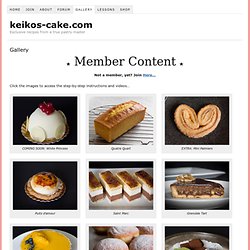 Was just watching Liverpool vs Arsenal on TV earlier, it was painful to watch (mebeing a Liverpool fan) that I switched off my TV set and decided to blog instead. Recently, 2 of colleagues departed from the company and the week seemed like a week of farewell - saying our goodbyes and well wishes to each of them. It felt sad, yet at the same time happy for them to be moving on to a new and better place.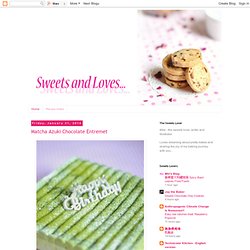 Sweets and Loves
I know I'm not the only mom who is juggling a lot of balls this week. In addition to our normal weekday stuff, one of my children has a tae kwon do belt test, the other has Adam Gidwitz appearing at his middle school book club. One is signed up to tin-punch at the Historical Society, and the other has a test of some sort. I'm packing three of us up for a trip, and then there is all of the fa-la-la at school. Oh, and the kids are making their teacher gifts, we said we'd bring homemade cookies to the aforementioned library book club... and did I mention a snow day and a half day of school this week too? So when asked if I had interest in testing out a "simple recipe", all I heard was simple and that alone made me swoon.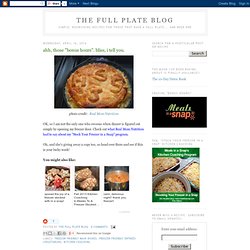 The Full Plate Blog
Okay, so this isn't really a hard sell. I mean let's face it … cake dressed up as cute baby carrots is way more fun than the real vegetable version, right?! I think so. But, I guess I could start drawing faces on raw carrots to make me want to eat them more. Maybe. One day.