Pagkain
Table for 2.... or more
doodlebread.wordpress.com
Doodle Blog | Doodle Bread
Feb 21, 2013 The blog has been quiet this week, because we launched in Selfridges Oxford Street on Monday! It was a bit of a whirlwind getting the order in there and getting set up but we think it looks ace! We spent most of last week up until all hours packing the boxes (see below...) but once we saw it in there it was all worth it. If you're in London this week, please call in and say hello!
breadbasketcase
The Barefoot Kitchen Witch
Bread cetera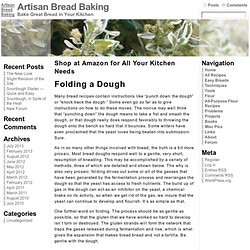 Many bread recipes contain instructions like "punch down the dough" or "knock back the dough." Some even go so far as to give instructions on how to do these moves. The novice may well think that "punching down" the dough means to take a fist and smash the dough, or that dough really does respond favorably to throwing the dough onto the bench so hard that it bounces.
The Why and How of Folding a Dough | Artisan Bread Baking
Haniela's
Amber Spiegel
The Unofficial Cook — Cooking, Eating and Living with a Filipino Flavor