DIY
Www.catissa.com. Photo by gtc90. My Desktop. Swing Out Panels and Towering Storage: The Pipe Dream Workspace. I remember wanting to build a desk similar to this one about 5 years ago, until I started to price out the materials.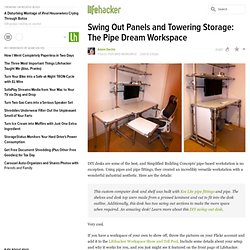 The fittings alone would have added up to several hundred dollars. This has a really nice industrial feel to it, and I would love to do something similar if/when the budget permits. DIY Taillight Gasket Replacement (Water in Trunk Fix) - Club RSX Message Board. This is for the 02-04 RSXs that drive around with a pool of waterin their trunk.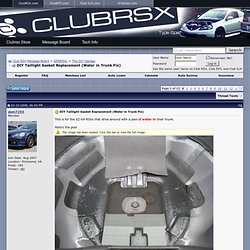 Here's the pool We need to find out where the leak is. Remove your carpet, foam board, spare tire, taillight access lid, (and plastic cover if you wish). To take off the taillight access lids, just pull… very hard I took off the plastic cover. Rsx red outs. DIY Braided Hex Nut Bracelet. We're nuts for nuts.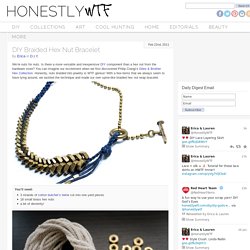 Is there a more versatile and inexpensive DIY component than a hex nut from the hardware store? You can imagine our excitement when we first discovered Philip Crangi's Giles & Brother Hex Collection. Honestly, nuts braided into jewelry is WTF genius! With a few items that we always seem to have lying around, we tackled the technique and made our own spine-like braided hex nut wrap bracelet. You'll need:3 strands of cotton butcher's twine cut into one yard pieces18 small brass hex nutsa bit of dexterity! DIY Tiny Top Hat. Cut a long strip of cardboard to the exact height and width of desired hat.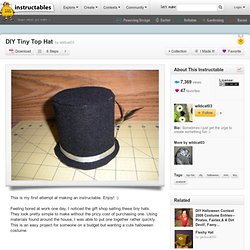 (Make sure the corrugated cardboard used has the holes facing vertically.) For my hat, I used the dimensions of 3 x 9 inches, leaving a 1/2 to 3/4 inch tab at one end. Finally dimensions are 3 x 9 3/4 inches. Almost Genius. My Collection of Funny Emails. Send funny emails to your friends! Why didn't I think of that?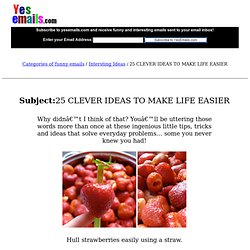 You'll be uttering those words more than once at these ingenious little tips, tricks and ideas that solve everyday problems... some you never knew you had! Hull strawberries easily using a straw. Rubbing a walnut over scratches in your furniture will disguise dings and scrapes. Remove crayon masterpieces from your TV or computer screen with WD40. How to make a tablet pc from an old laptop. Check out my other projects:Xbox Hackintosh casemod AndDIY Spy phone In this project i used an old Fujitsu Siemens life book S series laptop.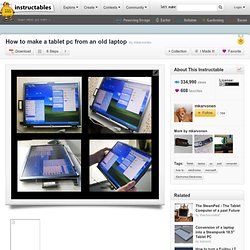 It has got a 1 Ghz processor and 256 Mb ram, (not sure about the graphic card but i know its between 8-32 Mb). RJ-45 key chain and rack. There are two parts to this instructable. the first part is the key chain, in order to make the key chain you will need the following: tools: 1.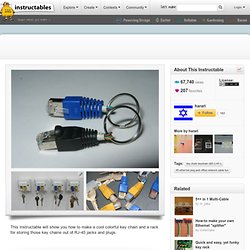 RJ-45 plug crimper 2. cutting or sleeving tool 3. scissors materials: 1. 2 pair or more network cable 2. RJ-45 plugs (male) 3. colored rubber protector for RJ-45 plug 4. key ring. The Adventures of an Urban Socialite™ — Bringing You The Truth In The Form Of Fashion Since 2005. Crayon Heart Valentines | Lifestyle Crafts. Animals origami. DIY Glass Bottle Lamp. Crayon Cupcakes (with frosting) « Craft Apple. Crayon Cupcakes (with frosting) Does NordicWare know that I'm one of their best customers?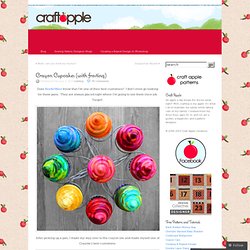 I don't even go looking for these pans. They are always placed right where I'm going to see them (nice job, Target). After picking up a pan, I make my way over to the crayon isle and make myself one of Crayola's best customers. Love Is In The Air: Create Your Own Heart-Shaped Bokeh. Lately, the combination of a busy school schedule and my addiction to Instagram has resulted in serious camera-neglect.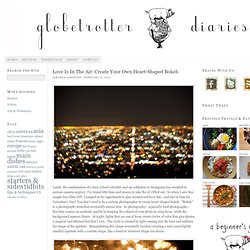 I've found little time and reason to take the ol' DSLR out. So when I saw this simple lens filter DIY, I jumped at the opportunity to play around and have fun– and just in time for Valentine's Day! You don't need to be a serious photographer to create heart-shaped bokeh. "Bokeh" is a photography term that essentially means blur. In photography– especially food photography– this blur creates an aesthetic quality by keeping the subject of your photo in crisp focus, while the background appears blurry. At night, lights that are out of focus create circles of color that give photos a magical and ethereal feel that I love. D.I.Y. How to Build a Car Mount for Your Cellphone from Office Supplies. @PierceTheVin: Aye, an HD - I miss my 120 Original.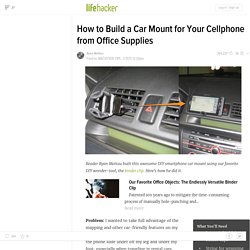 The thing was built like a tank, and held all I ever wanted portable media wise. 32GB is a big step down, but I got it as a free replacement for the one whose hard drive I burnt out after constant use :p. A bit of green :: Crafts :: Plastic Cup Lamp. Now that my university is closed for winter holidays, I finally have more free time to do all the crafty things I've been wanting to. One of these is a lamp made from plastic cups I've seen at taf, the art foundation, in the Monastiraki region in the center of Athens. When I first saw it at taf, I was amazed; I looked closely and I couldn't believe my eyes!
---