To Read
Out-Of-This-World Destinations (PHOTOS) Its official name may lack a bit of pizazz, but the Richat Structure makes up for it with its cool nickname, the Eye of the Sahara.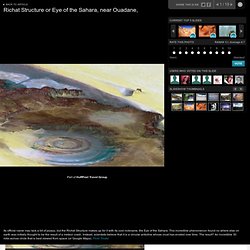 This incredible phenomenon found no where else on earth was initially thought to be the result of a meteor crash. Instead, scientists believe that it is a circular anticline whose crust has eroded over time. Out-Of-This-World Destinations (PHOTOS) Its official name may lack a bit of pizazz, but the Richat Structure makes up for it with its cool nickname, the Eye of the Sahara.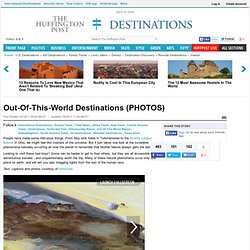 This incredible phenomenon found no where else on earth was initially thought to be the result of a meteor crash. Instead, scientists believe that it is a circular anticline whose crust has eroded over time. The result? Leaders flounder over Libyan no-fly zone. 16 March 2011Last updated at 18:48 By Jonathan Marcus BBC diplomatic correspondent Rebel forces in Libya have been asking for a no-fly zone to be imposed What, if anything, should be done to help the rebel forces in Libya?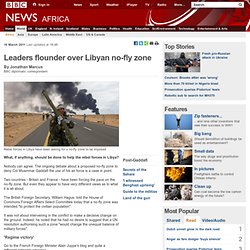 Melchert-Dinkel found guilty in web suicide case. 15 March 2011Last updated at 20:32 A judge said Melchert-Dinkel, shown in February, "imminently incited" the two suicides A US nurse has been convicted of aiding the suicides of an English man and a Canadian woman after seeking out depressed people online and urging the two to kill themselves.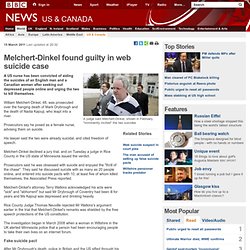 William Melchert-Dinkel, 48, was prosecuted over the hanging death of Mark Drybrough and the death of Nadia Kajouji, who leapt into a river. Prosecutors say he posed as a female nurse, advising them on suicide. Canadians are still in deep trouble on household debt. These are stories Report on Business is following today.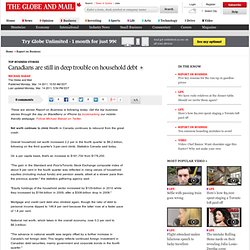 Get the top business stories through the day on BlackBerry or iPhone by bookmarking our mobile-friendly webpage. Follow Michael Babad on Twitter. Net worth continues to climb Wealth in Canada continues to rebound from the great crash. Overall household net worth increased 2.2 per in the fourth quarter to $6.2-trillion, following on the third quarter's 3-per-cent climb, Statistics Canada said today. Blake Lively as a New Face of Chanel. Cameron Diaz On 'Jimmy Kimmel Live': 'I Love Porn!' Jonah Hill's Epic Weight Loss For '21 Jump Street' (PHOTOS) You may not have previously seen him as an action star, but Jonah Hill made quite the transformation for "21 Jump Street.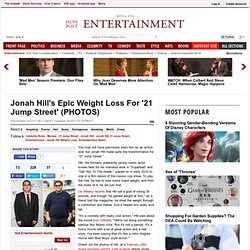 " Hill, the formerly pleasantly plump comic actor known best for his standout work in "Superbad" and "Get Him To The Greek," signed on in early 2010 to star in a film reboot of the classic cop show. To play the role, he had to lose some major weight, and from the looks of it, he did just that. Us Weekly reports that Hill set a goal of losing 30 pounds, and though "he gained weight at first," as a friend told the magazine, he shed the weight through a nutritionist and trainer.
And it helped him really kick tail. "It's a comedy with really cool action," Hill said about the movie [via Collider]. Paging MBAs in the health-care sector. Try Globe Unlimited - 1 month for just 99¢ And get unlimited access on all your devices Business School News More Business Education Stories News »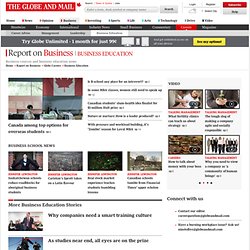 New to investing? Hit the books! One million dead fish clog Calif. marina. Who are the Tchenguiz brothers? Sarah Palin 'Not Afraid' Of Jon Stewart, Says Aide. NEW YORK -- Since last October, when President Barack Obama visited the set of "The Daily Show," the majority of political guests on the show have been conservatives.
Though he leans left, host Jon Stewart has coaxed plenty of Republicans -- including potential 2012 contenders Tim Pawlenty, Mike Huckabee and Newt Gingrich, Tea Party leader Dick Armey and even longtime punching bags like former Defense Secretary Donald Rumsfeld and former RNC chair Michael Steele -- to appear on his show and engage in lively debate with one of the most well-respected interviewers on television. But a few high-profile conservatives looking to expand their base and move new books keep declining the show's invitations, despite the fact that Stewart is typically gracious with right-wing guests (after his recent appearance, one of the toughest interviews he endured on his book tour, Rumsfeld tweeted: "Just wrapped up one of the most thoughtful interviews of book tour with @thedailyshow").
Maria Bello: Women Key to Haitian Rebuilding. Voters in Haiti go to the polls on Sunday, March 20, 2011 to elect a new president and a new Parliament.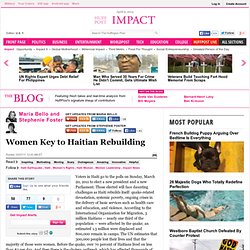 Those elected will face daunting challenges as Haiti rebuilds itself: quake-related devastation, systemic poverty, ongoing crises in the delivery of basic services such as health care and education, and violence. According to the International Organization for Migration, 3 million Haitians -- nearly one third of the population -- were affected by the quake; an estimated 1.3 million were displaced and 800,000 remain in camps. The UN estimates that 300,000 people lost their lives and that the majority of those were women. Before the quake, over 70 percent of Haitians lived on less than $2 per day. Charlie Sheen Reveals Goddess Sleeping Arrangement. Charlie Sheen's media blitz continues, and Tuesday he spoke with Howard Stern about his "goddesses," the two live-in girlfriends who help him care for his young sons.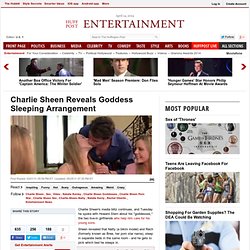 Sheen revealed that Natty (a bikini model) and Rach (formerly known as Bree, her porn star name), sleep in separate beds in the same room - and he gets to pick which bed he sleeps in. ROBIN QUIVERS: But how do they work it? New Zombie-Creating Fungi Discovered. This is surreal. Four new species of the zombifying fungi, members of the Ophiocordyceps (or just Cordyceps) genus have apparently been discovered. These fungi are the sworn enemy of tropical ants and other insects, infecting them and causing their unusual behavior, according to Mongabay. Special Report: Al Jazeera's news revolution. Canadian girl 'youngest to discover supernova' 4 January 2011Last updated at 12:19 Kathryn Gray says she is 'really excited' by her interstellar discovery A 10-year-old girl in Canada has become the youngest person to discover a supernova - an exploding star which can briefly outshine a whole galaxy.
What does the Arab world do when its water runs out? | Environment | The Observer. Poverty, repression, decades of injustice and mass unemployment have all been cited as causes of the political convulsions in the Middle East and north Africa these last weeks. But a less recognised reason for the turmoil in Egypt, Tunisia, Algeria, Yemen, Jordan and now Iran has been rising food prices, directly linked to a growing regional water crisis. The diverse states that make up the Arab world, stretching from the Atlantic coast to Iraq, have some of the world's greatest oil reserves, but this disguises the fact that they mostly occupy hyper-arid places. Rivers are few, water demand is increasing as populations grow, underground reserves are shrinking and nearly all depend on imported staple foods that are now trading at record prices. A state of decline? A spate of head-scratching is sweeping the usually self-confident United States, as political commentators warn of the decline of the great nation.
These so-called "declinists" are nothing new - they have been issuing their gloomy predictions since Russia beat the US into space - but with rocketing debt and fractious political battles, their argument has more weight than ever. When I lived in Washington DC as the BBC's North America editor, we used to drive the children two hours north to Hershey's Chocolate World. Amid the glorious chocolatey smell, you are greeted by a film that sums up US optimism. "Milton S Hershey, father of the American chocolate industry, started in failure and ended in success, because he was honest, smart and believed that a good tasting product was more important than anything else," booms the all-American voice. Why Ottawa bombs its frozen rivers. 24 February 2011Last updated at 10:15 By Megan Lane BBC News The river ice is blasted apart with dynamite each year At the end of each winter, explosives experts lay dynamite in the icy river that runs through the heart of Ottawa, Canada.
India Godhra train blaze verdict: 31 convicted. Caravaggio's crimes exposed in Rome's police files. Eleven sentenced to death for India Godhra train blaze. Glenn Beck: Some Muslims Want To Bring About The Antichrist. Baldness Cure A Step Closer: Scientists Regrow Hair In Mice. Colin Powell Slams U.S. Officials Over Handling Of Iraq Defector's False Claims.
Kathy Freston: The Case For Fake Meat (Omnivores, We're Looking At You!) Thomas P. Connelly, D.D.S.: Why We Take Medicines Under Our Tongue. How declining fertility keeps women from high-power jobs. US fight over abortion heats up again. Belinda Heggen Mocks Co-Host Mark Aiston's Manhood Live On Air. Michelle Obama Cartoon: First Lady Drawn As Fat, Binging On Burgers. How The Mubarak Family Made Its Billions. Defector admits to WMD lies that triggered Iraq war | World news. Arundhati Roy: India's bold and brilliant daughter. Palestine papers: Browse the documents | World news. Julian Assange's Lawyer: It Was Missionary Position, Not Assault.
---