Actus
Surf. Kelly Slater n'est pas encore champion du monde ! - Sports
"Il y a eu une erreur avec notre système de calcul de points".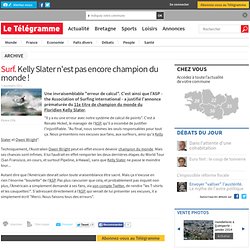 Gabriel Médina remporte à 17 ans le Quik Pro.#surf on Twitpic
Broadcast Yourself
Live Page - English
GoPro HD HERO Alana and Monyca Surfing Hawaii
Mundaka renoue avec la compétition | Surf-session
Mundaka back in the game ! Après son retrait du calendrier World Tour en 2009, la célèbre gauche espagnole renoue avec la compétition, avec la création du "Billabong Mundaka Challenge". Une waiting-period de 3 mois, qui débutera le 15 janvier 2012, a été mise en place pour assurer les meilleures conditions (6 à 8 pieds minimum requis) à cette compétition "Special Event" au format nouveau, qui pourrait se dérouler sur une ou deux journées. Mundaka, février 2011 - Masurel/Aquashot 18 surfeurs seront sélectionnés pour participer à la compétition : 6 internationaux et 6 européens ansi que 6 surfeurs basques (dont 2 seront choisis par le Mundaka Surf Club), tous tube-riders reconnus.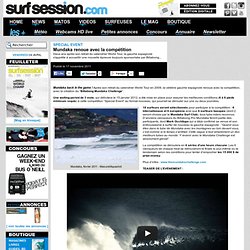 ZON NORTH CANYON SHOW 2011 - BIGGEST WAVE EVER
graviere on fire on Vimeo
Video - Billabong Pipe Masters
Video - Billabong Pipe Masters
Live Webcast Ultra - Billabong Pipe Masters in Memory of Andy Irons
Session SUP - Hossegor Janvier 2012 - Thomas QUIRANTE
Where's Sancho_Monaco
BIGGEST TEAHUPOO EVER, SHOT ON THE PHANTOM CAMERA. on Vimeo
Kelly Slater Moments - 2012 - Fiji
Surf - World Tour - 2012 - Le Top 34
1. Mick FANNING (AUS), 54 400 pts2. Kelly SLATER (USA), 54 150 pts3. Joel PARKINSON (AUS), 48 450 pts4. Jordy SMITH (AFS), 43 150 pts5.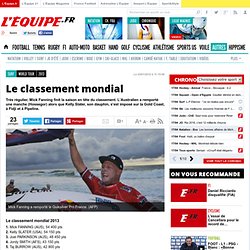 Rock Food Hossegor: ahah fun ! #surf http://t.
Rock Food Hossegor: La neige n'a pas tenu mais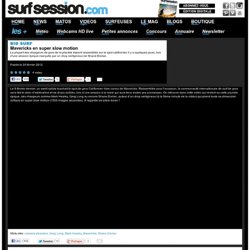 Mavericks en super slow motion La plupart des chargeurs de gros de la planète étaient rassemblés sur le spot californien il y a quelques jours, lors d'une session épique marquée par un drop vertigineux de Shane Dorian. Publié le 20 février 2012 Le 8 février dernier, un swell solide touchait le spot de gros Californien bien connu de Mavericks.
Mavericks en super slow motion
2012 IBA Pipe Challenge Day 3 Highlights
Farewell to winter on Vimeo
New Website check it out ! | Jeremy Flores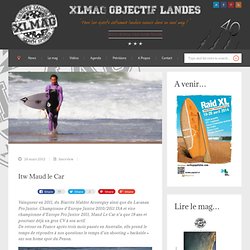 Vainqueur en 2011, du Biarritz Maïder Arosteguy ainsi que du Lacanau Pro Junior. Championne d'Europe Junior 2010/2011 ISA et vice championne d'Europe Pro Junior 2011, Maud Le Car n'a que 19 ans et pourtant déjà un gros CV à son actif. De retour en France après trois mois passés en Australie, elle prend le temps de répondre à nos questions le temps d'un shooting « backside » sur son home spot du Penon. -Maud, 3 mois en Oz et 3 compéts plus tard, que retiens-tu de ce périple en Australie? Je suis arrivée en Australie début janvier pour la dernière épreuve des World Juniors à Burleigh sur la Gold Coast où j'ai terminé 7 ème. Je me suis fixé comme objectif le top 10 mondial Junior, au final je ne suis donc pas satisfaite de ce résultat.
Objectif Landes » itw maud le car
Hossegor (La Graviere) Surf Report