Actus
Surf. Kelly Slater n'est pas encore champion du monde ! - Sports
"Il y a eu une erreur avec notre système de calcul de points". C'est à Renato Hickel, le manager de l'ASP, qu'il a incombé de justifier l'injustifiable. "Au final, nous sommes les seuls responsables pour tout ça. Nous présentons nos excuses aux fans, aux surfeurs, ainsi qu'à Kelly Slater et Owen Wright".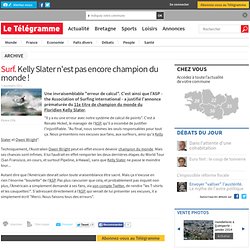 Gabriel Médina remporte à 17 ans le Quik Pro.#surf on Twitpic
Broadcast Yourself
Live Page - English
GoPro HD HERO Alana and Monyca Surfing Hawaii
Mundaka renoue avec la compétition | Surf-session
Mundaka back in the game ! Après son retrait du calendrier World Tour en 2009, la célèbre gauche espagnole renoue avec la compétition, avec la création du "Billabong Mundaka Challenge". Une waiting-period de 3 mois, qui débutera le 15 janvier 2012, a été mise en place pour assurer les meilleures conditions (6 à 8 pieds minimum requis) à cette compétition "Special Event" au format nouveau, qui pourrait se dérouler sur une ou deux journées. Mundaka, février 2011 - Masurel/Aquashot 18 surfeurs seront sélectionnés pour participer à la compétition : 6 internationaux et 6 européens ansi que 6 surfeurs basques (dont 2 seront choisis par le Mundaka Surf Club), tous tube-riders reconnus.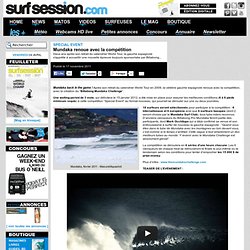 ZON NORTH CANYON SHOW 2011 - BIGGEST WAVE EVER
graviere on fire on Vimeo
Video - Billabong Pipe Masters
Video - Billabong Pipe Masters
Live Webcast Ultra - Billabong Pipe Masters in Memory of Andy Irons
Session SUP - Hossegor Janvier 2012 - Thomas QUIRANTE
Where's Sancho_Monaco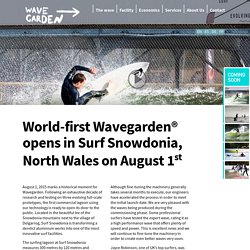 Wavegarden, industry leader in the design and manufacture of wave generation systems, has built a full-sized demo center in Northern Spain. This first of its kind facility will be used strictly for fine-tuning, testing and as a showroom and is not open to the public. Located at Wavegarden's research and development site, the new surfing lagoon generates perfectly formed tubing waves that peel for more than 220 m without losing power or shape. It is the longest artificial surfing wave in existence, and the wave quality, shape, and speed, are suitable for the highest levels of performance surfing. Every minute two identical waves break simultaneously left and right with barreling point break type rides up to 20 seconds long. Once the waves reach the bay area, the left and right hand waves transform into smooth rolling whitewater waves; perfect for children, longboarding and surf lessons.
BIGGEST TEAHUPOO EVER, SHOT ON THE PHANTOM CAMERA. on Vimeo
Kelly Slater Moments - 2012 - Fiji
Surf - World Tour - 2012 - Le Top 34
1. Mick FANNING (AUS), 54 400 pts2. Kelly SLATER (USA), 54 150 pts3. Joel PARKINSON (AUS), 48 450 pts4. Jordy SMITH (AFS), 43 150 pts5.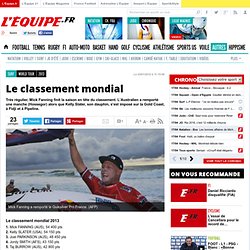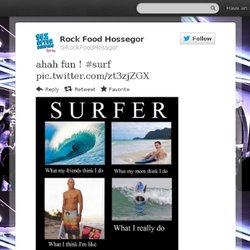 Language: English Bahasa Indonesia Bahasa Melayu Dansk Deutsch Español
Rock Food Hossegor: ahah fun ! #surf http://t.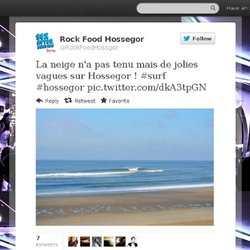 Rock Food Hossegor: La neige n'a pas tenu mais
Language: English Bahasa Indonesia Bahasa Melayu Dansk Deutsch Español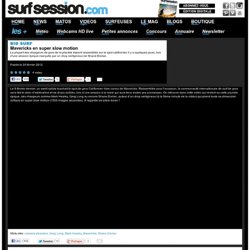 Mavericks en super slow motion La plupart des chargeurs de gros de la planète étaient rassemblés sur le spot californien il y a quelques jours, lors d'une session épique marquée par un drop vertigineux de Shane Dorian. Publié le 20 février 2012 Le 8 février dernier, un swell solide touchait le spot de gros Californien bien connu de Mavericks.
Mavericks en super slow motion
2012 IBA Pipe Challenge Day 3 Highlights
Farewell to winter on Vimeo
New Website check it out ! | Jeremy Flores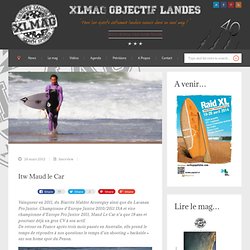 Vainqueur en 2011, du Biarritz Maïder Arosteguy ainsi que du Lacanau Pro Junior. Championne d'Europe Junior 2010/2011 ISA et vice championne d'Europe Pro Junior 2011, Maud Le Car n'a que 19 ans et pourtant déjà un gros CV à son actif. De retour en France après trois mois passés en Australie, elle prend le temps de répondre à nos questions le temps d'un shooting « backside » sur son home spot du Penon. -Maud, 3 mois en Oz et 3 compéts plus tard, que retiens-tu de ce périple en Australie? Je suis arrivée en Australie début janvier pour la dernière épreuve des World Juniors à Burleigh sur la Gold Coast où j'ai terminé 7 ème. Je me suis fixé comme objectif le top 10 mondial Junior, au final je ne suis donc pas satisfaite de ce résultat.
Objectif Landes » itw maud le car
Hossegor (La Graviere) Surf Report