PHP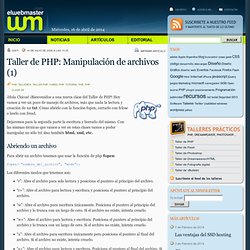 Taller de PHP: Manipulación de archivos (1)
¡Hola Chicos! ¡Bienvenidos a una nueva clase del Taller de PHP! Hoy vamos a ver un poco de manejo de archivos, más que nada la lectura y creación de un txt. Cómo abrirlo con la función fopen, cerrarlo con fclose o leerlo con fread.
La mejor manera de enviar emails HTML con PHP
Micaela16 de Febrero de 2010 a las 08.00 ¿Cansado de enviar emails sin diseño, que pasan desapercibidos o no se ven correctamente? En el artículo de hoy vamos a encargarnos de conocer cómo enviar emails HTML con PHP, formateados para que luzcan bonitos.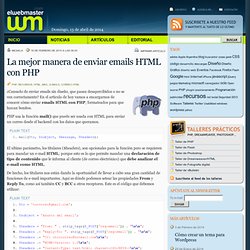 Tecnologías Microsoft para otras plataformas
Soporte para PHP y diseño en Firebug con 5 poderosos plugins - e
Me acabo de enterar que Firebug ha pasado a ser parte de Mozilla, algo bastante coherente dado que se trata de un plugin de Firefox. Y hablando de esto ¿sabías que hay "plugins de plugins"? Tal es el caso de estos 5 que potenciarán tu Firebug y te permitirán trabajar incluso con PHP. Usualmente con Firebug podemos inspeccionar, debuggear y trabajar con HTML, CSS y el DOM. Ahora podremos incluir soporte para PHP, como ya dije, cookies y hasta una herramienta para ajustar imágenes visualmente (acomodando el CSS automáticamente para que quede la imagen en el lugar exacto). ¡Ideal para programadores y diseñadores!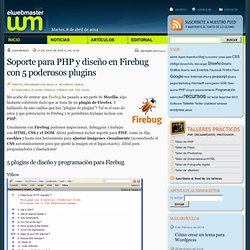 Escribir aplicaciones PHP no es extremadamente difícil. Pero muchos olvidan los aspectos de seguridad que deben ser tenidos en cuenta al implementar estas aplicaciones. A veces no se piensa en el daño que puede sufrir un sitio web hasta que ya es demasiado tarde. Se debe empezar a diseñar con cabeza y no ser meros robots codificando.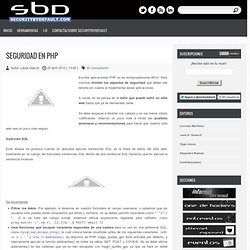 Seguridad en PHP
PHP Security Consortium: PHP Security Guide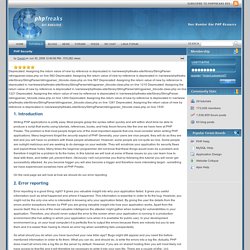 1. Introduction Writing PHP applications is pretty easy. Most people grasp the syntax rather quickly and will within short time be able to produce a script that works using tutorials, references, books, and help forum forums like the one we have here at PHP Freaks.
Tutorial: PHP Security
PHP security & SQL security - Avoid a PHP hack attack
Today we want to present you the sixth external MOPS submission. It is the second article sent in by Jakub Vrana. This one is about variable initialization in PHP.
MOPS Submission 06: Variable Initialization in PHP « the Month o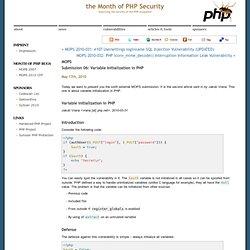 PHP is a scripting language that is perfect for developing dynamic web pages and applications. Being one of the most popular scripting languages on the internet today, makes it pretty easy to get started with. If you are looking for a technique that you forgot about, or a function you didn't know someone else has created before; then this article might be something useful for you and will save you some time for sure. Today we will highlight 10 Essential PHP functions with step by step tutorials to get you some of the latest techniques used these days. 1. Using PHP to Backup MySQL Databases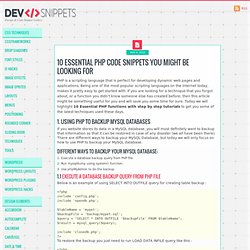 10 Essential PHP Code Snippets You Might be Looking For | DevSni