Reconnaissance musicale
Welcome to Shazam. Recherche de musique à l'aide de votre voix en chantant ou murmu. Tunatic: free music identification software. Ever thought 'what is this song?'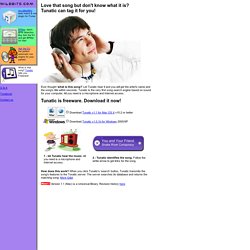 Let Tunatic hear it and you will get the artist's name and the song's title within seconds. Tunatic is the very first song search engine based on sound for your computer. All you need is a microphone and Internet access. PicardTagger. Products > MusicBrainz Picard MusicBrainz Picard is a cross-platform (Linux/Mac OS X/Windows) application written in Python and is the official MusicBrainz tagger.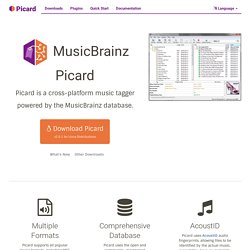 Picard supports the majority of audio file formats, is capable of using audio fingerprints (AcoustIDs), performing CD lookups and disc ID submissions, and it has excellent Unicode support. Additionally, there are several plugins available that extend Picard's features. Jaikoz Audio Tagger. Are you frustrated by missing information in your audio files?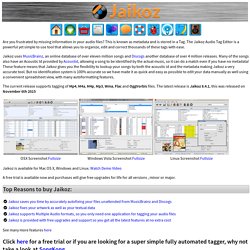 This is known as metadata and is stored in a Tag. The Jaikoz Audio Tag Editor is a powerful yet simple to use tool that allows you to organize, edit and correct thousands of these tags with ease.
---