ZEITGEIST
Zeitgeist Mouvement, Projet Vénus. Tout ceci irait très bien avec le PearlTree Occupy Wall Street ... Oct 10
ZDay Maidstone 2013 Promo | The Blog's Revue by OlivierSC
The Zeitgeist Media Festival
Paradise or Oblivion | The Blog's Revue by OlivierSC
WELCOME TO "ZEITGEIST DAY" GLOBAL WEBSITE & PORTAL!
Occupy is Cute
Zetgeist & Occupy : petit détour par le producteur du film dont il a été souvent question ici comme chez Gilles – : Peter Joseph on Zeitgeist « Concerns » .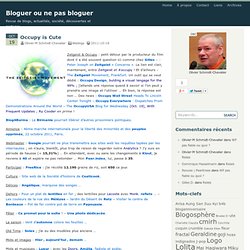 TZM @ Occupy Frankfurt 15.10.2011
Un lien existe entre Zeitgeist et #occupy ! by oliviersc Oct 19
Zeitgeist Movement | Frankfurt
Cette merde doit cesser
C'est bien Jacque Fresco ! Si vous ne connaissez pas, voyez la Perle "Moving Forward, les intervenants" ... by oliviersc Oct 10
Blog4Burma : Burma Resistance Day Celebration & Fundraising Food Festival .
zeitgeist
Blog4Burma : Burma Army attacks in Karen State – En Birmanie , le viol est devenu une arme de guerre .
Faire circuler, partager Venus Project: Dream of the perfect world in the future | The Blog's Revue by OlivierSC
The Venus Project-Occupy Miami-Nov.20, 2011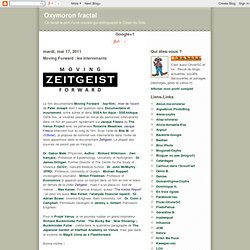 Le film documentaire Moving Forward - ( top-film ), Aller de l'avant de Peter Joseph dont il est question dans Documentaire et mouvement , e ntre autres et dans SSEA for Aqua - SSEA4Aqua . Cette fois, je voudrais passer en revue les personnes intervenants dans ce film en passant rapidement sur Jacque Fresco du The Venus Project avec sa partenaire Roxanne Meadows . Jacque Fresco intervient tout au long du film.
Moving Forward ; les intervenants
Films - Mouvement Zeitgeist Francophone Officiel | The Blog's Revue by OlivierSC