Anciens1 #ows
Pour ne pas les effacer, mais, sans classement, désolé Dec 2
ZP92Z.jpg (JPEG Image, 700x990 pixels) - Scaled (65
Can Occupy Wall Street Avenge Its Eviction?
Occupy Wall Street clearly lost a battle on Wednesday, as the NYPD's raid on Zuccotti Park raised serious questions about the movement's ability to continue on its chosen course. So the group's planned day of protests on Thursday has taken on an outsize importance, as the movement tries to assert that it is still capable of winning the wider war. With many protesters and local politicians voicing anger at the tactics of Mayor Bloomberg and the police, it could prove to be a volatile day. Beginning at 7 a.m. on Thursday, the protesters will kick off a plan that suddenly has more eyes on it than it did at the week's start, when many saw the occupation as stalling, with the demonstrators' base overrun by stragglers and their message overcome by negative press.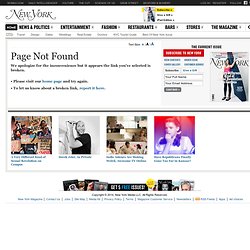 Les "Indignés" new yorkais bloquent le quartier de Wall Street - Monde
Ils n'auront pas pu empêcher l'ouverture de la Bourse. Mais les "Indignés" sont parvenus à bloquer les rues adjacentes, retardant les employés de Wall Street sur le chemin du travail. Au bout de 45 minutes de blocage, la police new yorkaise est intervenue, les repoussant fermement. 177 manifestants ont été arrêtés par la police, certains frappés alors qu'ils résistaient. Les événements en temps réel racontés sur le site Occupy Wall Street. Mardi, les forces de l'ordre avaient délogé les "Indignés" de leur camp de base, le square Zuccotti, berceau du mouvement.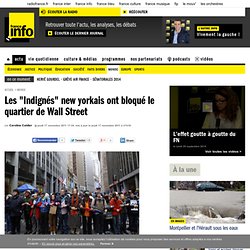 Ydanis Rodriguez (Photo: New York City Council) Councilman Ydanis Rodriguez held a press conference on the steps of City Hall this morning to discuss his arrest during the NYPD raid on the Occupy Wall Street encampment at Zuccotti Park. Councilman Rodriguez said he was thrown to the ground by arresting officers, held for more than 12 hours and prevented from speaking with his attorneys during his time in custody.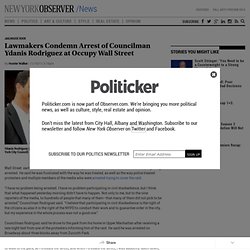 Lawmakers Condemn Arrest of Councilman Ydanis Rodriguez at Occupy Wall Street | PolitickerNY
L'appel au secours des Indignés de la Défense contre la répression policière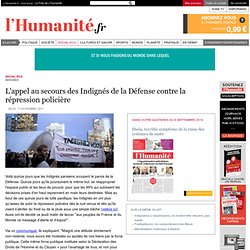 Voilà quinze jours que les Indignés parisiens occupent le parvis de la Défense. Quinze jours qu'ils poursuivent le même but: se réapproprier l'espace public et les lieux de pouvoir, pour que les 99% qui subissent les décisions prises d'en haut reprennent en main leurs destinées. Mais au bout de ces quinze jours de lutte pacifique, les Indignés en ont plus qu'assez de subir la répression policière dès la nuit venue et dès qu'ils osent s'abriter du froid ou de la pluie sous une simple bâche (vidéos ici).
L'honneur perdu des traders - M Magazine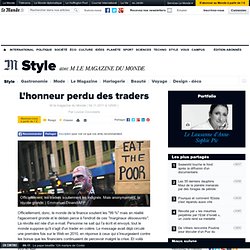 Officiellement, donc, le monde de la finance soutient les "99 %" mais en réalité l'agacement gronde et le dédain perce à l'endroit de ces "marginaux désoeuvrés". La révolte est née d'un e-mail. Personne ne sait qui l'a écrit et envoyé, tout le monde suppose qu'il s'agit d'un trader en colère.
Keith Gessen Among the Writers and Journalists Arrested at Occupy Wall Street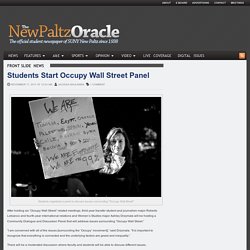 Students organized a panel to discuss issues surrounding "Occupy Wall Street" After holding six "Occupy Wall Street" related meetings, third-year transfer student and journalism major Roberto Lobianco and fourth-year international relations and Women's Studies major Ashley Drzymala will be hosting a Community Dialogue and Discussion Panel that will address issues surrounding "Occupy Wall Street." "I am concerned with all of the issues [surrounding the 'Occupy' movement]," said Drzymala. "It is important to recognize that everything is connected and the underlying factors are greed and inequality." There will be a moderated discussion where faculty and students will be able to discuss different issues.
Students Start Occupy Wall Street Panel
"Some in the group are feeling that a focus on the nightly arrests is taking attention away from the group's main goals..." and the Times Union also says many in Albany's tent city are now vowing NOT to get arrested! UPDATE! That rake-in is apparently going to take place at night. (see box at end of post)
#Occupy_Albany - trying to distance itself from the media circus of who gets arrested every night?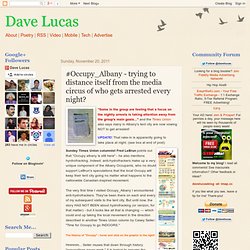 Débats + Soutien aux indignés marocains | paris.reelledemocratie.com
Acampadaparis: Une télévision indépendant
Daily Digest – Sunday, Nov. 13 – Friendship | Occupy Cleveland
Call for Help: City Forces Occupiers Into Cold * Today's (Sunday's) Events* Calls to Action – Portland and Denver * Recap on Saturday * Friday GA CONSENSUS Items: Relocation of Nov. 14 General Assembly, Walking Signs and Solidarity with Veterans * Call for Help with Winter Occupation Quarters, Volunteers and Food * Call for Help to Stop Garbage Incinerator * Call to Recycle * Fresh Facilitators Wanted * Meetings / WAGs * Call for Supplies * Upcoming Events of Note * Noon Teach-in Schedule * Current Haves and Needs * More Reading / Links * Call for Information Weekend Schedule: Today's Events; 3PM GA (General Assembly); 8-10 PM Entertainment; 10 PM-2 AM Night Shift #1; 2-6 AM Night Shift #2; Upcoming Events; Stuff happens continuously in the NW Quadrant of Public Square 24/7. Get Occupy Cleveland in your inbox! Sign up to receive home page articles and the daily digest via email here (http://bit.ly/tCcnzQ). Friday's GA Notes – Saturday had no GA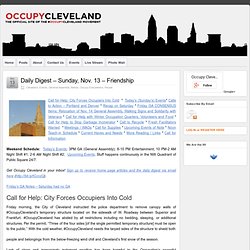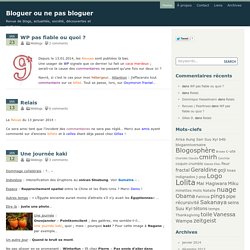 Occupy : en Suisse, info dont je n'ai connaissance que ce jour … Israël s'en prend au mouvement OccupayWallStreet ; comme les ultras Républicains américains ; mais je demande un avis sur cet article vu son sujet. Plantage … – Beauty and the Beast ; ma transformation et réduction d'un poster pour Occupy Wall Street (17 septembre) ; superbe photo, superbe idée, grand symbol ! Mes sources : 1 et 2. Pendant ce temps, à Grenoble. Elections : Tunisie : l'affluence dépasse toutes les espérances – Les Tunisiens participent en masse à ce scrutin historique ; chargement capricieux ? doodle de google spécial élection tunisienne ; pas vu, me semble être un hoax bien fait …
Nomades sédentaires
Twitter
Language: English Bahasa Indonesia Bahasa Melayu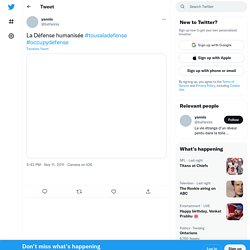 Family protesting together at #OccupyAlbany #OWS @Occupy_Albany on Twitpic
Posted 2 years ago on Nov. 9, 2011, 2:56 p.m. EST by OccupyWallSt It is a better day for the 99% in Ohio. Yesterday on Tuesday, November 8, Ohio voters overwhelmingly Repealed Senate Bill 5. The bill, just passed by the Ohio legislature in March, removed the ability of public employees to engage in one of the most fundamental rights known to working people — collective bargaining.
A victory for the 99% in Ohio
We Are the 99 Percent
14th October 2013 Question with 128 notes Anonymous asked: How can you claim to speak for 99% of people? We don't claim to speak for anyone, we merely present stories.
The banks, payment and credit card companies support extremist organisations by authorising transfers and donations to them. You can use VISA and MasterCard to donate to the Ku Klux Klan and the English Defence League. You can donate to Aryan Nations, a white supremacist organisation, despite being designated a "terrorist threat" by the FBI. VISA and MasterCard do not mind if you decide to use your cards to buy pornography on the internet or a rifle identical to the one used by the right-wing extremist Andreas Breivik to murder 69 people in Norway.
You can't bank on free speech
Occupy Oakland activists have said that they could be evicted later today or in the coming days, after the city's mayor delivered a black envelope to a General Assembly facilitation group on Tuesday. "The business community -- and when I say 'business community' I mean an executive board representing big business, not small local business -- told the city they're fed up withe the encampment," one protester, who asked not to be named, told Al Jazeera. Oakland's City Council will be revealing their plan at a press conference on Wednesday at 1pm local time. The protester speculated that the city's proposal will be to appoint representatives to liaise with the city government and to disavow non-violence. Occupy Oakland organisers had already planned to hold a vote about use of violence or property damage at a General Assembly meeting on Wednesday evening.
Oakland - Nov 9, 2011 - 23:35
Dear, Occupy w/ Love, Zeitgeist |5ofX| We Are The Zeitgeist Movement
cant-evict-an-idea
An Occupy Harvard rally has been announced for tomorrow. #Occ
Danny Glover Tremendous Speech @ Occupy Oakland
How the Occupy Protests Can Save the Economy: An Odd Todd Cartoon
Slide Show: Nine Cities of Occupied America
Occupy Atlanta (10 of 10) This past Saturday night, Atlanta turned into Oakland as protesters marching on Peachtree Street outside the newly renamed Troy Davis Park confronted baton-armed police on motorcycle and horseback. Of the nineteen occupiers arrested that night, two were injured and one was charged with felony assault.
Les banques européennes attaquent la zone euro
JOAN BAEZ @ #OWS Foley Sq (11/11/11) Veteran's Day "Where's My Apple Pie?/Time To Occupy"
» #OccupyNashville Press Release – Oct. 28th, 2011 @ 4AM CST / Occupy Nashville
Dragon et canards
La ballerine et le taureau
Plus de Cabanes pour le Jedi
Around Occupy
OccupyWallStreet, perles et arbres
Confiture de riz nappée de blogs
Occupy is Cute
Ces berlines qui sont des chars
World Food Day, Extreme Poverty and Indignant
Indignados over the World
Occupy Denver 11/12/2011 Police Clash