Social media
How to Convert a Facebook Profile to a Page. We've discussed previously why it's important for businesses to create a Facebook Page, rather than a profile.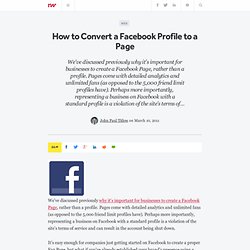 Pages come with detailed analytics and unlimited fans (as opposed to the 5,000 friend limit profiles have). Perhaps more importantly, representing a business on Facebook with a standard profile is a violation of the site's terms of service and can result in the account being shut down. It's easy enough for companies just getting started on Facebook to create a proper Fan Page, but what if you've already established your brand's presence using a standard profile? Unfortunately, Facebook doesn't provide a magical button that automatically converts profiles to pages, so it's up to you to manually make the switch.
A Networked Self: Identity, Community, and Culture on Social Network Sites (9780415801812): Zizi Papacharissi. SCVNGR. Livre Blanc Social Media Club France Creative Commons.
---