Mobilité
Automatic - Your Smart Driving Assistant.
Les transports du futur. Autopartage. Smartparking. Prospective automobile. CO2GO. Project description Today, more than a third of global CO2 emissions are generated by transportation.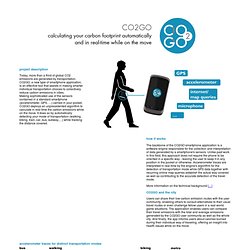 CO2GO, a new type of smartphone application, is an effective tool that assists in making smarter individual transportation choices to collectively reduce carbon emissions in cities. Making sophisticated use of the sensors contained in a standard smartphone (accelerometer, GPS, …) carried in your pocket, CO2GO deploys an unprecedented algorithm to calculate in real-time the carbon emissions while on the move. It does so by automatically detecting your mode of transportation (walking, biking, train, car, bus, subway,…) while tracking the distance covered. CO2GO calculates in real-time CO2 emissions linked to transport. The use of so-called smart phones to measure pollution, traffic and noise pollution has become the new favorite tool of researchers and companies experimenting in these areas.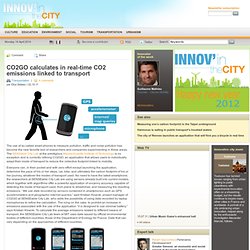 The SENSable City Lab at the prestigious Massachusetts Institute of Technology is no exception and is currently refining CO2GO, an application that allows users to individually adapt their mode of transport to reduce the collective footprint linked to mobility. Everyone can, in their pocket and with zero effort except launching the application, determine the pace of his or her steps, car, bike, and ultimately the carbon footprint of his or her journey, whatever the modes of transport used.
No need to have the latest smartphone, the researchers at SENSEable City Lab are using sensors already built into current models, which together with algorithms offer a powerful application of uncanny accuracy, capable of detecting the mode of transport used, from plane to wheelchair, and measuring the resulting emissions. Le SoLoMo, nouveau buzzword ou véritable tendance ? Le SoLoMo, ce serait la nouvelle tendance de l'internet post-web 2.0, une vague de fond qui va une fois de plus tout changer.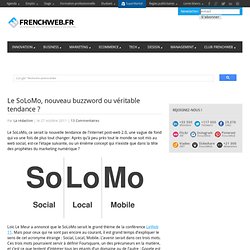 Après qu'à peu près tout le monde se soit mis au web social, est-ce l'étape suivante, ou un énième concept qui n'existe que dans la tête des prophètes du marketing numérique ? Loïc Le Meur a annoncé que le SoLoMo serait le grand thème de la conférence LeWeb 11. Transportsdufutur. Groupe Chronos. ChargeMap - Directory of charging stations for electric cars. Sigfox : One network, A billion dreams. NAVX - Location based content and services provider - Navx Corporate.
Urban-Cab, Bio-mobilité - Intro. Smart Flows : Solutions Innovantes de Simulation et d'Optimisation de Flux. Toowup, le déplacement libre. Devenez acteurs de vos services au quotidien !
---