Rapid Learning
It's that time of year to share gifts, so here's an elearning template that you're free to use as you wish.
Check Out This Free PowerPoint Template & Tutorial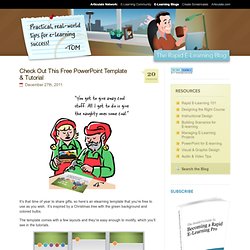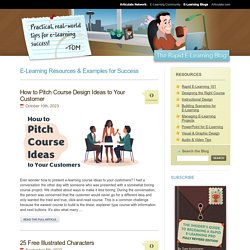 There are tons of free textures and background images online. Some good and some not so good. It can be a bit overwhelming looking for textures so I went through some of the free textures and included the ones I think work well for elearning courses. To save you some time, I looked around and only added textures that are free to use for commercial projects. Of course, it is a good habit to give props to ...
5 juillet, 2011
Rapid Learning : Avantages et inconvénients
Après une approche relative aux techniques de production dites de Rapid Learning, abordons un aspect plus polémique : le Rapid Learning correspond t'il à un style pédagogique, c'est à dire à une manière de concevoir, de diffuser et de consommer les contenus e-Learning, que l'on pourrait qualifier de "Rapide" ?
Le Rapid Learning vu comme un style pédagogique
Les outils du rapid e-learning sur une carte | Si loin Si proche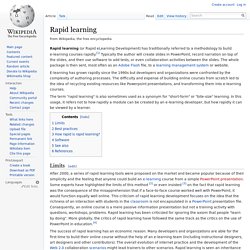 Rapid learning
Rapid learning (or Rapid eLearning Development) has traditionally referred to a methodology to build e-learning courses rapidly. [ 1 ] Typically the author will create slides in PowerPoint, record narration on top of the slides, and then use software to add tests, or even collaboration activities between the slides.