Rapid Learning
Rapid-learning. Check Out This Free PowerPoint Template & Tutorial. It's that time of year to share gifts, so here's an elearning template that you're free to use as you wish.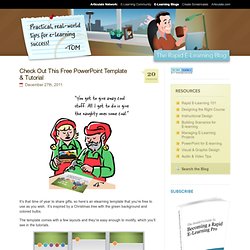 It's inspired by a Christmas tree with the green background and colored bulbs. The template comes with a few layouts and they're easy enough to modify, which you'll see in the tutorials. I see the color bulbs as a way to feature different sections. The Rapid eLearning Blog. Linear, click-and-read courses are pretty common and usually held up as the worst of online training and cause of boring courses because they're mostly information dumps with little focus on how the learner can actually use the course content.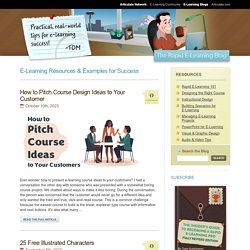 They may be the worst of elearning. Or perhaps not. Let's review some common reasons why these types of online courses exist and what we can do to fix them so that you're not producing ... Read the full article. Rapid Learning : Avantages et inconvénients. Le Rapid Learning vu comme un style pédagogique. Après une approche relative aux techniques de production dites de Rapid Learning, abordons un aspect plus polémique : le Rapid Learning correspond t'il à un style pédagogique, c'est à dire à une manière de concevoir, de diffuser et de consommer les contenus e-Learning, que l'on pourrait qualifier de "Rapide" ?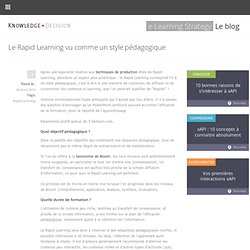 Hottons immédiatement toute ambigüité qui n'aurait pas lieu d'être. Il n'a jamais été question d'envisager qu'un PowerPoint amélioré pouvait accroitre l'efficacité de la formation, donc la rapidité de l'apprentissage. Raisonnons plutôt autour de 3 facteurs clés… Les outils du rapid e-learning sur une carte | Si loin Si proche. Rapid learning. Rapid learning (or Rapid eLearning Development) has traditionally referred to a methodology to build e-learning courses rapidly.[1] Typically the author will create slides in PowerPoint, record narration on top of the slides, and then use software to add tests, or even collaboration activities between the slides.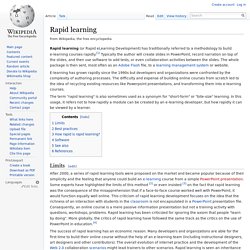 The whole package is then sent, most often as an Adobe Flash file, to a learning management system or website. E-learning has grown rapidly since the 1990s but developers and organizations were confronted by the complexity of authoring processes. The difficulty and expense of building online courses from scratch led to the idea of recycling existing resources like Powerpoint presentations, and transforming them into e-learning courses. The term "rapid learning" is also sometimes used as a synonym for "short-form" or "bite-size" learning.
---