Rapid Learning
It's that time of year to share gifts, so here's an elearning template that you're free to use as you wish.
Check Out This Free PowerPoint Template & Tutorial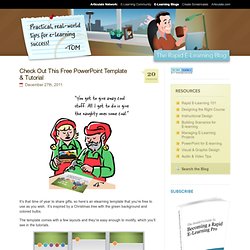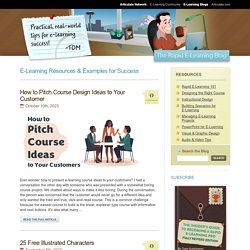 Here's a recap of posts from 2013 where I shared free templates or assets to help you build your online training courses. Do You Need an Instructional Design Degree? This is probably one of the hottest questions of the past year. It comes up quite a bit and creates a lot of good conversation—both pro and con. If you haven't weighed in with your opinion, it's not too late.
5 juillet, 2011
Rapid Learning : Avantages et inconvénients
Après une approche relative aux techniques de production dites de Rapid Learning, abordons un aspect plus polémique : le Rapid Learning correspond t'il à un style pédagogique, c'est à dire à une manière de concevoir, de diffuser et de consommer les contenus e-Learning, que l'on pourrait qualifier de "Rapide" ? Hottons immédiatement toute ambigüité qui n'aurait pas lieu d'être. Il n'a jamais été question d'envisager qu'un PowerPoint amélioré pouvait accroitre l'efficacité de la formation, donc la rapidité de l'apprentissage. Raisonnons plutôt autour de 3 facteurs clés…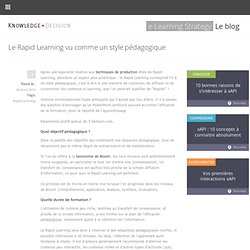 Le Rapid Learning vu comme un style pédagogique
Les outils du rapid e-learning sur une carte | Si loin Si proche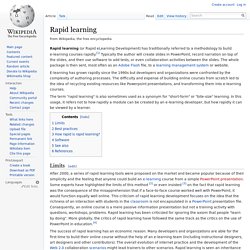 Rapid learning
Rapid learning (or Rapid eLearning Development) has traditionally referred to a methodology to build e-learning courses rapidly.[1] Typically the author will create slides in PowerPoint, record narration on top of the slides, and then use software to add tests, or even collaboration activities between the slides.