Health
Top 10 Thinking Traps Exposed. Our minds set up many traps for us.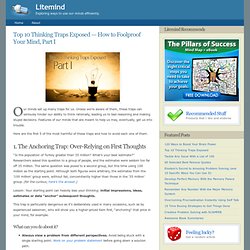 Unless we're aware of them, these traps can seriously hinder our ability to think rationally, leading us to bad reasoning and making stupid decisions. Features of our minds that are meant to help us may, eventually, get us into trouble. Organize your mind to organize your life. The brain was not designed to focus on more than one thing at a time.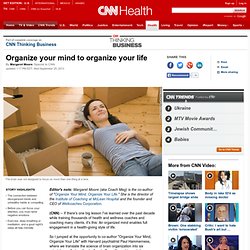 The connection between disorganized minds and unhealthy habits is compellingBefore you can focus your attention, you must tame negative emotionsExercise, deep breathing or meditation, and a good night's sleep all help mentally Editor's note: Margaret Moore (aka Coach Meg) is the co-author of "Organize Your Mind, Organize Your Life. " She is the director of the Institute of Coaching at McLean Hospital and the founder and CEO of Wellcoaches Corporation.
(CNN) -- If there's one big lesson I've learned over the past decade while training thousands of health and wellness coaches and coaching many clients, it's this: An organized mind enables full engagement in a health-giving style of life. How to Reduce Negativity. In one sense, the battle to be happy is a battle against negativity.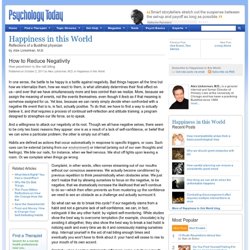 Bad things happen all the time but how we internalize them, how we react to them, is what ultimately determines their final effect on us—and over that we have simultaneously more and less control than we realize. More, because assign the meaning of events, not the events themselves, even though it as if that meaning is somehow assigned for us. Yet less, because we can rarely simply when confronted with a negative life event that is is, in fact, actually positive. To do that, we have to find a way to actually believe it, and requires a process of continual self-reflection and attitude training; a program designed to strengthen our life force, so to speak.
30 Things to Stop Doing to Yourself - StumbleUpon. Post written by: Marc Chernoff Email When you stop chasing the wrong things you give the right things a chance to catch you.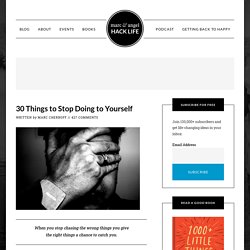 Internal Healing. Remember that we are all perfect in the experience of the moment, even if we are experiencing hardships and pain, they are lessons we chose for growth.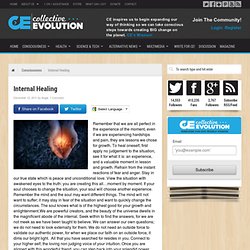 To heal oneself, first apply no judgement to the situation, see it for what it is: an experience, and a valuable moment in lesson and growth. Refrain from the instant reactions of fear and anger. Stay in our true state which is peace and unconditional love. View the situation with awakened eyes to the truth: you are creating this all…moment by moment. If your soul chooses to change the situation, your soul will choose another experience. Eight Ways to Spot Emotional Manipulation. 1) There is no use in trying to be honest with an emotional manipulator.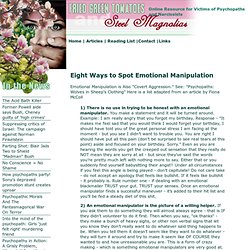 You make a statement and it will be turned around. Example: I am really angry that you forgot my birthday. STOP: Daily Injections of Mindfulness. The Mindfulness-Based Stress Reduction Workbook covers many different techniques we can use, both during meditation and outside of meditation, in order to facilitate greater awareness in our lives and during our daily actions.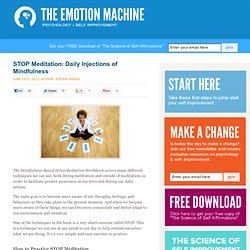 The main goal is to become more aware of our thoughts, feelings, and behaviors as they take place in the present moment. And when we become more aware of these things, we can live more consciously and better adapt to our environment and situation. One of the techniques in the book is a very short exercise called STOP. This is a technique we can use at any point in our day to help remind ourselves what we are doing. It's a very simple and easy exercise to practice. 12 Things Happy People Do Differently. Post written by: Marc Chernoff Email by Jacob Sokol of Sensophy "I'd always believed that a life of quality, enjoyment, and wisdom were my human birthright and would be automatically bestowed upon me as time passed.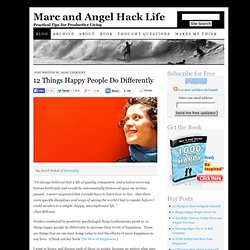 I never suspected that I would have to learn how to live - that there were specific disciplines and ways of seeing the world I had to master before I could awaken to a simple, happy, uncomplicated life." -Dan Millman. 20 Things to Stop Doing to Others. Post written by: Marc Chernoff Email There is one key factor that can either damage your relationships or deepen them.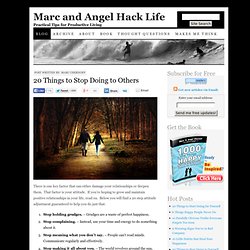 That factor is your attitude. If you're hoping to grow and maintain positive relationships in your life, read on. Eight (harsh) Truths That Will Improve Your Life... They say life is what we make of it.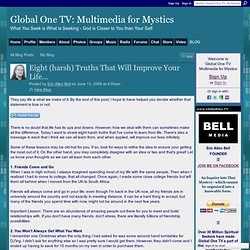 By the end of this post, I hope to have helped you decide whether that statement is true or not. There is no doubt that life has its ups and downs. However, how we deal with them can sometimes make all the difference. Today I want to share eight harsh truths that I've come to learn from life. There's also a message in each that I think we can all learn from, and when applied, will improve our lives infinitely.
---