Io9
Consurgo, a charming short film about the steampunk monstrosity in your neighborhood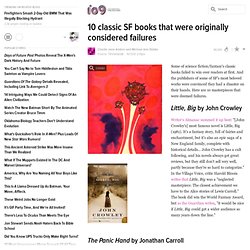 I think the publisher's early mindset of "we'll print it then dump it" toward Dhalgren is actually rather prophetic with respect to that particular work. It seems that the world can be divided into four camps: those who love the book; those who hate it; those who've never tried to read it; and, those who started it only to abandon it for one reason or another. Counting myself, I personally only know three people who have actually finished the book. I also know a fair number of people who bought it only to throw it away less than halfway through (if there even is a way of measuring 'halfway' in such a circular, labyrinthine narrative), a precedent set by authors like Phillip K Dick and Harlan Ellison when they were asked to review the work.
10 classic SF books that were originally considered failures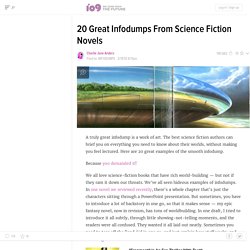 From the opening of Count Zero: "THEY sent a slamhound on Turner's trail in New Delhi, slotted it to his pheromones and the color of his hair. It caught up with him on a street called Chandni Chauk and came scrambling for his rented BMW through a forest of bare brown legs and pedicab tires. Its core was a kilogram of recrystallized hexogene and flaked TNT. He didn't see it coming. The last he saw of India was the pink stucco facade of a place called the Khush-Oil Hotel.
20 Great Infodumps From Science Fiction Novels
What made Cordwainer Smith the perfect man to describe cyborg consciousness?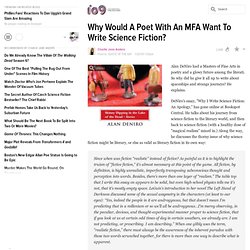 @ braak : @ Kristen Olson : Generalize much? I'm going to assume that you both are referring specifically to an MFA degree in Literature, or something similar. Because if you're not, if you really actually mean ALL MFA programs, you are truly talking out of your asses. I've got an MFA. Know what I had to learn (or advance my knowledge in) to get it? Budgeting, scheduling, welding, drafting, managing crews and shops, carpentry, materials research, and about a zillion other things germane to the profession I'm in.
Why Would A Poet With An MFA Want To Write Science Fiction?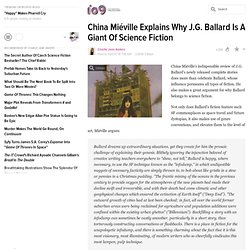 China Miéville Explains Why J.G. Ballard Is A Giant Of Science Fiction
I love Ballard's fiction but he went through at least three different stages. The infodump technique is more centered around his experimental stage, exemplified by The Atrocity Exhibition, in which he gets involved in dense lists and technical rambling. His early sci-fi short stories are just amazing--speculative fiction, commentary on modern society, an overarching fixation on a geography known as Vermillion Sands. His first three novels are apocalyptic and the fourth could be said to be that too (at least I say it is.)
Thanks for the question, Mark! I've been thinking about it off-and-on all night. here are a few more stories that you might consider: In Nobody's Son by Sean Stewart, the people's relationship to a haunted forest is a key part of the story. The Number Ten Ox & Master Li Kao stories by Barry Hughart aren't strictly rural.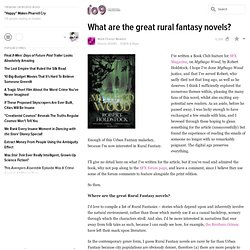 What are the great rural fantasy novels?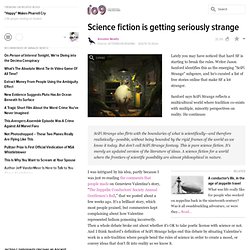 Science fiction is getting seriously strange
@ brentbent)dense as a neutron star and bright as a super nova( : Crap, that's why I don't like this comment system. This thread has split in two, and now I don't know which one you are replying to. Anyway, I am saying that people that do not write scientifically accurate do so because they are not creative enough. I was reacting essentially to this sentence: "And I think Sanford's definition of SciFi Strange helps end this debate by situating Valentine's work in a sub-tradition where people bend the rules of science in order to create a mood, or convey ideas that don't fit into reality as we know it." In other words, it sounds like the writers in question are breaking bending scientific laws and playing around with credibility because they see no other way to send the mood. Or to explain something in a different way.
Classic science fiction theme tunes sound even spacier slowed down