Io9
Consurgo, a charming short film about the steampunk monstrosity in your neighborhood
10 classic SF books that were originally considered failures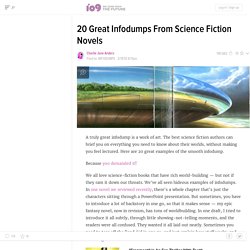 From the opening of Count Zero: "THEY sent a slamhound on Turner's trail in New Delhi, slotted it to his pheromones and the color of his hair. It caught up with him on a street called Chandni Chauk and came scrambling for his rented BMW through a forest of bare brown legs and pedicab tires. Its core was a kilogram of recrystallized hexogene and flaked TNT. He didn't see it coming. The last he saw of India was the pink stucco facade of a place called the Khush-Oil Hotel.
20 Great Infodumps From Science Fiction Novels
The only thing I would take issue with here is that his father also did a lot of travelling, and the young Linebarger wrote stories of machine intelligence and half-men long before "Scanners". (See "War Number 81-Q") Another kind of funny thing is that, according to Judith Merril, the manuscripts for the stories used to show up in Frederik Pohl's mail with no title on them. Pohl, and his then-wife Judith Merril, gave the stories their titles, and never knew who Linebarger was; there were only payment instructions in the event of publication and the cryptic name of the author. Pohl and Merril edited any number of magazines at the time. Judy Merril told me once that they thought the stories were actually written by another professional writer, but couldn't figure out who, since the stories were so original.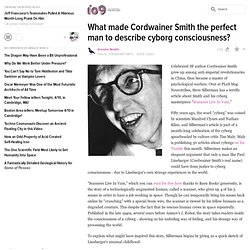 What made Cordwainer Smith the perfect man to describe cyborg consciousness?
Why Would A Poet With An MFA Want To Write Science Fiction?
China Miéville Explains Why J.G. Ballard Is A Giant Of Science Fiction
Enough of this Urban Fantasy malarkey, because I'm now interested in Rural Fantasy. I've written a Book Club feature for SFX Magazine, on Mythago Wood, by Robert Holdstock. I hope I've done Mythago Wood justice, and that I've served Robert, who sadly died not that long ago, as well as he deserves. I think I sufficiently explored the numerous themes within, pleasing the many fans of this novel, whilst also exciting any potential new readers.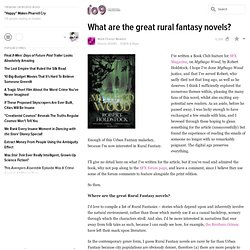 What are the great rural fantasy novels?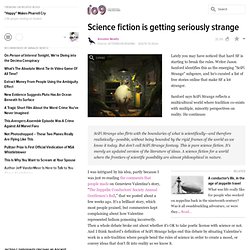 Science fiction is getting seriously strange
SExpand Lately you may have noticed that hard SF is starting to break the rules. Writer Jason Sanford identifies this as the emerging "SciFi Strange" subgenre, and he's curated a list of free stories online that make SF a lot stranger. Sanford says SciFi Strange reflects a multicultural world where tradition co-exists with multiple, minority perspectives on reality. He continues: SciFi Strange also flirts with the boundaries of what is scientifically—and therefore realistically—possible, without being bounded by the rigid frames of the world as we know it today.
Classic science fiction theme tunes sound even spacier slowed down