Io9
Consurgo, a charming short film about the steampunk monstrosity in your neighborhood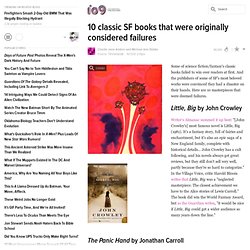 I've only read a few of these (Brave New World, Androids, LotR), but I'm glad I did, and there's lots more on this list I'd like to read (especially Dhalgren and Triplanetary). It's funny that Brave New World is quite often banned. I'm proud to say that it was required reading in my high school. We read it, and 1984, as part of a year with a class theme of Utopias and Social Control, in the early 90's only shortly after the start of the first Iraq war.
10 classic SF books that were originally considered failures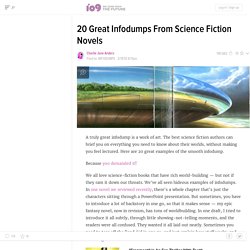 SExpand A truly great infodump is a work of art. The best science fiction authors can brief you on everything you need to know about their worlds, without making you feel lectured. Here are 20 great examples of the smooth infodump. Because you demanded it! We all love science-fiction books that have rich world-building — but not if they ram it down our throats.
20 Great Infodumps From Science Fiction Novels
Celebrated SF author Cordwainer Smith grew up among anti-imperial revolutionaries in China, then became a master of psychological warfare. Over at PLoS blog Neurotribes, Steve Silberman has a terrific article about Smith and his cyborg masterpiece "Scanners Live In Vain." Fifty years ago, the word "cyborg" was coined by scientists Manfred Clynes and Nathan Kline, and Silberman's article is part of a month-long celebration of the cyborg spearheaded by culture critic Tim Maly. Maly is publishing 50 articles about cyborgs on his Tumblr this month. Silberman makes an eloquent argument that only a man like Paul Linebarger (Cordwainer Smith's real name) could have done justice to cyborg consciousness - due to Linebarger's own strange experiences in the world. "Scanners Live In Vain," which you can read for free here thanks to Baen Books' generosity, is the story of a technologically-augmented human, called a scanner, who gives up 4 of his 5 senses in order to have a job working in space.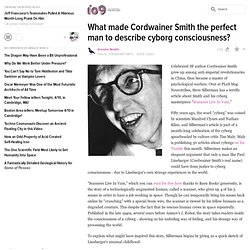 What made Cordwainer Smith the perfect man to describe cyborg consciousness?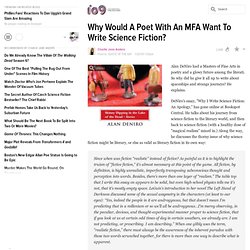 SExpand Alan DeNiro had a Masters of Fine Arts in poetry and a glowy future among the literati. So why did he give it all up to write about spaceships and strange journeys? He explains. DeNiro's essay, "Why I Write Science Fiction: An Apology," has gone online at Bookspot Central. He talks about his journey from science fiction to the literary world, and then back to science fiction (with a healthy dose of "magical realism" mixed in.)
Why Would A Poet With An MFA Want To Write Science Fiction?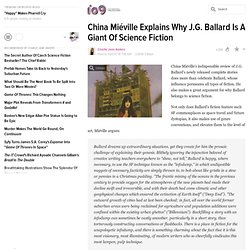 China Miéville Explains Why J.G. Ballard Is A Giant Of Science Fiction
SExpand China Miéville's indispensible review of J.G. Ballard's newly released complete stories does more than celebrate Ballard, whose influence permeates all types of fiction. He also makes a great argument for why Ballard belongs to science fiction.
Enough of this Urban Fantasy malarkey, because I'm now interested in Rural Fantasy. I've written a Book Club feature for SFX Magazine, on Mythago Wood, by Robert Holdstock. I hope I've done Mythago Wood justice, and that I've served Robert, who sadly died not that long ago, as well as he deserves. I think I sufficiently explored the numerous themes within, pleasing the many fans of this novel, whilst also exciting any potential new readers.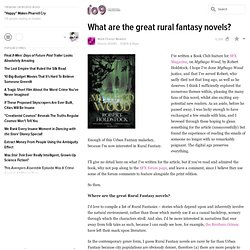 What are the great rural fantasy novels?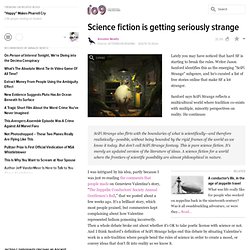 Science fiction is getting seriously strange
SExpand Lately you may have noticed that hard SF is starting to break the rules. Writer Jason Sanford identifies this as the emerging "SciFi Strange" subgenre, and he's curated a list of free stories online that make SF a lot stranger. Sanford says SciFi Strange reflects a multicultural world where tradition co-exists with multiple, minority perspectives on reality. He continues: SciFi Strange also flirts with the boundaries of what is scientifically—and therefore realistically—possible, without being bounded by the rigid frames of the world as we know it today.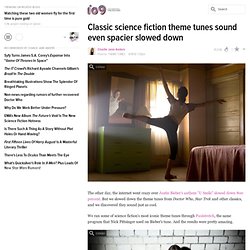 I love how the Inspector Gadget theme is still recognizable at this speed, but now sounds like an extremely tense crime thriller. Sure, the episode starts off like normal, but when the Chief is accidentally killed in a freak explosion after delivering the mission—or is it an accident?—all bets are off. Starring Kevin Spacey circa 1995 as Dr. Claw, who is now a brutal and slightly unbalanced crime boss, Danny Trejo as the short MAD operative, and Jorge Garcia—desperately trying to avoid typecasting—as the other one.
Classic science fiction theme tunes sound even spacier slowed down